'A National Embarrassment': Maternal Mortality Rate Rises In The U.S.
If keeping moms alive while pregnant and in the weeks just after birth is a good barometer of health care in a country, the U.S. looks pretty bad. A study published this month in Obstetrics and Gynecology says the maternal mortality rate rose 27 percent (26.6 percent) between 2000 and 2014 in the U.S., while 157 countries reported a decrease during the same period.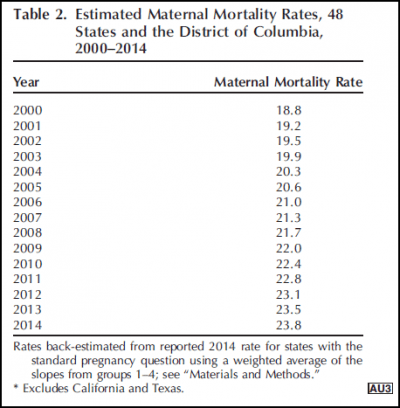 Maternal mortality is still rare, but the increase is "a national embarrassment," said study author Eugene Declercq, a professor of community health sciences at the Boston University School of Public Health. "Our rates are comparable to Iran, the Ukraine and Russia, not countries we generally want to compare out health outcomes to."
There is no clear reason why maternal mortality rates are rising in the U.S. and dropping in sub-Saharan Africa as well as most other parts of the world. It could be that there are many older moms giving birth in the U.S., which can lead to complications.
Some experts point to health disparities and the higher rates of maternal deaths among black women in the U.S. But Declercq says the rate of white women in the U.S. who die during or just after a pregnancy is still higher than most industrialized countries.
Could the high rate of C-sections in the U.S. be a factor? At 32 percent, the U.S. is roughly double the recommended rate from the World Health Organization. A woman who has a C-section is three times more likely to hemorrhage during childbirth than a woman who has a normal vaginal delivery.
"When we harm people in the health care system we harm them from doing too much or from doing too little," said Dr. Neel Shah, an OB-GYN and an investigator at Ariadne Labs.
In the category of too little, Shah says doctors and nurses need to be more proactive with blood transfusions and taking other measures to prevent severe, life-threatening hemorrhage.
The study says access to health insurance or health care may contribute to increased maternal mortality. Almost half of the counties in the U.S. do not have a practicing OB-GYN or midwife. Texas had the highest or nearly highest uninsured rate in the country during this period. Between 2010 and 2012, as Texas was closing some women's health clinics, the mortality rate in that state doubled.
Study authors say the spike is still hard to explain, but some other birth experts say the possible connection is troubling.
"There's nothing in the paper that makes a clear link between these things, but I do think that's something that deserves exploring in more depth and highlights where the state's priority should be," said Dr. Daniel Grossman, vice chair of the committee on health care for underserved women at the American College of Obstetricians and Gynecologists.
Grossman agrees that the findings are an embarrassment for the country as a whole.
The study does not have maternal mortality rates for every state, because not all states have been collecting information about pregnancy on death certificates. But California has and showed a six point drop between 2003 and 2015.
The state examines cases of maternal death and has developed recommendations for reducing hemorrhage and preeclampsia, a sometimes-life-threatening high blood pressure that develops in the late stages of pregnancy.
Declercq says the first step to solving this problem for the country as a whole will be to admit that the U.S. has a problem.
"We need to unite both medical systems and public health systems to minimize the embarrassment this causes when we try to speak about out wonderful system to countries that fare much better than we do," Declercq said.
Correction: An earlier version of this post incorrectly called Dr. Grossman's organization the American College of Obstetrics and Gynecology. We regret the error. 
This article was originally published on August 11, 2016.