Why Boston Doesn't Have Universal Preschool Yet
Play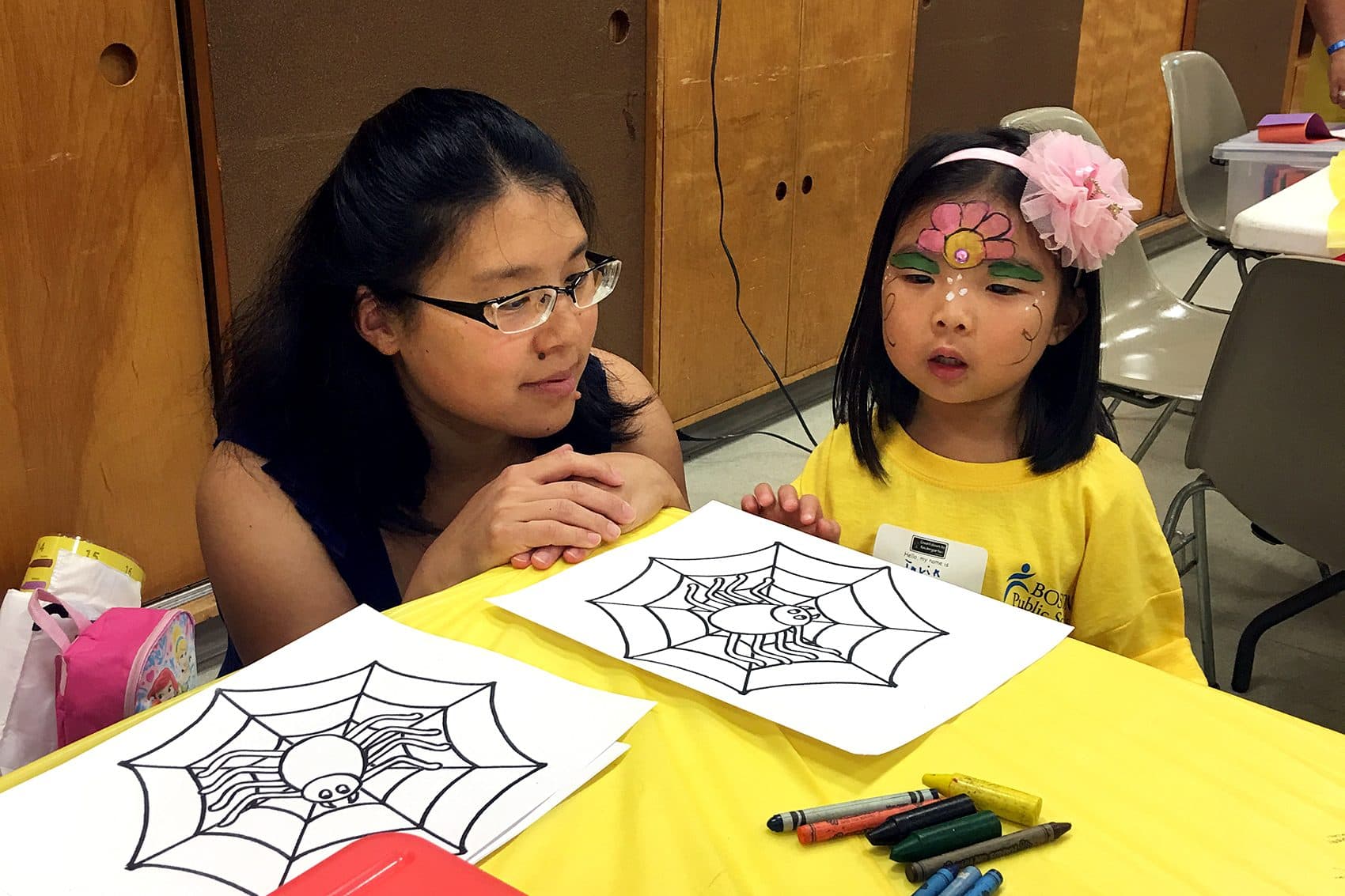 This article is more than 6 years old.
Emily Wu and her 4-year-old daughter, Talia, marked a milestone at the South Boston branch of the Boston Public Library the other day. Next month, Talia is going to preschool.
Getting to this point in the Boston Public Schools system can feel like winning big — and in a way it is.
"My husband and I, we went online; we looked at the rankings; they have orientation days where you can go and get a tour of the school," Wu began. "Through the information we gathered, we met the teachers; you rank it, and then they randomly assign a number to your child. And, through whatever system they use, you figure out where you end up — if you get a spot at all."
This was the second time Wu had applied for a spot for Talia. Last year, she didn't get in.
In fact, most of the parents at the South Boston "Countdown to Kindergarten" party had tried and failed before. This year, more than 3,200 students applied for BPS preschool, also known as K1. Only 2,827 got a seat.
That's despite a campaign promise that Mayor Marty Walsh made three years ago: to provide universal public preschool for every child in Boston.
"Study after study has told us that universal early education and these other changes can be transformative," Walsh said in his inaugural address. "They give every child a more equal chance to thrive and succeed. Yes, these things cost money -- but we must find a way."
So what's the holdup?
"I don't know if I'd say initially a holdup," Walsh told WBUR. "I mean, we have the advisory committee moving forward. We're looking at the different issues. Obviously it comes down to dollars and cost."

Similar issues have plagued statewide attempts to open preschool to all. The cost? Statewide, estimates the independent nonprofit Massachusetts Budget and Policy Center, universal pre-K would cost $1.4 billion.
In the recently ended legislative session, lawmakers from around the state proposed nearly half a dozen bills to pay for universal pre-K. None of the bills made it through.
"We do a lot of great things, but we missed the boat on education," said state Rep. Alan Silvia.
Silvia, a Democrat, represents Fall River — a Gateway City, meaning (among other things) that the median household income is below the state average. He introduced a bill that would have brought universal pre-K to places like Fall River.
His bill never made it out of committee.
"We were the first state in the country to have an early education program," Silvia said. "And I always say Horace Mann would roll in his grave, because other states are doing it with ease, and we're not."
For Boston, Walsh's advisory committee is working with a private firm to see how other places, such as New York City, have not only implemented universal pre-K but found a way to pay for it.
The committee is expected to release its findings in October or November.
For now, Boston public schools rely on other types of funding, like a federal $3 million preschool expansion grant that will add seats over the next four years. This year's 2,827 total also includes 220 seats added from the city's budget.
"We added pre-K seats to Jamaica Plain, East Boston, Mattapan, Roslindale, Charlestown," Walsh said. "We broke it across the city, and we tried to put seats in places that might not have gotten them in the last couple of cycles. And it's important that parents and children have accessibility to those seats."
One of those seats will go to Rosie Winick, age 4. Like Emily Wu, Rosie's mom, Lauran Winick, has applied twice and didn't get in the first time. Both times, she started the process a full year in advance. That means that when she first began, Rosie was 1.
Winick said she believes the system is set up for people with plenty of time and resources to navigate it.
"K1 wasn't guaranteed for Rosie," Winick said, "so we felt lucky. And I feel like because I was at home and I had the time, I had an advantage."
In a few weeks, Rosie will start preschool at Josiah Quincy Elementary School in Chinatown.
"I just want her to be happy," Winick said. "I just want her to fit in and all that."
For parents, that feeling is universal. So far, though, the experience of preschool is not.
Editor's note: This post is updated to reflect corrected information from Boston Public Schools about the funding of the 220 seats added for the 2016-17 school year.
This article was originally published on August 18, 2016.
This segment aired on August 18, 2016.