MIT Researchers Print Tiny, 3-D Objects With 'Shape Memory' For Drug Delivery (Someday)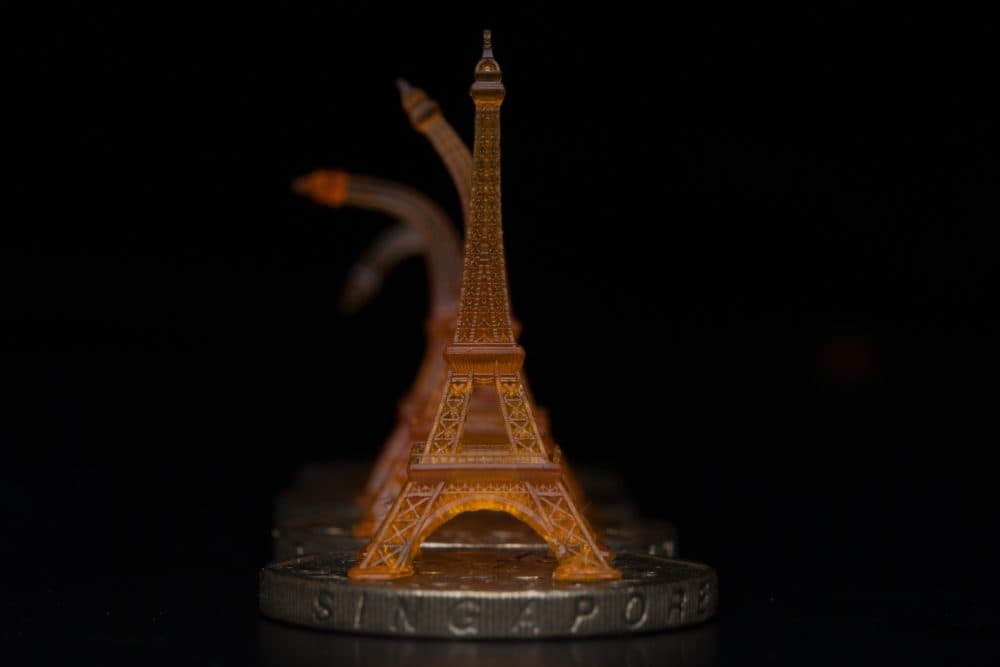 This article is more than 5 years old.
Imagine a tiny, human hair-sized capsule implanted in your body that could open to release medicine when triggered by a fever.
That's the (very) long-term vision of researchers at MIT developing these super small, 3-D printed structures with a kind of "shape memory" that allows them to morph back to their original form within seconds of heat exposure at a specific temperature.
Ultimately, the researchers say, these "smart polymers" could dispense medication to help the body fight infection, for instance. Or, they say, the process might be used for non-medical applications, like turning solar panels toward the sun. The research was published earlier this month in the online journal Scientific Reports.
Lead researcher, Nicholas Fang, an associate professor of mechanical engineering at MIT, explains that this novel approach — a technique called projection micro-stereolithography — uses light from a projector to print patterns on successive layers of resin.
Fang compares the process to a dentist filling cavities. "The dentist places a drop of plastic glue into a cavity and shines a light on it to harden it," he says. "The new thing here is we use light that's coming from a data projector, and instead of forming a big chunk of polymer it illuminates a pattern and that pattern cross links accordingly to the projected image."
The materials, then, have this shape-shifting ability, he said: They can switch between the harder and sturdier, low-temperature state and the softer, rubbery, high-temperature state.
This, Fang says, enables the printed structure — a multi-material flower or even an inch-tall replica of the Eiffel Tower — to be vigorously stretched and twisted, but still spring back and "remember" its original shape. In this sense, he says, the process can be described as a kind of 4-D printing, as the structures are designed to change over time in response to environmental stimuli.
"We show that polymers can react to temperature changes in a few seconds — as opposed to tens of minutes," because the structures can be printed with a much higher resolution, he says. "This is critical for drug delivery — you could deliver a smaller, more tailored dose depending on the temperature change."
Of course, all this is years away from any kind of usable product, and Fang's group is just one among several research teams working in this arena. Fang says while he's talking to colleagues in drug delivery, "this is still academic research" and at least three to five years from any kind of clinical testing in humans.
"We are only scratching the surface now," he says. "There's a lot more work to do."
Still, 3-D printing is already transforming medicine. Doctors and engineers have produced 3D-printed vertebrae, parts of a skull, skin and ear cartilage, among other body parts. And 3-D models are now used routinely by surgeons to practice complex procedures.