One Last Sale At Irving's Toy And Card Shop In Brookline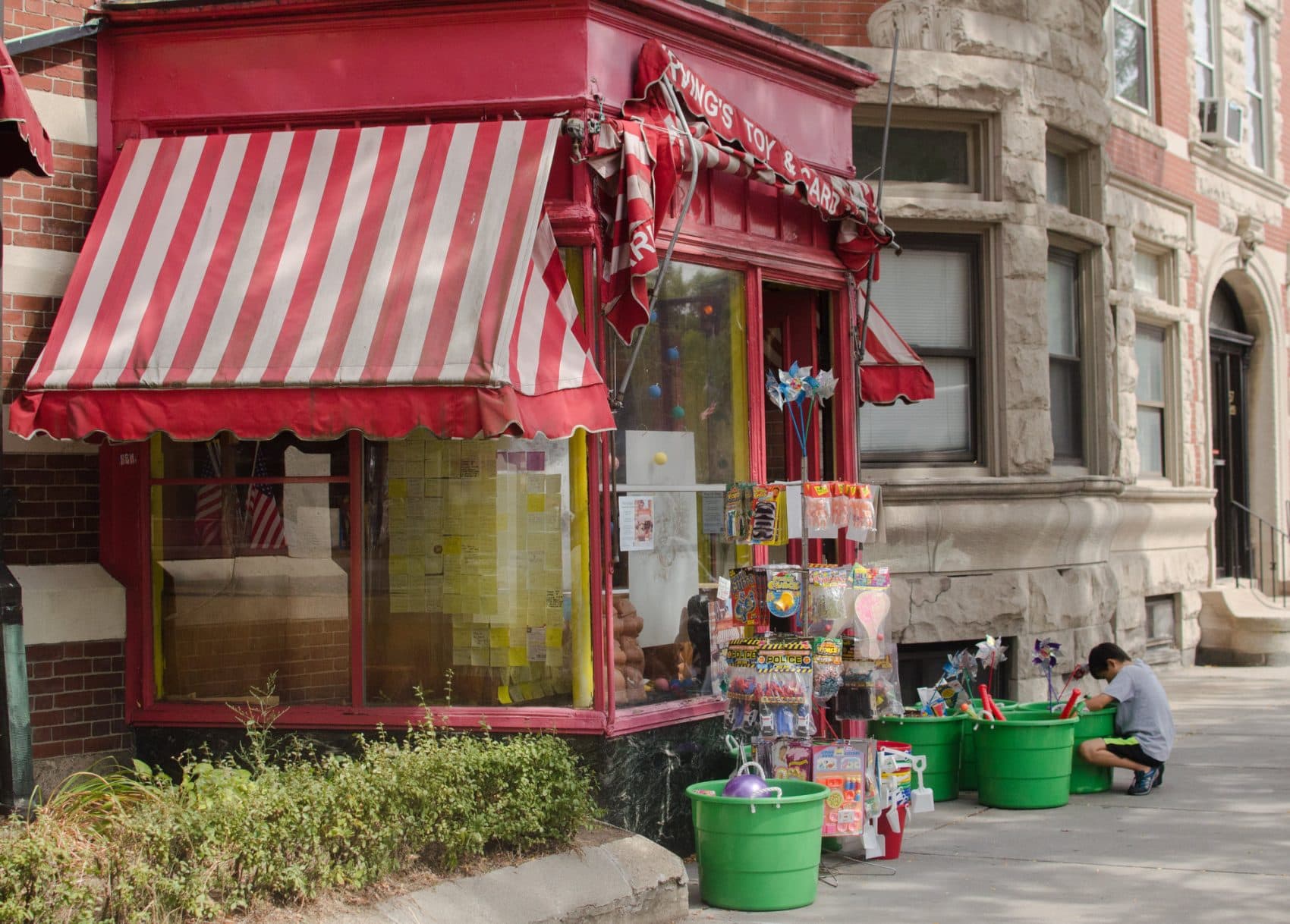 This article is more than 6 years old.
BROOKLINE — The red wooden door has closed forever on Irving's Toy and Card Shop.
Last December, Ethel Weiss — the owner and sole operator — died, at the age of 101. Until days before her death, she'd continued to run the iconic store, on her own. From her perch on a chair by the front counter, Weiss would greet schoolchildren who flocked to Irving's for candy, toys, trinkets and random surprises.
Over Labor Day weekend, Weiss's daughter held one last sale at the store that opened in 1939. Anita Jamieson is then donating proceeds from the final days of commerce at the local landmark to the Parent-Teacher Organization (PTO) of the Devotion School, the public K-8 school next door.
Devotion students Owen and Gavin O'Connell had been regular customers, and the brothers stopped by on Saturday to pay their respects and score a few key purchases.
"I got a gorilla that's a piggy bank!" said Gavin, age 10. "And four Airheads, a marble, one airplane — two, actually — a shoelace and a stress ball. And a comb. Can't forget the comb!"

Owen, age 13, said the loss of Ethel Weiss makes them sad.
"She was so kind," said Owen. "She was really helpful. I just don't know how to explain it. She was such a good person."
The O'Connell brothers said whenever they had money, they'd walk to Irving's after school. They grinned, remembering how Ethel Weiss would always make them count the money as they paid.
Over the holiday weekend, Jamieson and a crew of volunteer cashiers preserved the kids-count-the-money ritual, in her mother's honor.
As throngs of shoppers filled the narrow space, Jamieson said she's glad she had the chance to stage this ultimate weekend of commerce. Generations of her mom's fans made the pilgrimage. They reminisced about the beloved neighborhood matriarch, whose concerns rarely revolved around sales volume.

"One person came in to tell me she'd loved Swedish Fish," said Jamieson. "And my mother always told her 'Don't get too many; it's not healthy! You can have this many today, and tomorrow you can have some more!' "
Jamieson said although the closing is poignant, she does have a sense of perspective.
"We don't live forever," said Jamieson, "and my mother had a wonderful life. One person said the reason she lived until 101 is because she had the store, and she had a purpose, and that's true."
Barry Yaffe lived in Brookline for 54 years, and as a Devotion School kid he considered Irving's a home away from home. On Saturday, he stood on the Harvard Street sidewalk surveying the scene and reflected on the woman who created the tradition.
"This was a legend, "said Yaffe. "Everybody went to Irving's. We all lived here, practically. Everybody knew Ethel. She always greeted you, and helped you out. If you needed advice, she gave you advice. Anything you needed? She did."

Yaffe said although hordes of kids always made a beeline for the candy and toys, parents also relied on Irving's.
"My mother, may she rest in peace, she used to come in here whenever she wanted birthday cards or greeting cards," recalled Jaffe. "Ethel had the best selection!"
Some of the cards that Jaffe's mother might have flipped through decades ago probably stayed on the shelves at Irving's through the final weekend. Ethel Weiss was not one to update her stock with any particular urgency. The shop resembled a time capsule from a succession of bygone eras.
On Saturday, Jamieson stood at the counter and looked around at the children and grownups rummaging through the merchandise — some of it older than almost anyone in the shop. She said she's proud of her family heritage and relished this last batch of conversations under the Irving's awning with her mother's devoted clientele.
"I miss her," said Jamieson, "even though we didn't always get along — she was my mother, after all! But I miss her, and I'll miss not seeing the store."
However, Jamieson added, she thinks she's been able to work out a solution to keep some of the history alive. If the plan holds, then the familiar red and white awning will remain.
Thus, she said, even though the business is gone, "people will always see it as Irving's Toy and Card Shop."
Jamieson smiled, and then turned to one more transaction: Tootsie Rolls, a plastic snake and a dusty yellow happy face keychain.