Boston Piano Kid Fulfilled His Dream, Going Key For Key With Billy Joel At Fenway
Play
This article is more than 6 years old.
Shortly after beginning his concert last month, Billy Joel called a local performer to the stage — and the young man absolutely wowed me and about 30,000 others jammed in Fenway Park.
The Boston Piano Kid sat at a second piano across from Joel and banged out a tune — note for note — matching the Piano Man. They played one song together, the "Root Beer Rag," and the crowd went wild with a standing ovation.
Turns out this young man — Bradley Bartlett-Roche, from central Massachusetts -- is just 14 years old.
I met him on a day he brought his piano to play outside Faneuil Hall. The kid wears a white fedora, a white shirt, pinstripe vest and cool shades. He looks hopelessly young, but man can he play.
Bradley, who says he has been playing since he was 2 years old, has a bit of a resume for someone his age. He was voted Boston's top instrumentalist by the group the Young Performers Club, has played at the Hard Rock Cafe and the Boston Jazz Festival. When he was 11, was selected as the Youngest Official Solo Performer at Faneuil Hall. Someday he'd like to go to the Berklee College of Music.
The morning crowd at Faneuil Hall was kind of sparse compared to Fenway's thousands, but they occasionally dropped some coins and bought his CD for 10 bucks. Between songs, I spoke with Boston Piano Kid about his music.
Interview Highlights
So tell me about Billy Joel, I take it you're a huge fan.
"Huge fan. No question about it. I've heard every single one of his songs. He's my biggest music idol. For three years I've gone to every single Billy Joel concert at Fenway Park. And I had a sign that said 'Root Beer Rag, let's duet, Billy.' And I've been holding it up for three years. So I finally launched a Twitter, YouTube campaign to see if we could get it retweeted so many times to Billy Joel so maybe he could see it — and it worked."
And the song that you played?
"Yes, 'Root Beer Rag.' That's my favorite Billy Joel song by far. ... There's just something about it. It's got this blues/ragtime feel that you don't hear very much. It was really awesome."
What was it like on stage that night?
"There's no words to describe it. I was absolutely euphoric. It was incredible. ... It was actually the least nervous I've been [at] all my performances. ... it was definitely because the band and the whole organization — they just took me under their wing and made me really comfortable. They helped me along. ... It was the complete fulfillment of my dream. It was a really incredible feeling knowing I actually accomplished my dream."
---
Here's the video of Bradley playing with Billy Joel at Fenway: 
---
What did you talk about with Billy Joel?
"We talked about music. He taught me how to pick up girls with piano. We just talked."
How much time do you spend with a piano every day?
"Oh hours. There's not a specific time I spend but I'm at least three to four hours a day on the piano."
Where do you want to go in life?
"I want to be like Billy Joel. That's exactly what I want to be like. ... I really want to spread my music throughout the world and try to make a difference. That's my whole goal. It's definitely a gift and I'm gonna use it to the best I can."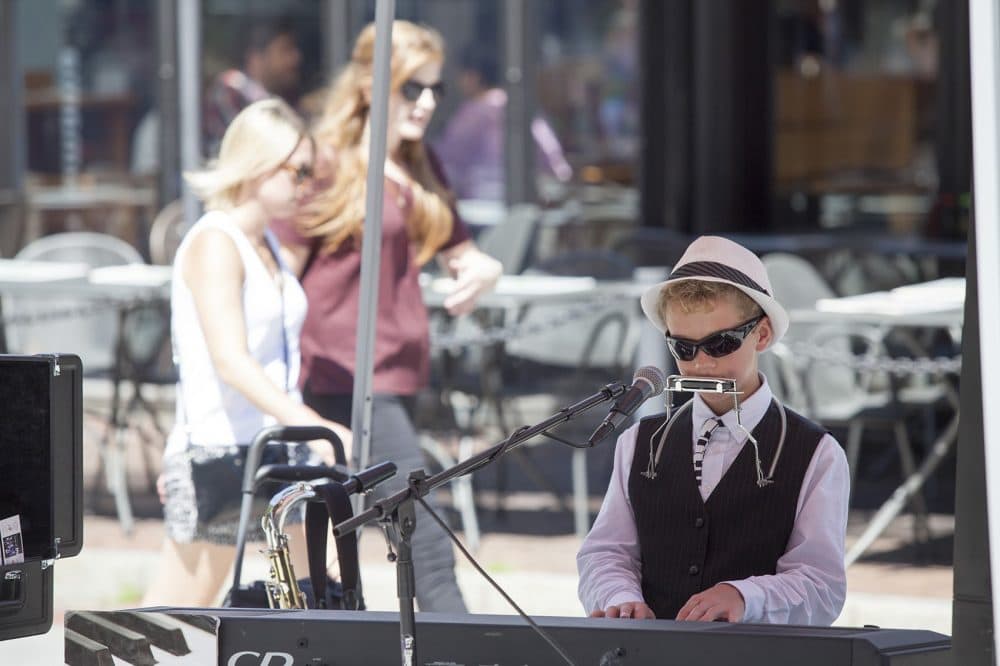 This segment aired on September 21, 2016.