Opinion: Dear Hillary And Donald, You'd Be A Better President If You Got More Exercise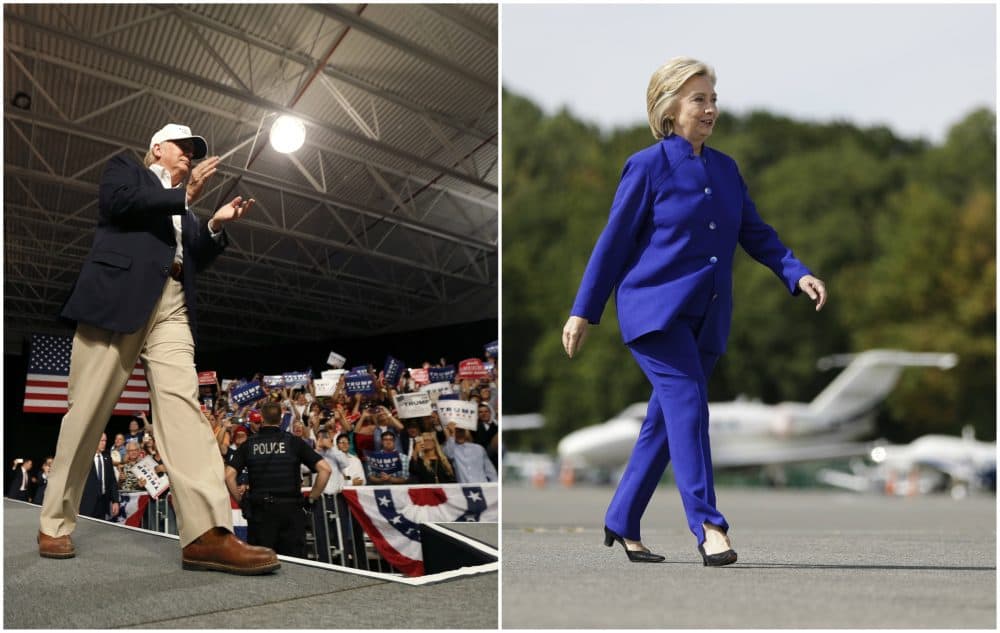 This article is more than 5 years old.
For 21 straight days now, Dr. Eddie Phillips and I have faithfully refrained from using the word "should." That was our promise at the start of WBUR's 21-day exercise podcast, "The Magic Pill." We would never tell you that you "should" exercise. We would only share what you can do, and why you might want to do it.
But a "should" is now exploding from my typing fingers, and it is this: If you're running to be the president of the United States, I'm sorry but you really should exercise, and you should be open and vocal about your commitment to being physically active.
In the recent flurry of news about the two major candidates' health, neither was looking particularly good on this count.
Donald Trump talked to Dr. Oz about public speaking as a healthy form of exercise, particularly in overheated halls.
And the 2016 medical letter from Hillary Clinton's doctor did not mention exercise, though a previous letter in 2015 did: "She exercises regularly, including yoga, swimming, walking and weight-training."
Clearly, the two are no couch potatoes; they are frantically busy campaigning. And I suspect you may well find many aspects of this campaign season far more disturbing than the candidates' underwhelming exercise habits.
But still, it's a fail. And not a trivial one. Consider:
• More than a trillion dollars
Dr. Phillips, who is director of Harvard Medical School's Institute of Lifestyle Medicine, cites estimates that well over a trillion dollars of America's annual health care costs of $3.2 trillion can be attributed to "lifestyle disease" — the heart disease, Type 2 diabetes and more that could be largely prevented if we made better choices on diet and exercise and smoking.
• Feeling better, performing better
Twenty-one episodes didn't begin to cover all the health benefits of exercise; as the podcast title suggests, it's the closest thing to a magic pill for our health.
But here are a few that are most relevant to the presidency: Exercise improves creativity, stamina, sleep, immune function, mood. (Even Michelle Obama is on record saying if she doesn't exercise, she gets depressed.) The list goes on.
• Model behavior
No one expects a president to be perfect, but in my opinion, a leader is inevitably a model for the public of how to behave. A leader who cares about the health of a nation — particularly a nation where chronic, preventable diseases are a far bigger problem than infectious diseases — should model good health behaviors, like exercise.
And presidents often have. Barack Obama quit smoking and plays basketball. George W. Bush was a seven-minute-mile runner. Even Bill Clinton eventually drank the unsweetened Kool-Aid and dramatically changed his diet and exercise habits.
I asked Dr. Phillips to script a fantasy speech for a candidate who aims to inspire a nation to move more. His rough draft:
I will start with the single best thing we can all do for our health: just moving more. And now, to demonstrate my commitment, I plan to wear a fitness tracker every day for the rest of my campaign and into my presidency, and I'll be making public my step count every day. Walk with me every day for 30 minutes to reduce your risk of diabetes, battle obesity and to bolster our collective energy to battle the problems facing our country and our planet. Thank you.
That's just fantasy, of course. But in reality, how might we persuade the candidates to pop more magic pills?
I asked Margaret Moore, a leading executive wellness coach and co-author with Dr. Phillips of a new Harvard Health Book, "Organize Your Emotions, Optimize Your Life." Her pitch:
Given the extreme emotional demands of the presidency, organizing one's emotions is a high priority. Whether five minutes of stretches or climbing stairs or a vigorous workout on a spinning bike or a yoga class, nothing beats exercise for settling turbulent emotions. It's like a power boost for the brain's executive manager to stay focused when driving through emotional thunderstorms, high winds and strong impulses.

Our creative life force feeds us great ideas when we are moving our bodies. We are mentally stronger when our muscles are strong. Our minds are more agile when our bodies are flexible. When we tune into sustaining our physical bodies, we are more tuned into sustaining the planet. And last, the inner wise coach or sage can be heard when our minds are quiet, clear and calm after a good workout.
Next week brings the first televised Clinton-Trump debate. On the day-of, Moore suggests adding this critical prep to all the briefing books: "Ten pushups to feel strong! Ten stretches to feel agile. And 1,000 steps of vigorous walking to get blood flow to the brain."