A Sidewalk Picasso — Artist Eric Kluin Makes Newbury Street His Studio
If you've ever been by Sonsie on Newbury Street on a bright sunny day in the past 20-plus years (since the restaurant's opening back in 1993), you've probably seen Eric Kluin — the surfer-esque painter with six-pack abs — busily at work on his easel perched just outside the establishment's welcoming French windows that open out onto the sidewalk.
A shirtless fixture that's hard to miss, Kluin's something of a curio. Does he have a license to secure that spot? Is this some entitled ploy to pick up women? These are questions you might ask yourself as you pass by. Reasonable questions for the intrigued, but the answers might surprise you.
Kluin, a pretty laid back individual, moved to Boston in the late '80s after working at a halfway house in Arizona where he had formerly been a resident. He's been a recovering alcoholic for 22 years, and ironically, it was a bar that gave him his shot at a sustained recovery.
He began consuming alcohol abusively at the University of Michigan where he studied art, and didn't stop until he was scraped off the floor of his flat in Boston by a concerned friend and tossed into rehab — twice. He admittedly describes himself as a "classic alcoholic who would drink himself to death if given the opportunity."
While Kluin was in rehab for the second time, Patrick Lyons, who owned Axis on Lansdowne Street and several other bustling nightclubs in Boston, was looking to open Sonsie as an upscale eatery with a French cafe feel. Genji, the sushi restaurant that formerly occupied the space, had four large glass planes that loomed out onto Newbury Street. During the buildout, Lyons wanted to have something other than the standard builder's paper and so, through a local gallery owner who was showing some of Kluin's work, an introduction was made and a decades-long relationship was born.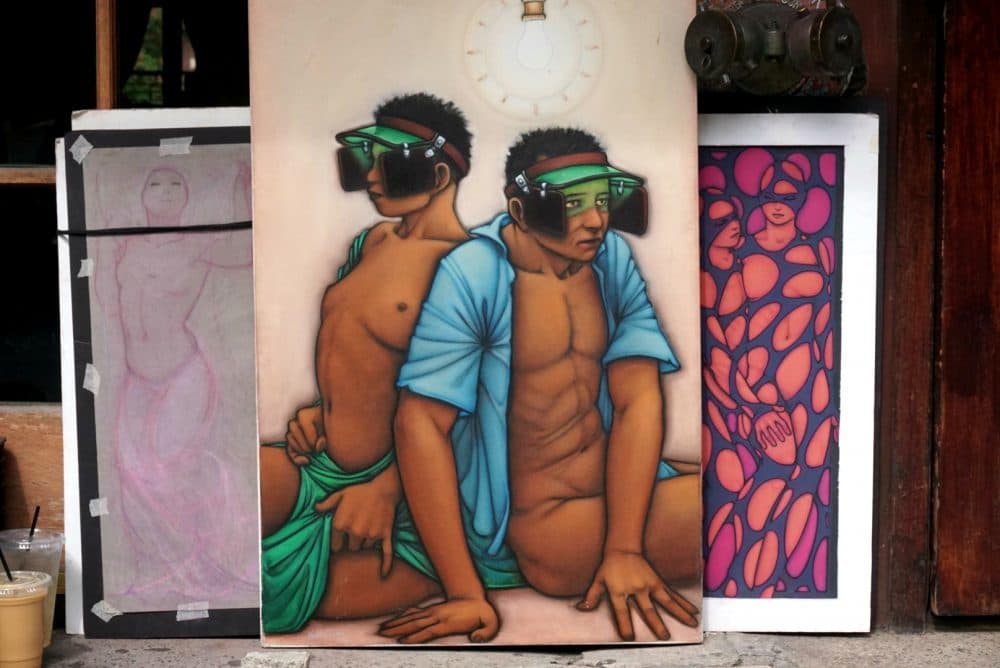 Kluin had been sober three months and was completely broke when he was commissioned by Lyons to render the temporary face of Sonsie as its elegant interior of warm mahogany, marble tables and cozy banquets was being assembled with care. The result was a series of four paintings titled "The Laundry Cycle" — "Wash," "Rinse," "Spin" and "Dry" — an abstract extrapolation of the essential mundane task of cleaning clothes.
Later when the restaurant opened, Lyons had Kluin make smaller wall hangings, which added to Sonsie's ambiance for many years. Those four paintings took quite a journey since then: When a manager decided on a decor change, the paintings were set to be discarded. Instead, an employee picked them up. Two years later, Kluin by chance bumped into the employee with whom he was friendly, and the paintings were returned to their creator. Kluin then exhibited the pieces at various establishments in the area until three of them found their way into the house of a wealthy patron. One is still out there — somewhere.
Back when Sonsie opened, Kluin says Lyons saw him as part of the landscape and the two talked about his role. One idea was to have Kluin do portraits, but artistically that wasn't Kluin's bag. His art, which he describes as "comic book nouveau," revolves around the human form with abstract touches of social commentary — people of color and a sense of forlornness pervade his collections.
So outside Sonsie, Kluin paints what moves him, making an occasional sale and filling his soul. "Eric's part of the team," an effervescent hostess extolled when I inquired about him for this article. Matt Soutra, director and supervisor of staff at Sonsie, describes the relationship as "symbiotic" and that Kluin, "adds a third dimension to the place — something beyond the four walls."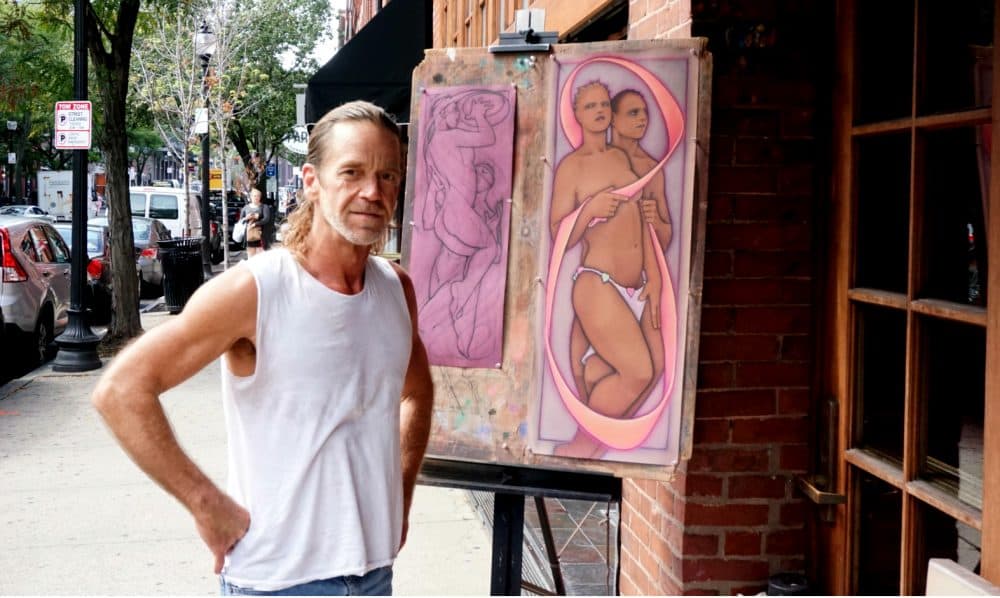 As part of the arrangement with the restaurant, Kluin stores his easel and art supplies at Sonsie and helps himself to coffee. In summary, he's something of a street artist with a patron backing, the largesse of which Kluin is deeply touched by and grateful for, "I owe Patrick a deep, deep debt. I can't stress that enough." Besides setting Kluin up out front, Lyons had from time to time granted him studio space over on Lansdowne Street.
Now 55, Kluin has become acutely aware of his image and his age. He works out regularly to maintain his physique and says that commuting from Roslindale on his bike helps too. Referred to as "the Sonsie guy" or "the naked guy," Kluin says he's not really that person. "People think women come up to me left and right, but that's not so. If I had to paint a sign about who I am, it would say 'Damaged artist, needs love.' " And Kluin admits that his shirtless presence invites more scorn than admiration. "I used to have a rotten temper, but now I've become pretty thick-skinned and just ignore the guys when they drive by and shout 'Hey d---head, put on a shirt' or call me Fabio."
As for the future, Kluin's not really sure. Sales are slow and the studio that showcased his work in Provincetown closed, but he makes ends meet by doing interior painting jobs. "I've just existed in abject oblivion," he shrugs, but also notes he's in a better place now than he was when he was drinking.
The word "sonsie," or "sonsy," means good health. For Kluin and his relationship with the bar that bares that name, that has been a sobering truism.