Kaleo Has Rocketed To Stardom With Their Southern Blues Rock … From Iceland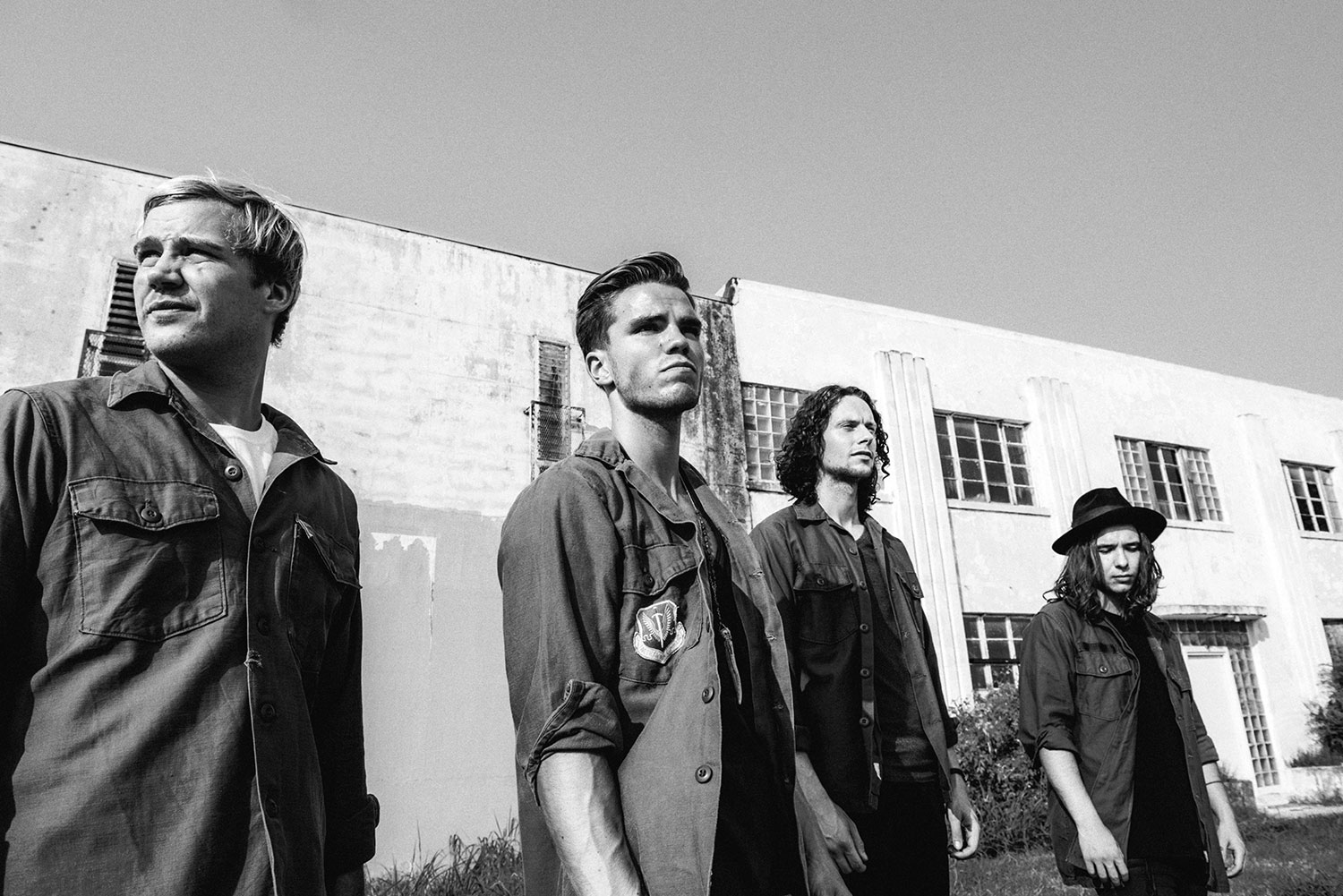 This article is more than 5 years old.
If you knew nothing about Kaleo and simply heard their music — say, the bluesy, hard-rocking "No Good," the opening salvo on their worldwide debut album "A/B" — you'd likely wonder which part of the American South they called home.
You needn't wonder. The quartet hails from Iceland, specifically a small town called Mosfellsbær on the outskirts of Reykjavík. And if you think about Icelandic music, you're most certainly in the realm of Björk, Sigur Rós and GusGus. Ethereal, mysterious, sometimes whimsical.
"We were kind of different from whatever anyone was doing back home," explains singer-songwriter-guitarist Jökull Júlíusson, on the phone from Washington, D.C. (He goes by JJ Julius Son in the U.S.) "When I started writing music, I was very inspired by the [American] music from the '50s and '60s and '70s and then I kind of went deeper for the Delta blues and was inspired by that kind of music. So that has a lot to do with my songwriting and my inspirations in a way. I don't think it's only that, but I understand the connection people are making with American music and rock and blues."
If Kaleo seems like an overnight sensation here — most of their current U.S. large club tour is sold out, but tickets remain for Boston's House of Blues show on Monday, Oct. 10 -- Julius Son says it was even more so in their homeland. "It was incredible," he says. "We kind of had the same thing happen back home. We got very successful in a very short period of time." Five hit singles in a row, the first being a refashioned old Icelandic ballad, "Vor í Vaglaskógi."
Julius Son, bassist Danny Kristjánsson and drummer David Antonsson were friends who started playing together in high school and Kaleo took shape after adding guitarist Rubin Pollock. They're all in their mid-20s now. Says Julius Son: "I think everyone in the band, we shared this love for classic rock when we met in school around 14 or 15."
Kaleo has been the beneficiary of fortuitous song placement in various American TV show soundtracks and promotions, "No Good" in "Vinyl," and "Way Down We Go" for "Blindspot" and "Empire."
"I'm not involved, really," says Julius Son, of the song placement process. "I guess we've been pretty fortunate with all this interest that's been shown, a lot of syncs [music licensing deals], especially on TV. So, yeah, hats off to management and publishing. In today's world you get great exposure from people who maybe would not have discovered the music otherwise."
In 2013, Kaleo released a self-titled album, for Icelandic distribution only. For their U.S. debut in June, the band plucked four songs from it and re-recorded them in Nashville along with the new tracks, primarily with producer Jacquire King. After a spell spent in Austin, Nashville became their new base of operation.
"I thought all those songs played a big part on the [new] album and came together to help the big picture of 'A/B' to stand as it is," Julius Son says. "We had a lot of songs to choose from. My kind of concept of the album was A-side and B-side, obviously, and the A-side being more up tempo, more rock 'n' roll I guess, and the B-side being more melodic and softer in a way."
The "B-side" standout is "All the Pretty Girls," for many an introduction to the band. It's here were Julius Son goes into a Bon Iver-esque falsetto, lending the song an airy, dreamy feeling.
"I'd never sung falsetto before writing 'All the Pretty Girls,' " says Julius Son, who adds his versatile Hozier-like vocal range is "all self-developed. I didn't really even start singing 'til I was 18 or 19. It's really been through my songwriting that I've developed a voice. I'm not afraid to try out things and I consider myself more of a songwriter than a singer. I learn a lot from the performance as a singer when I write songs."
Kaleo has released a breathtaking video for "Way Down We Go" — filmed inside an Icelandic volcano. The band recently released a video for "Save Yourself," shot on a glacier. (Ahead of the video's release, Julius Son said, "I think we definitely might have topped [the volcano video].")
Kaleo songs, with most everything sung in English, explore various rock 'n' roll permutations. "It's just the way I write music," says Julius Son, of the expansiveness. "I don't do the same thing every time. It's like you're not happy all the time; it's just emotions and you feel different ways. I'm not trying to push them in any direction or stay in the same genre. I just try to keep the flow and the songwriting organic, not mess with it too much. I try not to limit myself in any way."
In "Broken Bones," Julius Son growls, "The Devil's gonna make me a free man/The Devil's gonna set me free."
"I find American history really interesting although it isn't old and doesn't go as far back as a lot of European history," he says. "That song was taken from the mindset of the 'slave blues' and obviously [I'd been] listening to a lot of Delta blues. It's these stories they're trying to express. You can't help but be exposed to that if you listen to a lot of the blues, especially listening to Son House and Robert Johnson, going all the way back to the '30s."
In their way, Kaleo is doing what bands like The Rolling Stones and The Yardbirds did in the early '60s: soaking up American blues and refashioning it in their own language.
"Right," says Julius Son, with a laugh, "except I don't have to go to the record store and spend the money I don't have on these 45s. I can just go to Spotify."