A Hyannis Senior Fights For Gay Student Athletes — Like Him
Resume
It's pretty common to see Jonathan Peters bouncing his basketball around Sturgis Charter High School in Hyannis.
From as far back as he could remember, this 18-year-old has had a passion for watching and playing sports — any sport.
"Always been a big football fan, baseball fan," he said. "Our family has season tickets to the Celtics."
There's something else that he's known about himself for just about as long as he can remember: that he's gay.
Peters is now a senior at Sturgis and the coach of the junior varsity basketball team. And now he wants to get rid of the stigma at the high school level around being gay and playing sports.
He's become a school leader, and he's gotten more than 100 student athletes on Cape Cod to make a pledge to no longer bully or use homophobic language. On Thursday, along with his school and the Youth OUTreach Program, Peters held a conference for local high schools and athletic programs on eliminating anti-gay bullying and promoting acceptance.
More than 100 student athletes attended the event at the Resort and Conference Center in Hyannis. It featured keynote speakers Cyd Ziegler, the co-founder of Outsports.com, and Braeden Lange, a 13-year-old lacrosse player from Pennsylvania who appeared in an ESPN documentary called "The Courage Game."
That documentary played an important role in Peters' life as well.
One day, while he was watching ESPN with his father, "The Courage Game" came on. Jonathan Peters heard an athlete onscreen saying, "I wish I had come out to my teammates. I couldn't do it. I had to hold it in. It was just a lot of self-hate, a lot of denying who you were."
On the show, gay pro and college athletes spoke about the pressures of living up to the stereotype of the macho, heterosexual athlete.
As he watched, Peters thought, "Why wait until college?"
And so he came out to his mom and dad. And then to his team.
And everyone was supportive.
"They embraced me and gave me hugs," Peters said.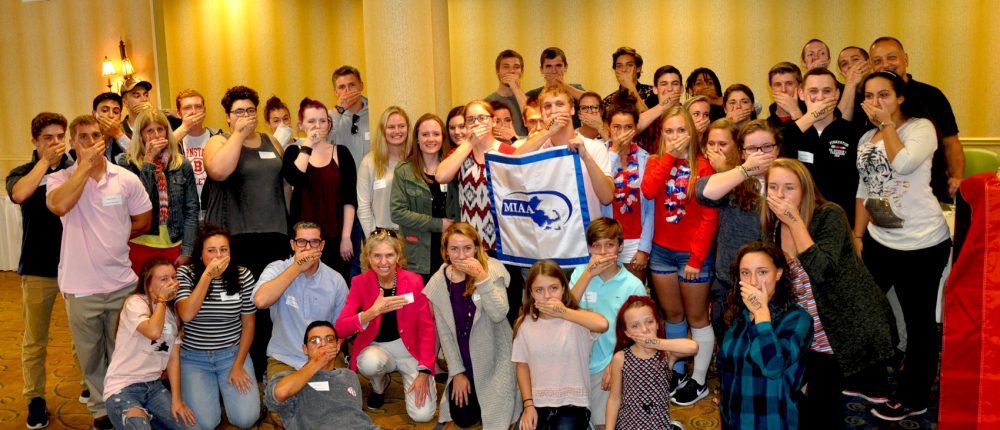 It doesn't always turn out this way.
The Gay, Lesbian and Straight Network conducted a survey in 2011 of more than 8,500 LGBT students from across the country. What they found was that only 23 percent of LGBT students played sports in school. Many of them reported being harassed or assaulted because of their sexual orientation — and some even said they were deterred from playing sports because their presence would be disruptive.
"I hear a lot from being in the LGBTQ community about how much harassment some kids go through, some of my friends," Peters said.
In some ways, Peters was born to take on this struggle – because he came into the world with a pretty big struggle of his own.
Peters is a triplet, born at just 26 weeks, along with his brother, Conner, and sister, Sydney.
Jonathan was the smallest, said his mom, Linda Peters. He weighed in at just over a pound — but he was strong.
"He literally came out of the womb fighting," Linda Peters said. "He was a fighter from the beginning."
The first six months of the triplets' lives were spent in the neonatal intensive care unit, where nurses knew Jonathan by name. He was the one who would pull out his oxygen tubes — five or six times a day.
"It was almost funny in the NICU," his mother said. "Every time there was a huge alarm that went off, everyone knew who it was. So this is who we've had all along."
But as Peters grew up, there was another, internal alarm — one that filled him with so much dread and anxiety, he'd spend nights crying himself to sleep.
On the basketball court, Peters and his teammates talked "a lot of trash," as he calls it — using insults to push each other to run faster and jump higher.
And some of those insults were painful for Peters.
"I'd hear certain things like homophobic slurs, and I'd always be hypervigilant about how I stood and ran," he said. "I didn't want to appear gay."
Now, he feels freer to be himself. And he's working to help other gay student athletes feel the same way.
Peters' dad, Jim, a former school principal, said he can already feel a changing of the tide.
"This would not have been happening in my early days as a school leader," Jim Peters said. "You wouldn't have kids who were so strong, bold. School leaders were hesitant, because we hadn't been faced with it. It's a changing world for the better in that way, but it's never going to be perfect. You're always going to need school leaders like this, and Jonathan Peters to step up and do what's right."
Jim Peters said this action is a show of his son's fighting spirit — the one he was born with.
"To this day, you feel bad that you didn't have the conversations earlier," Jim Peters said. "But from a very young age he was a kind, supportive young kid."
Jim Peters is proud that his son is driving the momentum toward greater acceptance, on and off the court.
This article was originally published on October 11, 2016.
This segment aired on October 11, 2016.