Artist's Dock Tattoo Connects Boston To Its History As An International Trade Port
Resume
We've been revisiting some of the works on Greg Cook's ranking of the top 50 pieces of public art in Greater Boston. Here's a closer look at No. 46 on the list.
"As you walk down this very large cement pier, looking at the Boston skyline and the harbor in front of you, you come across 19 different large, black stained tattoo designs," explains Somerville-based artist Liz LaManche.
LaManche created "Connected by Sea," a series of images and symbols on the cement sidewalk of a dock in the East Boston Shipyard. It's her version of Boston's history, highlighting a different perspective of how the city developed into what it is today.
"The start of the pier here is the Native American symbols," she explains. "It's where the land meets the sea, and I felt it was important to have that here and first because this was their land."
The symbols weave in and out of each other, extending the thousand-foot working dock.
"This repeating square is the Kongo cosmogram, which means birth, life, death, rebirth, and that shape has also been found in some slave quarters in the South," LaManche says. "It came to America and was used by people here."
Names of the countries where the symbols originate dot the edges of the walk, with a compass pointing visitors in the right direction.
"Being able to stand here and orient yourself and say, 'Yes, that place is over that way,' means something to us, physically," she says.
The piece, completed in 2014, was a community effort. After LaManche submitted her proposal to HarborArts — the nonprofit responsible for the influx of art at the shipyard -- she funded it through a Kickstarter campaign and had up to eight people helping her stain the dock on any given day.
"The whole thing came to me in an instant, just walking down that pier, because it's such a magical place," she says. "You have the long expanse of walk in front of you. The Boston skyline at the end, water and ships all around. I just naturally thought about where all those ships are going and coming from. Boston started as an international trade port — that's why we existed. I wanted to give homage to the different peoples and cultures that went into making us who we are. Really, we were an international city and still are."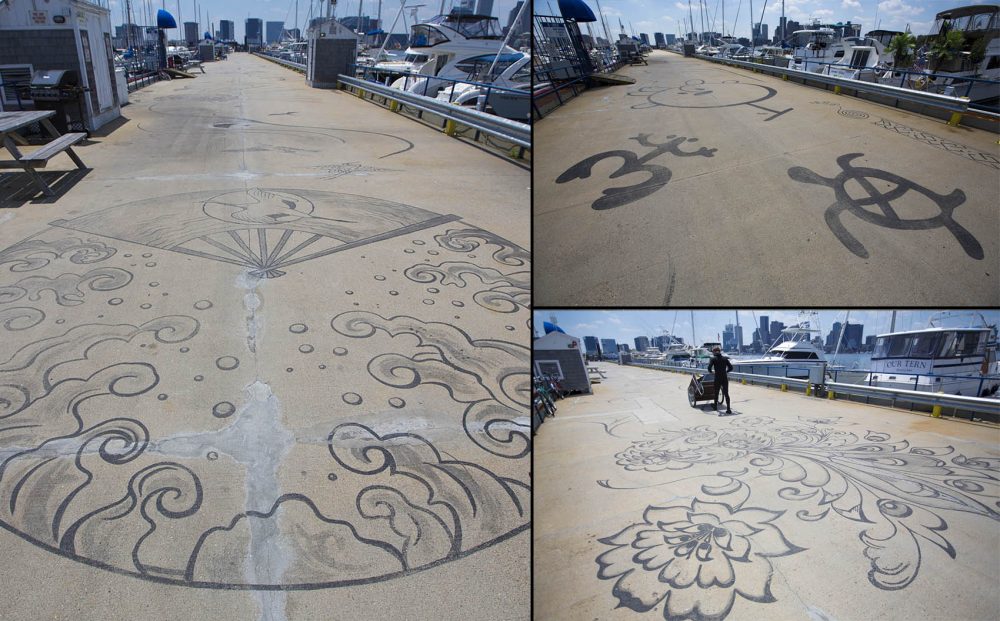 This segment aired on October 14, 2016.