The State's 1st Early Voting Period Kicks Off Monday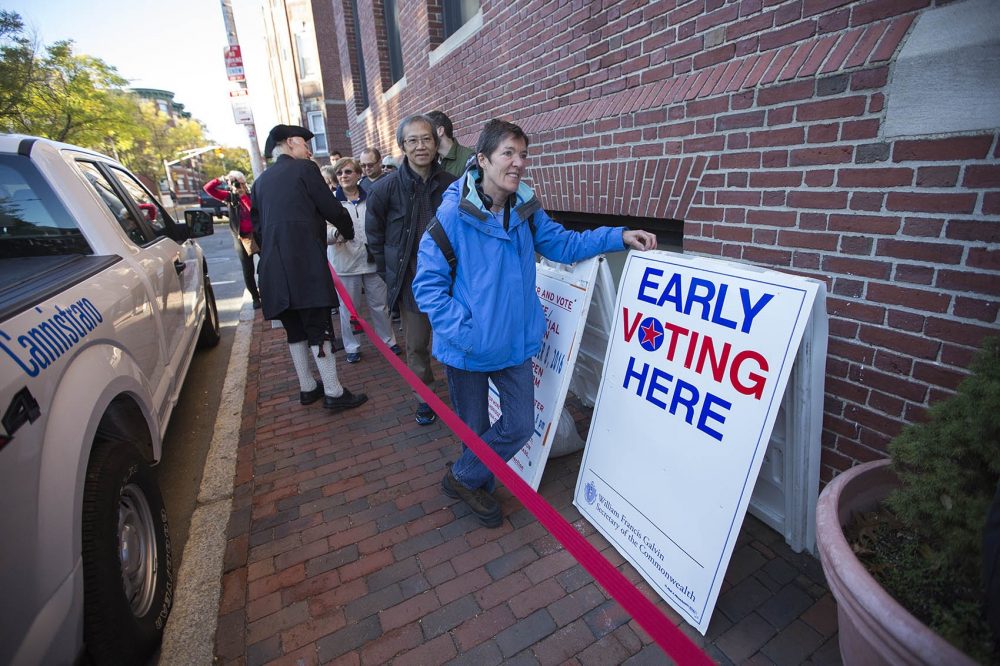 This article is more than 5 years old.
The state's inaugural early voting period kicks off Monday, ushering in a new era in Massachusetts elections.
From Monday, Oct. 24, through Friday, Nov. 4, you can vote at whatever polling place — or places — your city or town has set up. That's opposed to a typical Election Day, in which you have to go to your assigned polling place based on your address. (You can also vote early by mail.)
Massachusetts' foray into early voting stems from a 2014 law, which stipulated that all municipalities must have at least one voting location open during business hours (with extended hours if desired) ahead of a general election.
And while every municipality has early voting available on certain days, the fact that cities and smaller towns established their own voting locations and hours means there's a good bit of variety in the size and scope of those plans.
The towns of Harvard and Ipswich, to pick two, only have early voting available at their respective town halls. Harvard has evening hours available one night, while Ipswich has evening hours twice over the 10 days.
Boston's plan, of course, is bigger.
"We quickly realized that just meeting the minimum requirements of the law ... it was a good start, but it would not be near enough to make it as convenient as it could be," said Dion Irish, commissioner of the city's Elections Department.
All told, Boston has 28 early voting locations in or near each of the city's neighborhoods. Each location will be open for one of the early voting days for six hours, except for City Hall, which will be open for early voting every weekday through the period, from 9 a.m. to 8 p.m.
Irish said Boston is committed to making voting more convenient for its residents, and the city -- with $670,000 set aside in this year's budget — has been aggressive in pushing early voting.
"We are very much interested in getting our residents more engaged in the electoral process overall," Irish said.
The city has a pool of more than 3,000 people who regularly volunteer on Election Day, and Irish said his department selected 100 of them to work at the city's various early voting locations.
Secretary of State William Galvin has appealed to legislators on behalf of smaller cities and towns for funding for early voting expenses, and in August his office offered grant money to help communities defray those costs.
Security Concerns
No matter when you vote, you can, of course, only vote once. And Massachusetts' inaugural early voting period comes amid heightened concerns -- however valid -- about voter irregularities.
For early voting, Boston will be using new technology for the first time: electronic poll books. The tablets will allow election officials to check in any of the city's registered voters, as opposed to paper sheets for individual precincts that are used on Election Day.
Irish said the poll books "will help us to strengthen the security around our elections." He said the books "will have a copy of the voter list, but they're not connected directly to the voter registration database."
The early voting ballots will be kept securely, he added, and Boston police officers will be stationed at each voting location.
Mass. Joins The Early Voting Trend
Proponents say early voting makes voting easier, thereby boosting turnout.
But some research has found that's not the case.
In 2014, Barry Burden, a political science professor at the University of Wisconsin Madison, told WBUR that the people who vote early would vote anyway, and that early voting may actually depress turnout because, he suggested, it curtails the excitement around Election Day, with all its attendant social pressure to cast a ballot.
Either way, Massachusetts is a laggard in launching early voting. It's joining 33 other states, and Washington, D.C., in offering early in-person voting. (A few more states vote-by-mail.)
Nationwide, more than 1 in 3 people are expected to cast a ballot early this year, NPR has reported, and in fact, as of Sunday morning, more than 5.7 million people had already voted.
In Boston, Irish said his department isn't offering any formal projections, but, based on similar communities, he said 20 percent of registered city voters may potentially take advantage of early voting.
Correction: An earlier version of this post said every municipality has voting available every day in the period, besides Sunday. That is inaccurate. Some places have fewer early voting days available. We regret the error and urge you to check this state site or with your individual town or city for early voting availability.
This article was originally published on October 23, 2016.