Time To 'Revolt'? Yes, Says Company One, And 'Revolt Again.'
This article is more than 6 years old.
Over at Company One Theatre, women are revolting. They retch, bleed, vomit and worse. All in accord with 30-year-old British playwright Alice Birch's directive that her play ("Revolt. She Said. Revolt Again.") "should not be well-behaved."
This deceptively droll if incendiary 2014 work was commissioned by the Royal Shakespeare Company and is receiving its New England premiere by Company One through November 19 at the Plaza Theatre at Boston Center for the Arts. It's structured like a proclamation, taking a cue from radical feminist Valerie Solanas' infamous 1967 SCUM Manifesto, which called for the overthrow of the government and the elimination of the male sex. The Caryl Churchill-influenced Birch has a different mission. The writer, a married mom with a young son, means to shove a whoopee cushion and a dictionary — along with a bomb — under the sorry, remarkably still-undead ass of the patriarchy.
At Company One, the audacity starts with director Summer L. Williams. Not content to meet the challenges presented by the geopolitical carnival that was "We Are Proud to Present a Presentation …" or the minstrel act of historic subversion that was "An Octoroon," she now tackles a whimsical if politically charged work that's without firmly delineated characters and whose stage directions include notes like: "There are at least three people in this scene." Moreover, Williams has chosen to cast the piece with just four fearless players (the playwright would prefer six actors), whose all-in, off-kilter performances supply it with both eccentricity and heart.
The simply (if effectively) staged "Revolt" unfolds in vignettes, each identified by a seemingly dry directive like "Revolutionize the Language. (Invert It)." Or "Revolutionize the World. (Do Not Marry.)" That is, until the sketches start coalescing and the projected placards start to pile up willy-nilly as the play explodes into a violent, poetic orgy of alienation, hucksterism, carnage and regret in which bluebells and watermelons are conjured and potatoes fall from the sky.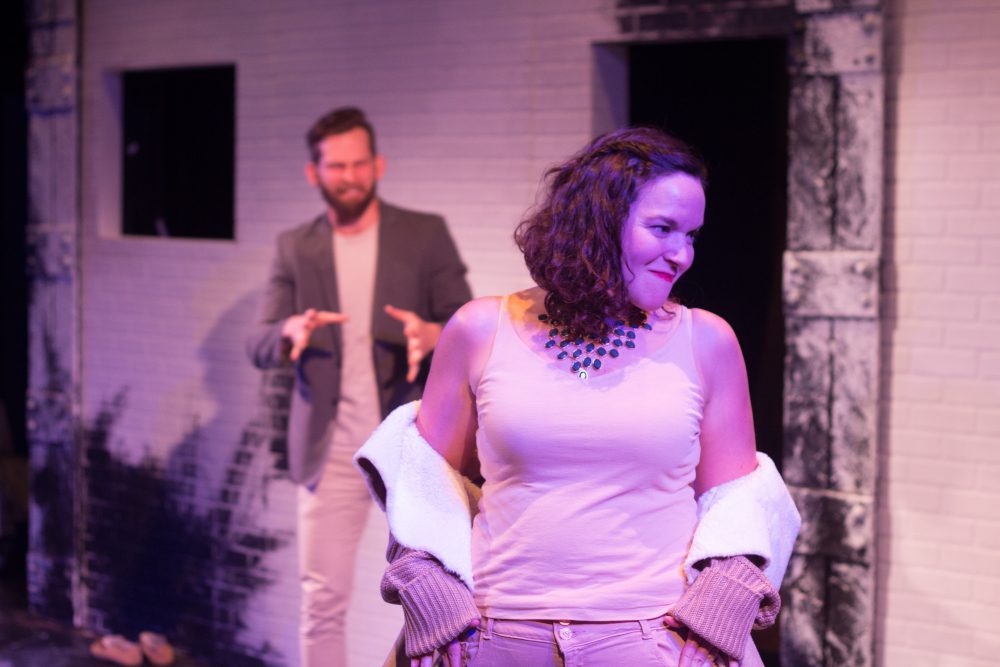 But in the beginning, "Revolt" is less disturbing than it is pointed. In the first scene, which pits lust against language and agency, a heterosexual couple has returned from dinner out, whereupon the man (Jeff Marcus) seeks to bed the woman (a terrific Becca A. Lewis) through a telling mix of idolatry and objectification. "You are a Brilliant Bright Bright thing — do you have any idea what your shoulders, bare like that, do to me, do to my structure, to my insides — I want to make a brooch out of your hair and your pupils and your ribs," he pants somewhat ghoulishly. "I want to make Love to you," he continues. "With?" she corrects. And so the hot-and-heavy linguistic tutorial goes until the "Almighty Vagina" has conquered both sexism and the mood.
In a follow-up vignette, another hapless man (Marcus is the outnumbered male in the cast) is stymied by the rejection of a marriage proposal he thought was as embraceable as a valentine. When his girlfriend (Christa Brown, costumed for some reason in a onesie decorated with a Care Bear-like heart and a tail) likens the proposition to a suggestion that they blow up a grocery store together, he invokes all the buzzwords: love, children, security. She counters with "chattel" and accuses him of asking her to wear "a meringue" to "some enormous shaming event."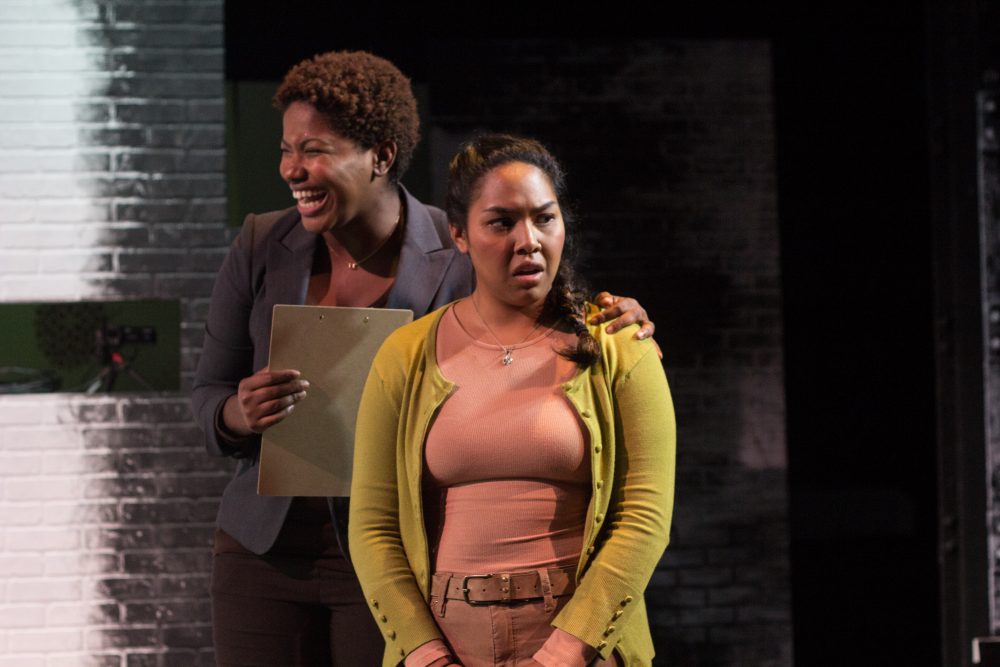 But Birch isn't just out to needle men. In "Revolutionize the Work. (Engage With It.)," she sends up The Man, regardless of gender. This frantically escalating sketch begins with a woman (a stubbornly laid-back Ally Dawson) informing a workplace administrator that she would like to stop working on Mondays. She would prefer to sleep more — and walk her dog. Before long, she is being bullied/cajoled by three clipboard-wielding managerial grotesques whose desperation takes the form of office allurements ranging from newly installed vending machines and a bar to being paid "as much as the boys."
About this time, the shift bell rings and we move into territory more disordered and surreal. A pair of grocery-store managers hectors a woman (Lewis, her poignant performance enlarged through video projection) who has lain down amid the watermelons in aisle seven and made herself... available. "It cannot be an Invasion," she explains forlornly, "if you want it…. Open your legs and throw your dress over your head, pull your knickers down and want it and they can invade you no longer."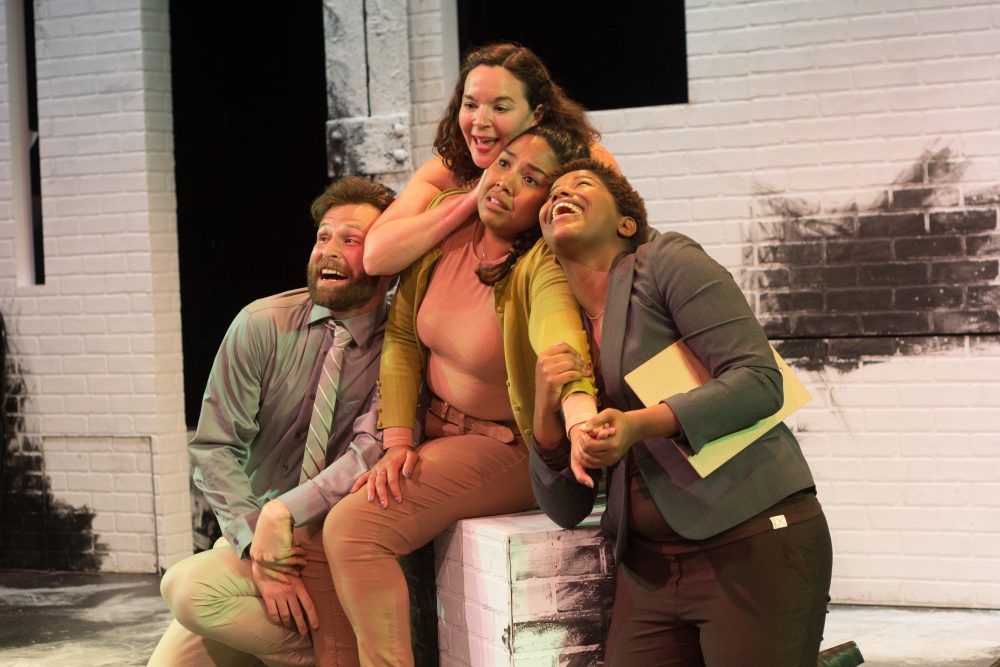 An American Gothic-style reunion of three generations of women who fail to acknowledge one another devolves into something shocking. Then, as both the social order and the theater piece start to slip the rails, encounters take to colliding like bumper cars, bleeding into one another like spilled, vivid paint. A salesman hawks T-shirts bearing feminist slogans as a bloodied woman skips about the theater proffering "un-ruptured hymens for sale." Pornography is invoked, as are ineffective law enforcement and sanctimonious clergy. Language starts to chase its own tail in repeated incantations of "adverb adjective noun." Then out of the chaos comes a long, magisterial if feverish speech (delivered by Brown) to the effect that "There is a point at which the thought is not enough."
So, is Birch saying that the revolution urged by Solanas almost 60 years ago in her SCUM Manifesto is necessary after all? If so, the playwright at least has the grace to feel sad about it. And Company One, continuing to present work that pulses with urgency if not always with coherence, tops her sweaty, funny, furious march to the barricades with a clap of thunder, a rain of spuds and a crystalline a cappella chant. It may not make complete sense, but it sure makes a visceral impression.