Doctors' Group: Neither Candidate Should Have Finger On Hair-Trigger Nukes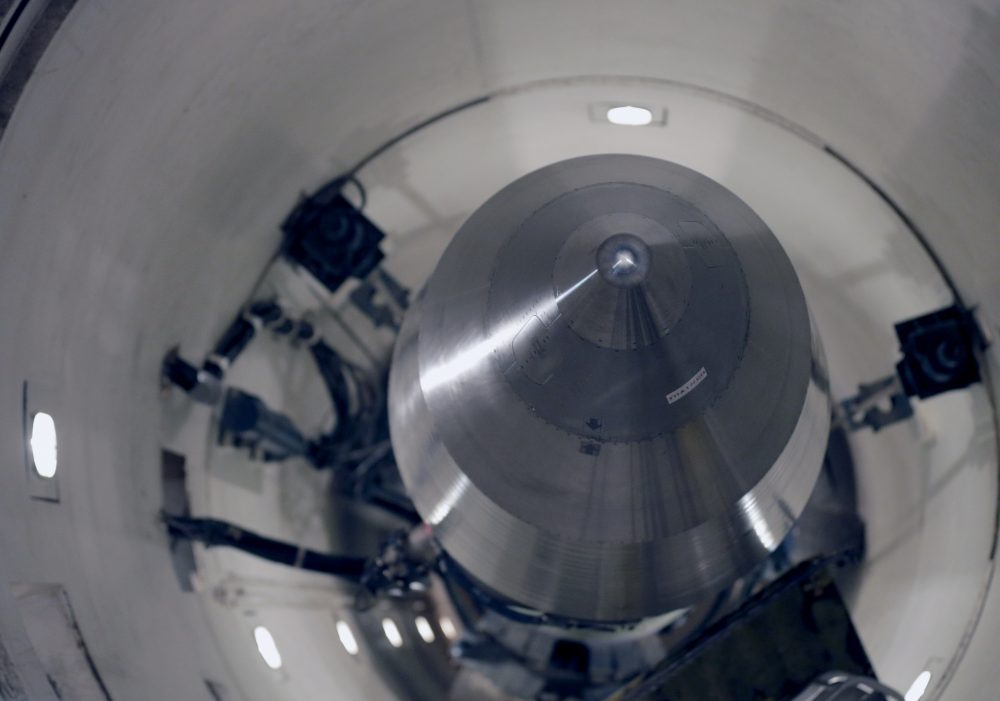 This article is more than 5 years old.
Our presidential candidates each claim, to borrow a phrase, "the best temperament." What do they mean? Well, simple: I am less likely than my opponent to end life on Earth.
We know this because the competing boasts about temperament arise in the context of whose fingers should or should not be allowed near our planet-threatening nuclear arsenal.
That's 1,800 nuclear bombs on submarines, airplanes and rockets -- most aimed squarely at Russia and ready for launch in minutes. We have another 5,000 or so in storage. (You know, in case we need more). The Russians have a mirror-image arsenal pointed back at us.
Presidents George W. Bush and Obama have warned that keeping nuclear missiles on hair-trigger alert is reckless. There have been multiple near-misses and near-launches — cases where confusion or computer glitches forced leaders to make decisions in just a few sweaty, terrifying minutes about whether to Release the Kraken. And yet, in a failure of imagination and leadership, nothing has been done.
Control of this God-like power will soon be transferred to a new president. But do we really want to trust anyone with this situation? Not just with the power to order a nuclear strike — but the responsibility of deciding whether to do so in just minutes, on the basis of sketchy, preliminary information?
There's been scant comment this political season on why it's still like this. But that is finally starting to change, and as we move past the November election, the end of nuclear weapons could be the next big thing.
3 Minutes To Midnight
Back in the 1960s, a handful of doctors in Boston formed Physicians for Social Responsibility, and started putting the word out — in part via medical school symposia — that the risks of nuclear war were high, the concept itself an immoral catastrophe. By the 1980s, they had linked with doctors in the Soviet Union to found International Physicians for the Prevention of Nuclear War. The two groups shared the Nobel Peace Prize for 1985.
Thirty years later, concerned doctors again find themselves sounding the alarm, at a time when the dangers of nuclear war are as great as ever. Physicians for Social Responsibility revived the symposia of the 1980s earlier this month in Boston, with a meeting unique for having been sponsored by every medical and public health school in the city, including Harvard, Tufts and Boston universities and UMass.
This renewed push by doctors, scientists and concerned citizens is happening around the world. The Chicago-based Doomsday Clock, which conveys "how close we are to destroying our civilization with dangerous technologies of our own making," is now at three minutes to midnight -- midnight meaning apocalypse. The last time the scientists and Nobel laureates who set the clock's hands put us this close to midnight was in the Cold War 1980s.
Yet just as in the 1980s, there is also a groundswell anti-nuclear movement again building, and the banning and elimination of nuclear weapons is suddenly a surprising short-term possibility.
Moves To Ban, To 'De-Alert'
"There's no reason why you'd think, from living in the U.S., that there is any kind of big international movement to deal with nuclear weapons. But there is," John Loretz, program director for International Physicians for the Prevention of Nuclear War, said at the recent Boston symposium.
Even as he spoke, in New York a breakthrough resolution sponsored by dozens of countries, including Ireland, Mexico and Austria, was wending its way through the United Nations. This week, resolution L.41 was approved by a U.N. committee and now goes to a full General Assembly vote some time in December. If it ultimately passes as expected, it will lead to negotiations in early 2017 for a legally binding treaty to ban nuclear weapons.
Nukes would join chemical weapons, biological weapons and landmines as illegal under international law. That won't make them go away -- countries, including ours, can ignore the law. But to quote the Austrian foreign minister, "Experience shows that the first step to eliminate weapons of mass destruction is to prohibit them through legally binding norms."
This might also encourage our next U.S. president to de-alert nuclear weapons -- meaning, take them off of hair-trigger status. Presidents ranging ideologically from Bush to Obama initially favored a de-alert, but then backed down while in office. And yet the process could be as simple as a presidential order declaring that even if we suspect we are under attack, we will not order a nuclear strike of any kind without a mandatory waiting period. Obviously, we would invite the Russians to do the same.
Remember, both nations have nuclear-armed submarines. So if you believe in deterrence, there's no credibility lost by insisting on a 24-hour waiting period before blazing away. Florida has a three-day waiting period to buy a handgun. Why can't the U.S. have a similar waiting period before buying an extinction-level event?
'Before Your Luck Runs Out'
It would be hard to overstate the urgency of this work. There's a whole rest of the world out there, with its own simmering conflicts and fanatical ideas. India and Pakistan, for example, have recently seen their worst violence over Kashmir in decades.
These nations fought wars in 1947, 1965, 1971 and 1999, with 47,000 deaths. The last war came as both had just tested their first nuclear devices. Now they collectively have about 230 nuclear weapons. Climate disruption is increasing tensions between them, as they bicker over control of limited water supplies.
"Among all the pairings of nuclear weapons states, [India and Pakistan] are the ones that actually have an established history of going to war with each other over and over and over again," said Zia Mian, a physicist and the director of Princeton University's Program on Science and Global Security.
All September, "hysterical TV presenters" in India and Pakistan were demanding massive military responses, including nuclear strikes, Mian told the Boston symposium. By October, things had calmed, he said, but "there are only so many times that you can go through this before your luck runs out."
Dr. Ira Helfand, who heads the Boston chapter of Physicians for Social Responsibility, followed up with a scientific forecast of the outcome if India and Pakistan were to exchange half of their nuclear weapons: 20 million lives lost immediately, catastrophic global cooling in a week, crop failures from America's corn to China's rice, famine deaths for up to 2 billion people.
The same would go for any exchange of 100 of the world's 15,000-plus nuclear weapons. 
'Banned Once And For All'
The growing drive to ban nuclear weapons has support from around the world: health authorities, the Red Cross, mayors of more than 7,000 cities, former Cold Warriors like George Schultz and Henry Kissinger, former Secretary of Defense William Perry. Pope Francis wants nuclear weapons "banned once and for all."
Last week, U.N. resolution L.41 was endorsed by 15 Nobel Peace Prize winners, including Tibet's Dalai Lama and South Africa's Bishop Desmond Tutu. On Thursday, the European Union Parliament became the latest entity to endorse the idea.
And what of our American leadership? So far the White House is working to block the U.N. resolution. Instead, President Obama -- despite his first-term call for "a world without nuclear weapons" — has endorsed a plan to spend $1 trillion over the next 30 years to upgrade and modernize the arsenal.
A trillion dollars! That's the largest public expenditure scheduled for the coming decades -- and it's been conspicuously absent from the national discussion. Instead, our presidential candidates trade boasts over who is backed by more generals or admirals.
By all means, vote for your candidate of choice, but keep the big picture in mind. We need imaginative, far-reaching leadership to rapidly scale down to zero the world's nuclear arsenals.
Dr. Matt Bivens, an emergency department physician at St. Luke's Hospital in New Bedford and at Beth Israel Deaconess in Boston, is on the steering committee of Greater Boston Physicians for Social Responsibility.