Pirates And Pageantry — 3 Gorgeous Generations Of Boston Ballet Dancers In 'Le Corsaire'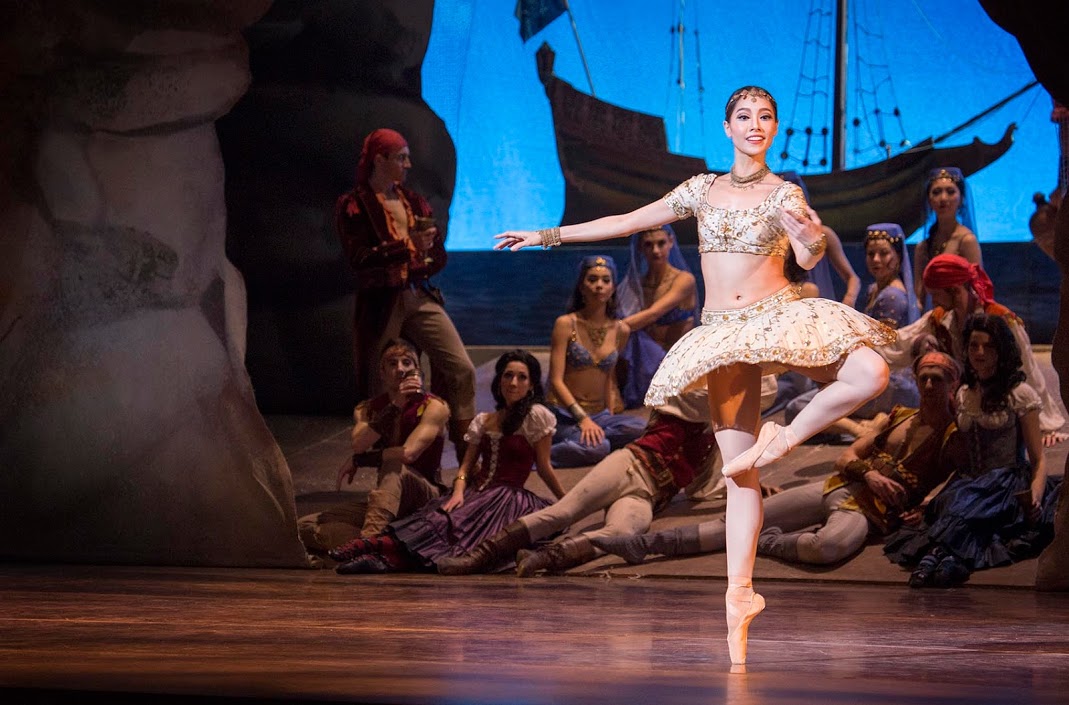 This article is more than 6 years old.
Why do we still have story ballets? Aren't they a clunky way to tell a tale? In an age of stunning special effects on screens as big as a barn and as small as a child's palm, what's to recommend a live ballet performance, with sets that may bang and clink as they're dragged into the wings? The answer is happening now at the Boston Opera House. We're the tribe around the campfire as three generations of dancers play out a tale that will stay with us beyond our night's dreams.
The Boston Ballet's season opener, "Le Corsaire" is a pageant meant to entertain, not to edify, or necessarily to relate a coherent fable. Children can enjoy the tale that unfolds through mime, sets, evocative music and vividly-costumed characters. Adults can look deeper, to thrill at bravura dancing, brilliant orchestral music and an inspired, cohesive presentation.
The story, loosely based on the poem "The Corsair" by Lord Byron, is Byzantine, a maze of wacky episodes featuring villains, heroes, maidens in distress and pirates who rescue them. The ballet was created in Paris in 1856, but all modern productions date from Marius Petipa's Russian staging two years later. "Corsaire" is soaked in racial, gender and class prejudice that would be hard to iron out into a politically correct narrative.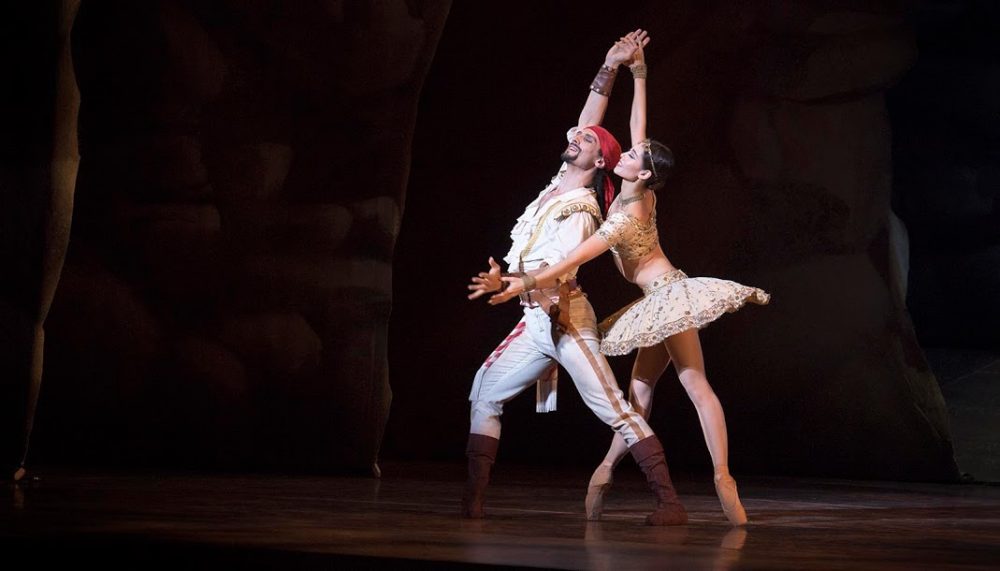 It's about a wealthy Pasha intent on bringing the beautiful young Medora into his harem. She's unwilling, and her foster father, Lankedem, refuses the Pasha's offer to buy her. But when the Pasha offers 10 times his original price, Lankedem accepts. Medora is rescued from being the Pasha's Wife Number Seven by her beloved Conrad, a pirate. The rest of the tale is a tug-of-war between pirates and Pasha's forces, replete with lightly-clad harem girls, dancing eunuchs, slaves, villagers and a sailing ship that rolls in stormy seas.
Opening each act, a scrim cut with a giant framed oval window provides our first glimpse of the evolving story. The scrim rises out of sight, and Act 1 sets the action in the slave marketplace, where we meet the pirate and harem characters, the townspeople, trouble-makers and little boys in smocks and skullcaps. The pirate's grotto is the cave-like setting for Act 2, where harem girls in daybeds wave their limbs like eels, and pirates gloat over a display of golden treasures. A pink-blossomed living-garden ballet dominates Act 3, in a grand divertissement to showcase the Pasha's treasures. A dozen little girls in pink tutus carrying pink garlands circle in a simple folk dance with a dozen little pink-pants-clad boys. Older ballet students join the ensemble, joined by adults dancing as flowers. They, too, are clad in pink, resulting in a gooey, cotton-candy overload.
Twentieth century ballets that tell a story tend to remain as they were initially created — for example, Agnes de Mille's "Fall River Legend" and George Balanchine's "Prodigal Son." But the great 19th century story ballets, like "The Nutcracker" and "Swan Lake," have been restaged and revised over the decades, as was "Le Corsaire." Its American debut came in 1997, when the Boston Ballet's former artistic director Anna-Marie Holmes staged the Russian Kirov's 1992 production, choreographed by Konstantin Sergeyev. The new "Corsaire" is the American premiere of Ivan Liška's 2007 production, originally set for the Bavarian State Opera Ballet.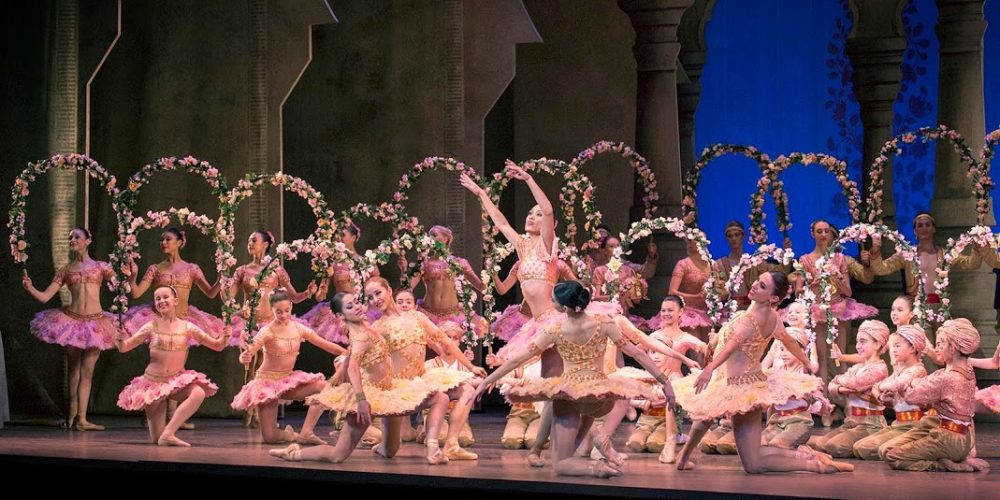 The opening night of the current incarnation of "Corsaire" featured strong, elegant performances by Seo Hye Han as Medora, and Lia Cirio as the slave Gulnara; Lasha Khozashvili was a steady, winning Conrad, the pirate leader, and Irlan Silva as Ali, a slave, leapt through his solos with such energetic zeal and precision that he earned whoops and cheers. The whole company joyfully brought ensemble pieces to life: They mimed and caroused on the sidelines, breathing color and excitement into the atmosphere.
The music, beautifully led by the company's longtime conductor Jonathan McPhee, combines work by the original composer Adolphe Adam with music of Leo Delibes, Cesare Pugni, Riccardo Drigo and Prinz von Oldenburg.
It takes a village. And that's the heart of this ballet: the collaborative art of musicians, choreographers, designers and most importantly, three gorgeous generations of dancers. The veterans perform character roles, the company and young dancers of Boston Ballet II dance and mime the story, and the children of the ballet's school charm us with simple steps and excited grins. A traditional form dating back to Italian courts of the 15th and 16th centuries, the story ballet can show us the life of a dancer — child, adult and veteran performer. So even when the stories are rife with dubious attitudes and outdated beliefs, they are still productions to treasure.
"Le Corsaire" runs through Nov. 6 at the Boston Opera House. For more information, visit the Boston Ballet's website.