Hacking Allergies: New Devices, Products To Ease Food Allergy Anxiety
This article is more than 6 years old.
Halley Gilbert knew something was seriously wrong when her 6-month-old daughter started projectile vomiting after drinking infant formula. Days later, the reason became clear: The child had life-threatening allergies to dairy, soy, eggs, wheat, tree nuts and peanuts. Two years later, Gilbert's younger daughter was diagnosed with similar allergies.
For many years, Gilbert says, the family endured a kind of self-imposed "isolation" to try to protect the girls. They never went out to eat, banned sleepovers, and chose schools based on how seriously the administration approached the allergies. They remained hyper-vigilant about birthday parties, school functions and family events.
Still, there were medical emergencies. Once, a hidden walnut in a piece of supposedly "nut-free" bread sent the family's older daughter to the emergency room for 12 hours.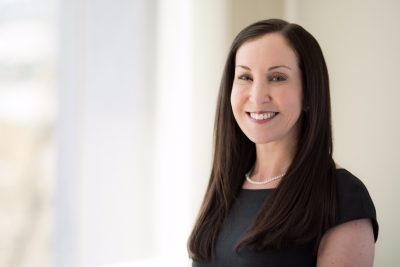 "It's like you're sending your kids out into a world full of loaded guns," says Gilbert, chief legal officer for a Boston-area biotech company." And it really is like that — the wrong bite can kill them, it's that level of anxiety. I've always had a stressful career, but it pales in comparison to having children with severe allergies."
A Surge Of Innovation
Every three minutes, a food allergy reaction sends someone to the emergency department, according to estimates. And up to 15 million Americans have potentially deadly food allergies. For the parents of children, food allergies -- which now affect 1 in every 13 kids, or roughly two in every classroom -- the stress and anxiety can be crippling.
In response, entrepreneurs from the Boston-area and across the nation — many with serious allergies themselves — are launching new startups and technologies to help allergy sufferers cope.
"There's a lot of innovation now," says Dr. John Lee, an immunologist at Boston Children's Hospital who serves as an adviser to one of the local allergy-related startups. "Up until the last few years, all we've said is 'avoid the foods and carry an [epinephrine] auto-injector,' but now we are beginning to talk about ways to deal with food allergies other than just avoidance."
Indeed, as debate over the sixfold price increase of drugmaker Mylan's EpiPen continues — cost of the allergy-reaction injector jumped from $100 for a two-pack in 2009 to $608 in September — investors are funding an array of new products in the allergy arena. They include portable food testing devices, peanut formula to help desensitize infants, as well as an EpiPen alternative, among others.
For many, the drive to innovate is personal.
Shireen Yates, co-founder of the Nima gluten testing device, had an "aha" moment at a wedding when appetizers were served. "I asked if they contained gluten," said Yates, who has severe food sensitivities that cause her digestive system to "shut down" when triggered. "And the server responded, 'Well how sensitive are you?' I hate that question."
So, while in graduate school at MIT's Sloan School of Management, Yates and co-founder Scott Sundvor began thinking about pragmatic fixes for people with food allergies. They came up with a portable device that can, within a couple of minutes, detect gluten in foods.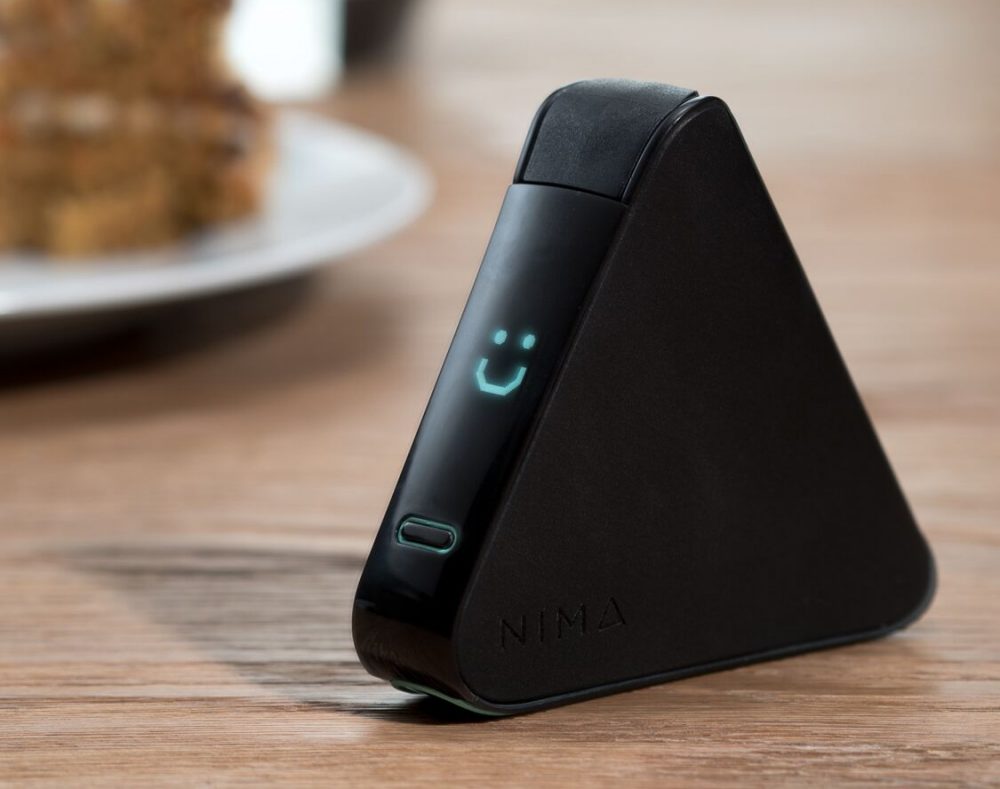 The compact device doesn't tell you exactly how much gluten is in foods, but it can detect gluten in concentrations as low as 20 parts per million, Yates says. Users place a small scoop of food into a capsule and wait a few minutes.
If the food is gluten-free, a smiley face graphic appears on a screen; if the food contains gluten, a little wheat symbol pops up. This year, the company, now based in San Francisco, raised $9.2 million in funding to accelerate its expansion, and the product should be on the market later this year, Yates said. It's not cheap: $279 for the base unit, which comes with three testing capsules (you need one for each plate of food) and $60 for an additional 12-pack of capsules.
"It's not a guarantee that everything is safe," Yates said. "It's just one extra data point, instead of playing Russian roulette every time you go out to eat."
Another element of Nima involves data collection: Every gluten test result can be added to an app accessible to anyone with an iPhone. Eventually, Yates hopes this will create a massive database listing gluten content from foods served at restaurants across the country as well as data on packaged foods. Nima's tester will soon be able to detect other allergens, like peanuts and dairy.
"I think we're going to see an explosion in this space — people will push each other to go faster, cheaper, better," she added.
A Clear Demand 
The market for these types of products is growing: The National Center for Health Statistics found that in 2014, about 5.4 percent of children under 17, or about 4 million kids, had some type of food or digestive allergy. That's up from 3.4 percent between 1997 and 1999.
When you include people of all ages with celiac disease and other food "sensitivities," the numbers are even higher: Estimates suggest about 1 out of 3 Americans are now actively avoiding gluten, for instance.
Pretty much everyone knows someone with a food allergy these days. So it makes sense that allergies have become a focus for new technology, says Lesley Solomon, executive director of the Brigham Innovation Hub and co-founder of the Food Allergy Science Initiative at The Broad Institute, which recently launched a major effort to accelerate research on allergies and new treatments.
"If you think about the innovation cycle, it is usually tied to market opportunity," Solomon said. "So, as people started having kids with food allergies -- or seeing their friends' kids with food allergies -- business-minded people and entrepreneurs started to realize a market was taking shape."
The demand is clear. "Just walk down an aisle at Whole Foods and see how many gluten-free, dairy-free, nut-free snacks there are today," said Solomon, who also has a child with severe food allergies.
Patrick Rivelli, who leads a investor group that provides early stage financing for projects that come out of MIT, was one of Nima's first outside investors.
He says he was drawn to Nima's technology for its practicality.
"A lot of people had tried to take a crack at [technology for food allergies] but were impractical and hadn't thought about usability," Rivelli said. "Shireen and Scott, they had a practical understanding of, in the real world, how a product would need to work, and developed a product with that in mind. It's the opposite of what I usually see — there's a technology developed and then it's kind of forced to fit a need."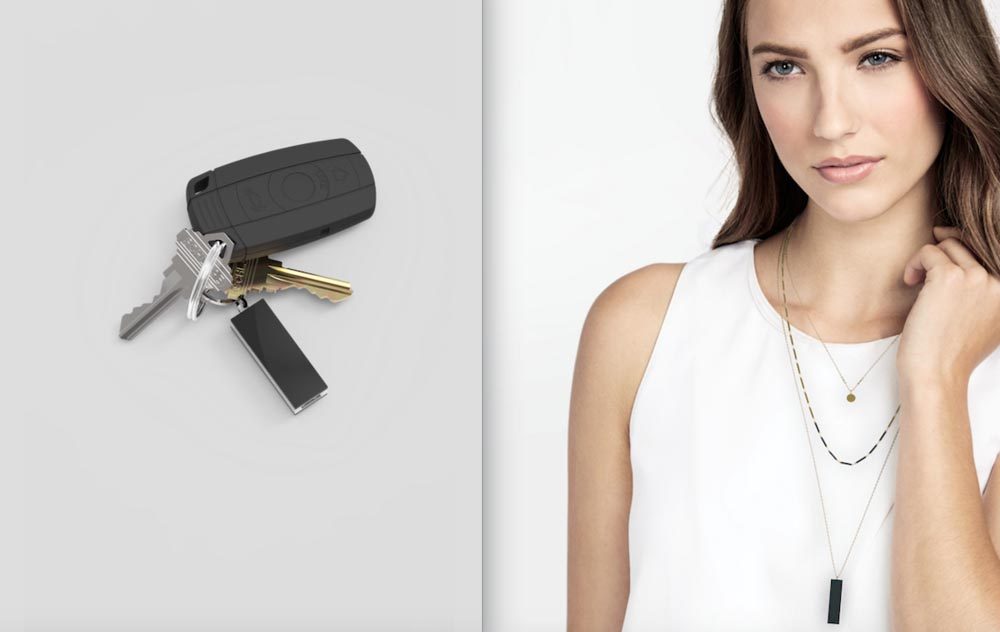 A Personal Business
Abigail Barnes, co-founder and CEO of Allergy Amulet, has had life-threatening allergies since childhood. "Once, at summer camp, I went into anaphylactic shock and had a near-death experience after eating half of a walnut cookie from what I believed to be a nut-free cafeteria," Barnes said.
Working with Dartmouth University chemistry professor Dr. Joseph BelBruno — who has done extensive research on sensor technologies and also has food allergies — the team is developing a line of wearable and non-wearable USB-sized food allergen detection devices. Users insert chemical-based disposable strips into their food to quickly test for the presence or absence of allergens.  The first devices - which will be available as a necklace or wristband, among other options - will test for peanuts and dairy. The company then plans to expand to detecting for other common food allergens. Last month, the company, with offices in Wisconsin and Boston, announced it had received $1.1 million in funding. Barnes said pre-orders will begin next year, with a full market launch in 2018. The cost is between $100 and 250, with test strips at $1 to 2, she said.
Despite the spike in food allergies over the past two decades, Barnes says "innovation in the space has remained stagnant. "We want to change that. Our product is intended to make the dining experience safer for those with food allergies, food intolerances or dietary restrictions."
As the number of people with food allergies has risen, there has been widespread divergence over how best to manage the illness. Nevertheless, several forces are driving the current burst of innovation, says Clarence Friedman, founder and CEO of Antera Therapeutics, a Boston-based startup that developed a peanut protein regimen called Aralyte, designed to prevent allergies by exposing infants to peanuts early in their lives.
In 2008, Friedman notes, the American Academy of Pediatrics revised its recommendations on children's early exposure to peanuts. Up until then, the organization suggested waiting three years before exposing children to peanuts. The new guidelines say there's "no convincing evidence" that delaying the introduction of foods like fish, eggs and peanuts beyond 4 to 6 months in infants prevents allergies.
This approach was bolstered by data from the LEAP (Learning Early About Peanut Allergy) study published in the New England Journal of Medicine last year, which concluded: "The early introduction of peanuts significantly decreased the frequency of the development of peanut allergy among children at high risk for this allergy..."
Doctors and parents have been experimenting with early exposure to small amounts of peanuts in various forms, says Friedman, who developed Aralyte as a student at Harvard Business School. But he argues that his product — a concentrated dosage of peanut protein in liquid form, given to infants starting at three months — is more precise, effective and safer.
Even with a growing awareness of food allergies in general, parents are still searching for ways to ensure their kids' safety.
That's what drove Elizabeth Luce to develop Allerpal, a shareable, electronic version of an emergency action plan that lists critical steps for adults in charge of kids with severe allergies. Luce, who created the app after getting her MBA at Babson College several years ago, wanted a document that was easily accessible — to the soccer or gymnastics coach, the girl scout leader or the mom in charge at a playdate. The free app provides three key pieces of information, Luce says: what the child is allergic to; how to recognize and treat a reaction; and one-touch calling of all emergency contacts. Currently, about 300 to 400 families are using it, she says.
Another approach: Researchers at Harvard's Wyss Institute, partnering with the KeepSmilin4Abbie Foundation -- launched in memory of Abbie Benford, who died from anaphylaxis at age 15 -- are developing a wearable device for the rapid detection of the earliest stages of anaphylaxis. The project is still in the early stages, says Andy Levine, who leads business development for medical devices at the Wyss Institute. Ultimately, he says, the group envisions something a child can wear that will detect an anaphylactic reaction as it's just beginning, inject the wearer with epinephrine and then call 911.
"Especially for parents, the concept of a wearable is very intriguing," Levine said. "You just get it on the kid and they wear it all day ... it's monitoring them instead of the parents worrying every five minutes."
'Add A Little Insurance'
It remains to be seen if any of these startups will gain traction, or whether their cost might be prohibitive. Solomon, who is not working for any of the startups, says if it turns out they really work it should "help add a little insurance" to the anxiety-provoking experience of dining out with an allergic child.
Gilbert, the mother of the two allergic children, is trying to help these efforts along. She's on the board of Allergy Amulet, involved in the Broad allergy initiative and an informal adviser to several new allergy startups "still in stealth mode." While none of the new technologies can substitute for good judgement and vigilance, she says, "they are all ways to mitigate risk ... and anything that can help with that is completely welcomed."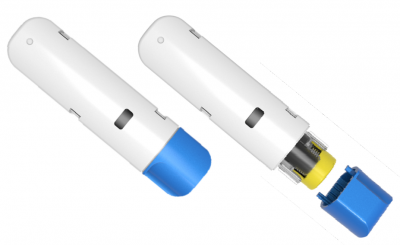 At the same time these new technologies are emerging, competition for some of the older technologies — like the market leader EpiPen — are also in various stages of development. This month, for instance, the makers of Auvi-Q, an EpiPen alternative that was taken off the market last year following reports of dosing problems, said the product is coming back in 2017.
In Somerville, Windgap Medical is developing another alternative to the EpiPen that company CEO Christopher Stepanian says is smaller, longer-lasting and generally easier to use. The device delivers epinephrine, the same drug that is used in the EpiPen, but in a dry form that is mixed into a solution when activated. Stepanian says the company will submit data to the FDA in 2018. He says the device, not yet named will be "cost effective" compared to the EpiPen, but declined to discuss details.
Rivelli, the Boston investor, says these devices fill an important gap in the market. But someday, he says, many of them may become obsolete.
"I'm hoping, thinking in 10 to 15 years, years, what they're doing won't even be needed any more because people are starting to make progress on therapies that will reduce or eliminate food allergies," he said.
In addition to the Food Allergy Science Initiative based at the Broad, researchers around the world are working on a range of treatments, like a "peanut patch" and various therapies that seek to suppress or modulate the immune response to an allergen.
In a generation, Rivelli says, food allergies may not be totally eliminated, but there may exist "significant treatments to prevent allergies in the future."
As for Halley Gilbert's daughters, now 11 and 15, after years of various treatments with practitioners in Boston, they are no longer allergic to so many foods.
"I watched my daughter have her first slice of pizza at age 10," Gilbert said. "It was kind of miraculous."
Rachel Zimmerman can be contacted via email at zimmerman08@gmail.com.