Doppelgänger Dance Collective's Kindred Spirits Come To Cambridge
Doppelgänger literally means "double-goer," a look-alike, if you will. But the idea is not always as innocent as in "The Parent Trap." The word has a deeper, more sinister connotation. In mid-19th century German folklore, to meet one's double is an omen -- a sign of imminent death. Think "Dr. Jekyll and Mr. Hyde."
What has long been a popular theme in film and fiction has recently found a place in the dance world. In 2015, artists Shura Baryshnikov and Danielle Davidson co-founded Doppelgänger Dance Collective, a performance project that features the self-proclaimed spirit doubles performing contemporary work by commissioned choreographers.
This weekend, the Providence-based duo will return to The Dance Complex in Cambridge to perform "The First Four," a work from last year's repertoire that features four pieces by choreographers Heidi Henderson, Paul Singh, Sydney Skybetter and B.J. Sullivan.
"Each [piece] has a very specific style and challenge," Baryshnikov said during a phone interview. "My connection with Danielle is certainly different in each one, and we try to step into the world that the choreographer has offered us."
The production also features a string quartet led by musical director Adrienne Taylor. Live music visibly transforms the movement, Davidson explained in an email interview. "Think of it like having four more bodies dancing because that's what it is," she said. "They are actually moving with us, and we are all mutually supporting one another. It is truly magical."
This sense of oneness with the musicians is also apparent in the interactions between the two women. Whether they are dancing side by side or weaving in and around one another, their movement seems to initiate from the same breath, as if they had been working together for years.
Interestingly enough, the women had only known each other for about six months before embarking on this project. They met while taking a class with Henderson and immediately felt a sense of kinship with one another, Baryshnikov explained. "Danielle and I both have our dark side," she said, laughing. "We like that kind of conflicting energy, that duality."
It's the spirit that they share, not a physical resemblance, that inspired the name Doppelgänger Dance Collective.
"We realized that we had an affinity in personality and in movement," Davidson said. "Also, 'goer' had that element of traversing space and time. It was a dance with my double-goer. It just made sense."
Bringing Different Backgrounds Together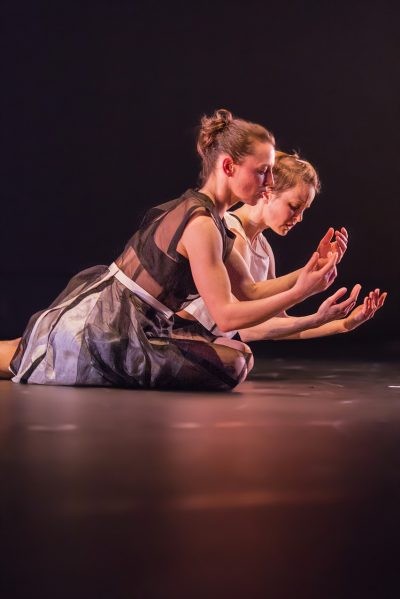 Outside of Doppelgänger, Baryshnikov and Davidson collaborate as choreographers, recently setting new works on dancers at Roger Williams University and Keene State College. But they have individual careers as dancers and teachers as well.
Davidson is in her third season with Prometheus Dance, and she teaches at the Boston Conservatory at Berklee. Yet, of all her artistic facets, she said that co-managing Doppelgänger Dance Collective is a feat she never envisioned.
"I didn't want to end up doing publicity and sending 100 emails a day," she said, "but as it turns out, I'm just overwhelmed with gratitude and appreciation for the process of learning and all the experiences and adventures that we are having."
Born in Ontario, Davidson started dancing at the age of 12. Three years later, she left home to study at L'École Supérieure de Ballet du Québec, a professional ballet school in Montreal. In her mid-20s, after touring with a neoclassical ballet company, she transitioned to contemporary dance, no longer feeling satisfied with a classical repertoire.
Baryshnikov, on the other hand, trained as a ballet student until the age of 13 when she started to focus more on sports -- lacrosse, field hockey, diving, track, horse riding, you name it. After graduating from Marlboro College in Vermont with a degree in American studies and women's studies, she did some design and arts administration work, determined to avoid the stage.
Daughter of world-renowned ballet dancer Mikhail Baryshnikov and Oscar-winning actress Jessica Lange, she said she always felt that a career in the performing arts would be too challenging. But eventually, she carved her own path in the field, blending influences from both of her parents' careers. Recently, she starred in her first musical, Trinity Rep's "Oklahoma!" in addition to her work as a contemporary dancer, a teacher at the Brown University/Trinity Rep program and a single mother of two girls.
Turning The Model 'Inside Out'
The Doppelgängers will return to Cambridge again in January to participate in the Catalyst Series, an initiative by The Dance Complex that features a select few guest artists. In the spring, the duo will premiere new repertoire, including another work by Henderson, a theatrical piece by Boston-based Alissa Cardone and a dance film directed by Andy Russ.
Juxtaposing such a variety of choreographic visions into a cohesive production is a challenge, but Baryshnikov said she hopes audiences will be inspired by their do-it-yourself approach.
"It's kind of turning the dance company model inside out," she said. "Instead of waiting for the choreographers we want to work with to hire us in this challenging economic climate, we can reach out. We can be the catalysts. We can make the project that we want happen, if we do the work, and we lay the foundation."
Doppelgänger Dance Collective comes to The Dance Complex in Cambridge for two shows this weekend: Friday, Nov. 18 and Sunday, Nov. 20.