The Huntington Mines '70s Gold From 'Bedroom Farce'
Given the myriad hopping into and out of the sack in "Bedroom Farce," you'd think the show worthy of an R rating. But if Alan Ayckbourn's 1975 comedy did get one, it would stand for "Retro," not "Restricted."
Seen here in a crisp period staging by the Huntington Theatre Company (at the Boston University Theatre through Dec. 11), the intricate work is indeed "That '70s Show" as produced in the '70s, by the famously repressed nation that brought you "No Sex Please — We're British" and Monty Python. Despite its provocative title, the gently antic "Bedroom Farce" is almost devoid of sex, though not of sexual jealousy. Yes, there are a trio of beds onstage, but so are there in "Goldilocks and the Three Bears." Then as now, Ayckbourn is more interested in human foibles than in fornication.
The first thing to know about Ayckbourn is that he makes Shakespeare look like something of a slacker: The 77-year-old British scribe has written some 80 plays, the best known including "Absurd Person Singular," "How the Other Half Loves" and "The Norman Conquests" -- the latter, a trilogy set simultaneously in three areas of the same property during one weekend, his coup de grâce in terms of juggling time, space and scenic mechanics. But "Bedroom Farce" performs a similar trick with its three boudoirs lined up across the stage as the eight individuals who form four couples pop among them over the course of one frantic night's journey into early morning.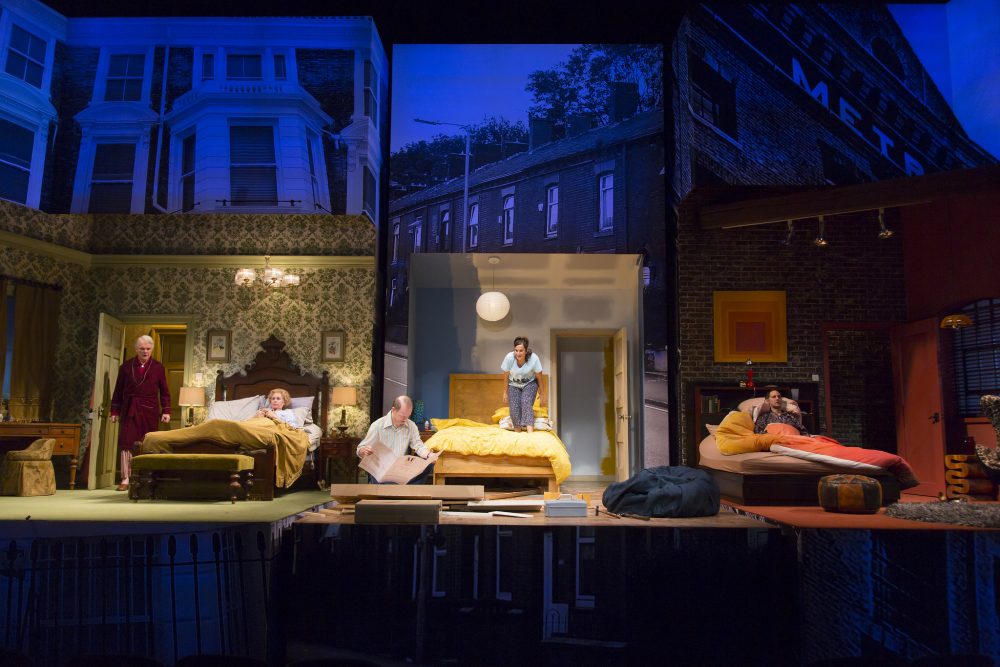 Ayckbourn has been dubbed "the Feydeau of the English stage" and "the Molière of the middle classes." I prefer the British critic John Barber's description of the prolific playwright as "a poet of life's minor irritations." In the case of "Bedroom Farce," as the Huntington program puts it, comedy and farce are "in a conversation in the play."
It's a chat with which Maria Aitken, director of the production, is long familiar: She appeared in the 1977 National Theatre staging co-directed by Ayckbourn and Sir Peter Hall! Picking up here on the discussion, she allows farce the louder voice, but absurdist comedy also takes the floor, and even Chekhovian poignancy is allowed to pipe up. For my money, the talk isn't often about much. The play, for all its humane jabbing at human selfishness, often seems mortifyingly out of date.
But on the Huntington Stage, both pratfalls and daffiness are expertly pulled off. And turned out in flouncing minis, wrap dresses, cords and turtlenecks, the characters look drolly, frumpily fabulous. Ditto Alexander Dodge's trio of boudoirs tucked into looming exteriors, from the cozy, staidly wallpapered bed chamber of the play's oldest couple to the barebones, mid-renovation apartment of its youngest to a mid-level, color-coordinated, exposed-brick nest complete with knockoff Arne Jacobsen "egg chair."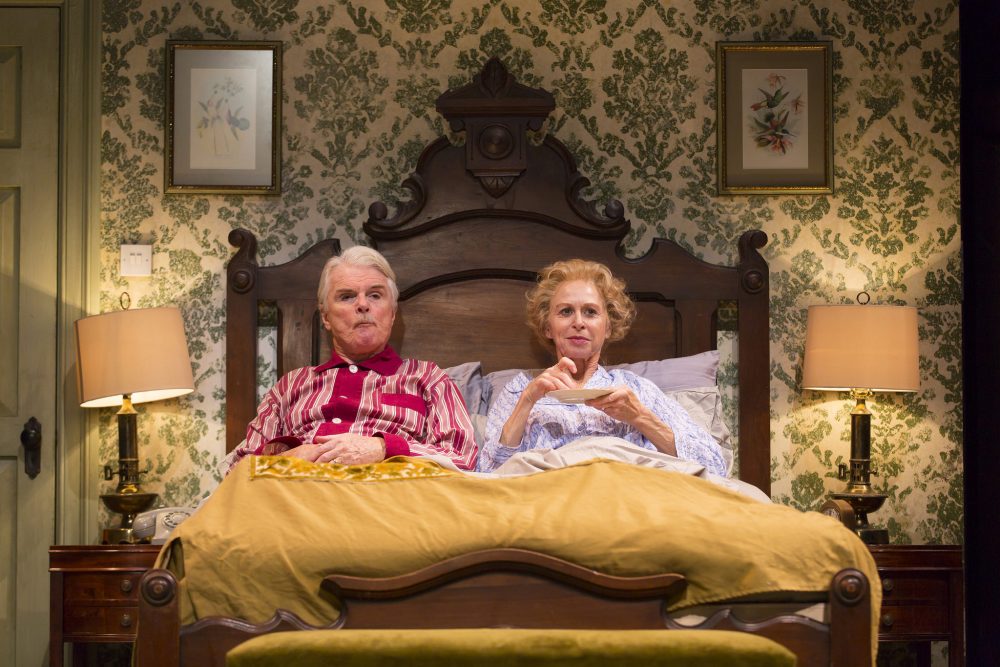 Here's the set-up. As the middle-aged Ernest and Delia prepare for and return from a formal evening out to celebrate their wedding anniversary, a housewarming party is brewing chez Kate and Malcolm (appropriately, their bedroom is in the middle). On the guest list (along with a slew of others, represented only by their coats) are Nick and Jan, the latter a former flame of Delia and Ernest's son, Trevor, who is now married to Susannah.
Trevor and Susannah's is the only marital crib we don't see; they carry their drama on their backs like very histrionic snails -- to Malcolm and Kate's, where their fighting ends the party quicker than a police raid; to Nick and Jan's, where Nick is marooned with a bad back; and to Ernest and Delia's, where Susannah winds up in bed with her mother-in-law, who proffers, along with some cocoa, her own mom's advice: "If S-E-X ever rears its ugly head, close your eyes before you see the rest of it." (Not surprisingly, Delia's idea of kinkiness between the sheets is eating canned fish in bed.)
Susannah (the part played by Aitken in 1977) is what you might call a hot mess -- in Katie Paxton's coltish rendition, a quivering mix of volatility and insecurity swallowed by a flowered mini and teetering on cowboy boots. The solipsistic, perennially apologizing Trevor, portrayed with aptly hangdog self-absorption but little sexual frisson by Karl Miller, is what you might call a man-child, accent on the second syllable. Careering in and out of other bedrooms, other lives, this childish, explosive pair makes trouble that proves not only irritating but also catching. Before you know it, playful, loving Kate and Malcolm have turned DIY into a thunderous display of passive aggression, and poor Nick is suspended between infirmity and murder.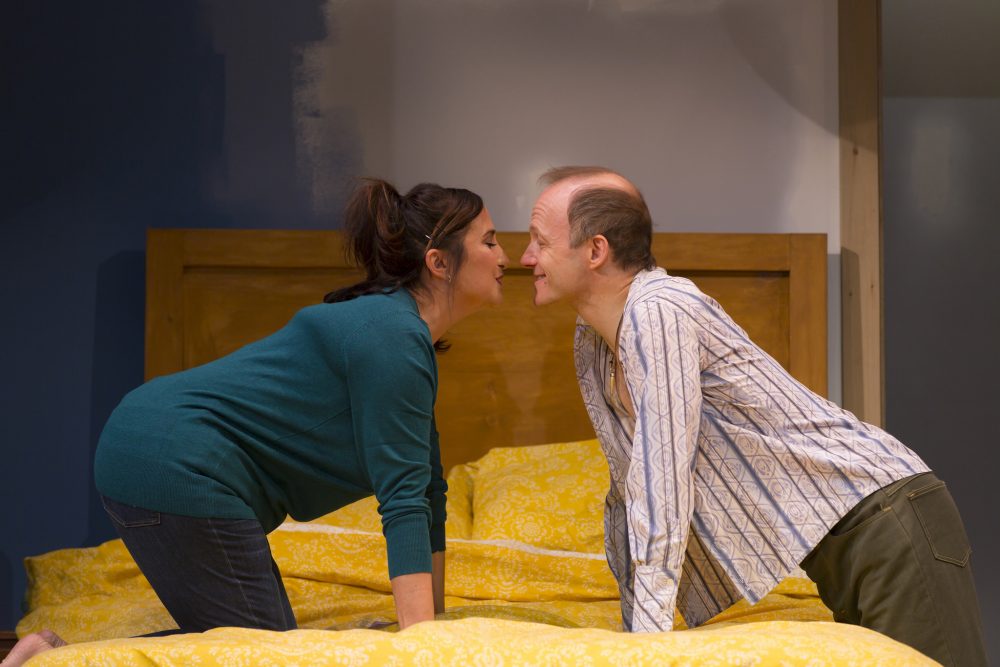 It's all typical English-comedy stuff, however ingeniously calibrated by Ayckbourn and truthfully delivered by a terrific eight-person cast (about half of which is British). If you leave the acrobatics out of it, Malcolm Ingram's affably dense Ernest, in his garish pajamas and haze of befuddlement, and Patricia Hodges' waspish queen bee of a Delia are hard to top. But as Malcolm, enraged and then crippled by his home-handyman project, Richard Hollis proves a master of physical comedy (and silly walks), while Nael Nacer, as the petulantly suffering Nick, turns an arguably mundane dance with pulled muscles and everyday objects into a sidesplitting dance of pain.
This is the Huntington's first foray into Ayckbourn territory (though, on the local front, the smaller Zeitgeist Stage Company has made repeated trips there). And frankly, I did wonder whether, amid the playwright's exhaustive output, much of it less silly, "Bedroom Farce" was worth reviving -- even if Aitken, given her affiliation with the work, knew just how to man the defibrillators. But whether you find the play to be a museum piece, a classic or just piffle from the age of Python, you won't get it, as they might say in one of those bedrooms, much better than this.