West Roxbury Pipeline Opponents Promise To Continue Fight Even If Gas Starts Flowing Dec. 1
03:57
Play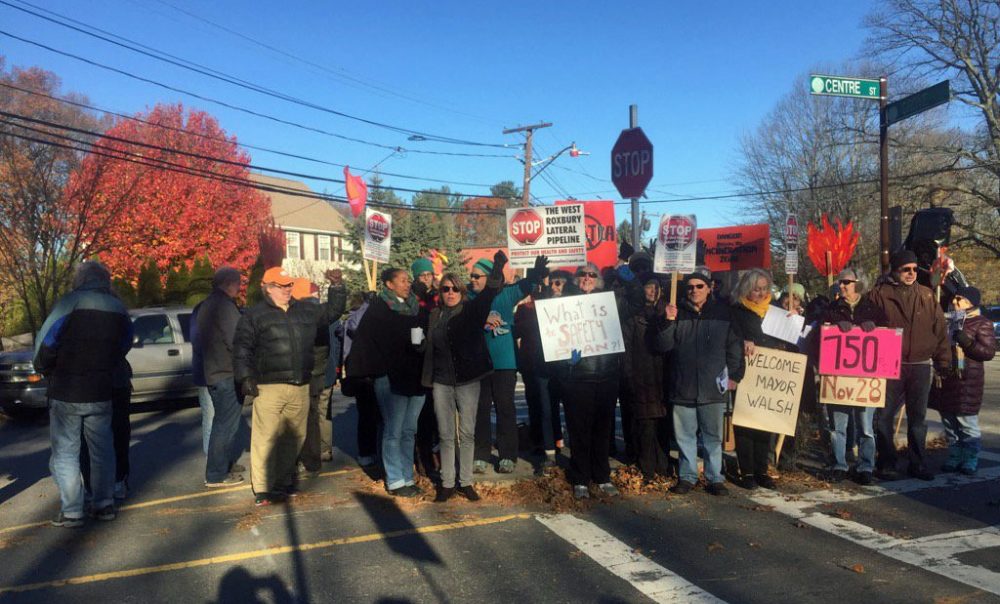 This article is more than 5 years old.
Despite protests from neighborhood residents and elected leaders, a Texas-based company has decided to move forward and next week begin operating a natural gas pipeline that runs through Dedham and West Roxbury.
For nearly two years demonstrators have gathered along Centre Street in West Roxbury — some every day — in an effort to prevent Spectra Energy from building the 5-mile-long pipeline through the neighborhood.
Wednesday was no different. About 30 peaceful protesters gathered, singing, holding signs and promising to continue their fight despite Spectra's announcement that natural gas would start flowing through the new pipeline on Dec. 1
Boston Mayor Marty Walsh also showed up Wednesday to make a last-minute appeal
"We have several schools in this neighborhood, we have nursing home facilities, we have residents, so I'm asking Spectra not to turn it on," Walsh said. "I'm asking them to hold off and have common courtesy and sit down with us a couple more times before this is turned on."
So far, nearly 200 residents, elected officials and members of the clergy have been arrested in non-violent acts of civil disobedience — many jumping into open trenches, chaining themselves to pipes and equipment, but to no avail.

Pipeline protester Mary Boyle, of West Roxbury, blames the Federal Energy Regulatory Commission (FERC) for siding with Spectra and allowing the project to be built.
"This is an assault on our neighborhood," Boyle said. "This company has come in without our permission, only with the permission of FERC, and FERC is the fox that guards the hen house. FERC is funded by fossil fuel companies."
Boyle says she lives in what she calls the "incineration zone" — claiming the pipeline could be a terrorist target or accidentally explode.
The gas in the Spectra pipeline is transported under high pressure — twice that of the pipeline that exploded in 2010 in San Bruno, California, killing eight people.
"This project is 750 pounds per square inch pressure, 10 feet from front doors down here on Grove Street, and in Dedham on East Street, and the quarry is right here and they blast every week with dynamite," Boyle said.
The West Roxbury quarry is right across the street from Spectra's pumping station, where gas is pressurized. But Spectra Energy's Marylee Hanley insists residents have nothing to fear.

"It is our obligation to safely and securely operate these facilities, and our customer has requested service in the West Roxbury area and we are servicing that customer," Hanley said.
But pipeline protesters charge they're not the customer for Spectra's gas — they say it's really for export.
"That's 100 percent incorrect," Hanley said. "That gas will provide service to National Grid to heat homes and businesses in the West Roxbury and Boston area."
A federal lawsuit appealing FERC's decision to permit the pipeline is pending, but a decision won't be handed down until next year. Spectra says it's turning on the gas Dec. 1. Pipeline opponent Bill Kessler says he isn't giving up.
"A lot of people have been saying to us it's a done deal, and we don't accept that," Kessler said. "We're never going to accept that our lives can be put at risk so Spectra can make a few bucks. Even if the gas does start, we're going to be out here fighting until it gets shut down."
If Spectra Energy is ultimately ordered to shut down the project, the company would have to rip up its pipe and restore the area to its original condition.
This segment aired on November 23, 2016.