To Revive Charlestown High's Theater Program, It's The Life Of A Salesman
Resume
Alex Johnson never thought his job as a theater teacher would require the skills of a salesman.
As Johnson, who's 28, navigates the halls of Charlestown High School, a few students dodge and weave at the sight of him.
It helps to have a quick wit — and a sense of humor. He greets a student: "You didn't come to auditions?"
"Huh?" the student replies.
"I waited all night — I sat there all day alone."
"That's a lie."
"No, it's the truth, I cried! You can still see the water damage and puddles on the floor."
"Now I know you're lying."
"For real," Johnson says, more seriously, "auditions are still open if you want to join."
Johnson is trying to get students excited about a new theater class and after-school drama club. This is uncharted territory for Charlestown, which hasn't had a dedicated theater program in two decades. Like other Boston Public Schools, Charlestown High is taking on the challenge of increasing arts programs -- but when schools have gone without them for years, building a program from scratch can be tough.
"It can be very difficult to tell them, 'Hey, you know how you spend every 2 to 5 p.m. every day hanging out with your friends and walking around? How about instead you come here and study Greek tragedy and you experience some very difficult emotions?'" Johnson says. "It's a tough sell."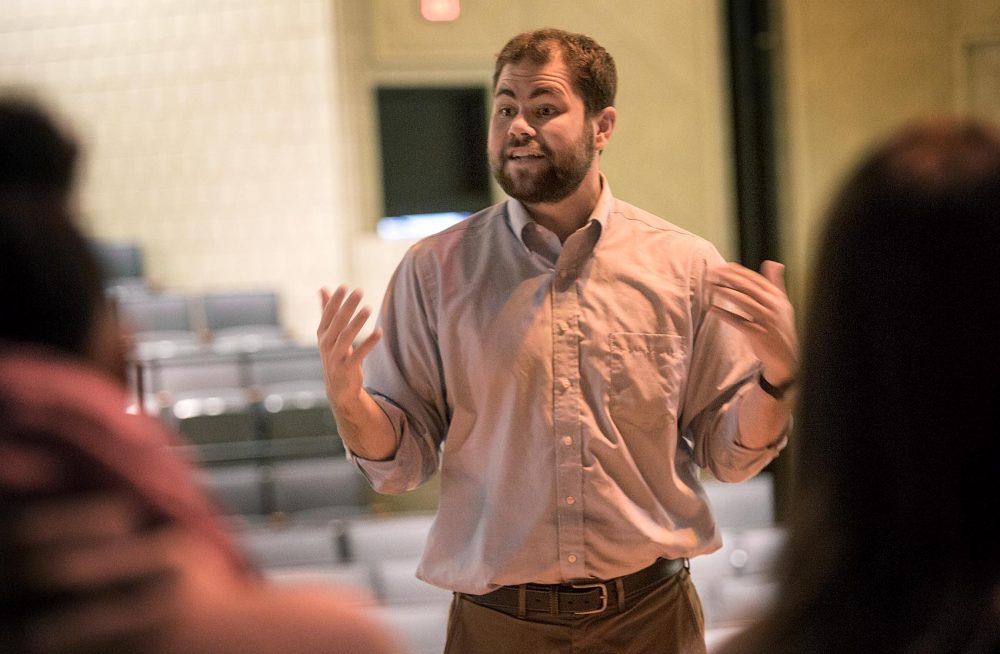 About a dozen students are assigned to Johnson's class. And he has grand ambitions for them: He's signed them up for this year's statewide high school drama festival. It's a huge event, with 112 one-act plays, and the winner goes on to the New England festival.
But before these kids are ready for the spotlight, there are some practical hurdles to jump through.
For instance, trying to find a regular space to meet.
On a recent day, Johnson arrives at the usual room, only to find that the door is locked. He races through the hallways to post handmade signs that let his students know the class has been moved to the basement.
Once everyone assembles there, resistance is in the air. No one wants to look silly.
"OK, everybody, walk around," Johnson begins. No one moves.
"You can do it. Walk around," he says. "Use those legs."
Eventually, they do.
Next comes a theater game. Johnson introduces it:
"OK, this is a little game I like, called 'It's Wednesday.' In this game –"
"But it's Thursday," a student interrupts.
"Yes, it's Thursday, I agree," Johnson says. "But the game is called 'It's Wednesday.'"
Johnson partners with a reluctant teenage boy to show the different ways you can bring emotion into the words "It's Wednesday": shouting, laughing, whispering, shrugging.
"I want to just note a couple things," Johnson says. "These are the tools you have in your toolbox: volume, gesture, facial expression. These are the things you can use to get somebody to do something."
The students pair off into twos, and the reluctant room comes alive.
"It's Wednesday."
"It's Wednesday -"
"It's Wednesday!"
"Don't touch him – do it again," Johnson says.
"It's Wednesday."
"Great! Do it again," Johnson says.
"It's Wednesday." The student laughs.
This is about more than entertainment, Johnson says. Multiple studies show that exploration of the arts helps students perform better in math, reading and writing.
And the Boston Public Schools department says it is committed to rebuilding programs at places like Charlestown. Seven years ago, only 26 percent of BPS high schoolers had access to arts electives. Last year, it was 65 percent.
'I Could Imagine Myself Doing It'
In one of Johnson's class sessions, Amy Rodriguez, 16, takes notes as she looks over the play the group will be learning this fall and winter: the Greek tragedy "Antigone."
It's the first time Rodriguez has ever considered being in a play.
"But I could imagine myself doing it," she says, "because I basically be loud and do this acting stuff at home."
Getting Rodriguez to commit to the after-school drama club is another story. And that's a challenge, because that's where the bulk of the rehearsing will come in.
But things are looking up. Johnson just heard that the auditorium will be getting new curtains and lights.
And then there's 17-year-old Helen Leung.
She's the first -- and, on a recent day, the only -- student to show up to the after-school drama club meeting.
Leung recently moved to Boston from Hong Kong.
"I have never received any theater training," she says, "and I was like, 'Wow, this is amazing.'"
These are some of the realities of starting a drama program from scratch.
But Johnson is more than hopeful -- he's confident that his "hard salesman pitch" on the merits of theater will pay off sooner rather than later.
This article was originally published on November 29, 2016.
This segment aired on November 29, 2016.