Sen. Warren Backs Onetime Rival Scott Brown For Veterans Affairs Post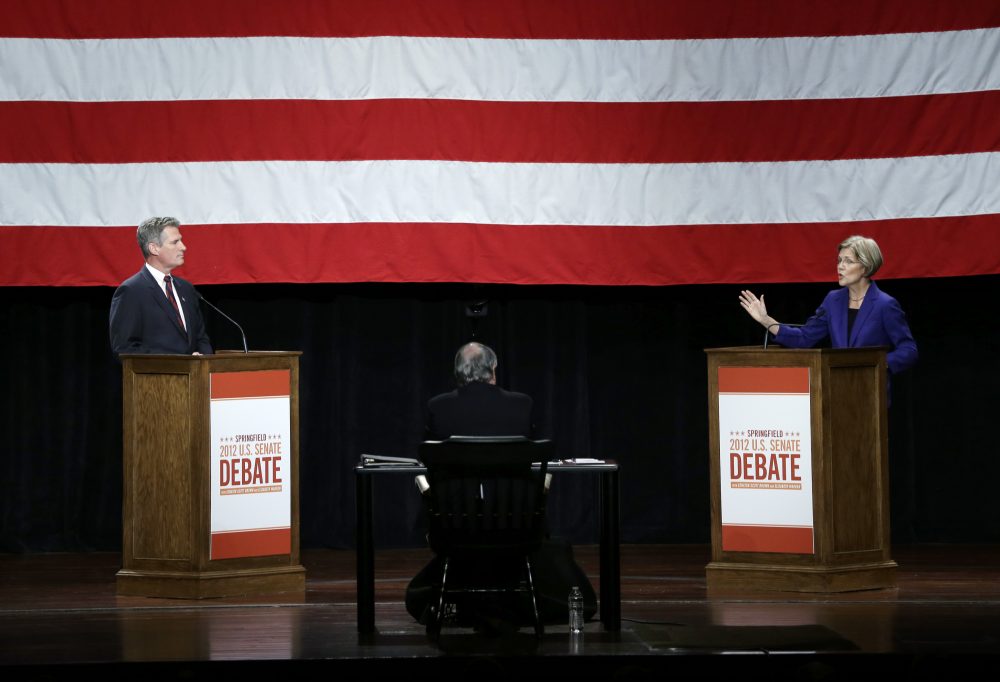 This article is more than 5 years old.
Ever since she ousted him in the 2012 Massachusetts U.S. Senate race, Elizabeth Warren has used Scott Brown as her go-to punching bag for laugh lines in stump speeches to the point that Brown suggested Warren had a "creepy" obsession with him.
But with Brown in contention to lead the Department of Veterans Affairs in the new Trump administration, the former Massachusetts Republican on Thursday received none of the vitriol from his onetime political opponent that Warren has trained on other Trump Cabinet nominees.
"If Scott Brown is the nominee for Veterans Affairs [secretary], I have no doubt that he would put his heart and soul into trying to help veterans, and I would put my heart and soul into trying to help him do that. You bet I'd support him for that," Warren said in a WGBH-FM interview.
Brown, a retired colonel from the Army National Guard, has told reporters he believes he is "the best person" for the VA job. He said his priorities would be to combat veterans' mental health issues in hopes of preventing suicides.
He replied to Warren's comments in a tweet:
Brown, who now lives in New Hampshire, was an early supporter of Trump, choosing to endorse him ahead of that state's first-in-the-nation primary.
Brown is one of two former Massachusetts Republicans under consideration to join the President-elect Donald Trump's administration, with former Gov. Mitt Romney also being vetted for secretary of state.
In her interview, Warren did not go so far as to say she would support a Romney nomination, but also had nice things to say about the 2012 GOP presidential nominee.
"I'd like to hear more, but I think Mitt Romney is a smart man and I think he has a pretty level-headed view of the world," Warren said.
With reporting by State House News Service's Matt Murphy, The Associated Press' Steve LeBlanc and the WBUR Newsroom
This article was originally published on December 01, 2016.