U.N. Chief Apologizes But Does Not Admit Soldiers Brought Cholera To Haiti
This article is more than 6 years old.
Six years after the deadly cholera epidemic in Haiti began, outgoing United Nations Secretary-General Ban Ki-moon apologized this week for how the U.N. responded to the crisis. But he did not acknowledge that U.N. peacekeepers started it.
"On behalf of the United Nations, I want to say very clearly: We apologize to the Haitian people," Ban said Thursday. "We simply did not do enough with regard to the cholera outbreak and its spread in Haiti."
The closest Ban comes to a public admission that U.N. peacekeeping soldiers brought cholera to Haiti is a sentence that calls the U.N.'s role "a blemish on the reputation of U.N. peacekeeping."
Philip Alston, an official U.N. human rights watchdog, calls Ban's long-awaited mea culpa, delivered to members of the U.N. General Assembly, a "half-apology."
"The good news," Alston says in a statement, is that Ban "has finally acted, albeit in his last month in office, after years of stonewalling." That's a step in the right direction, Alston says, and he praises Ban for keeping compensation of Haitian victims of cholera and their families "on the table."
But, he warns, the failure of the U.N. to accept legal responsibility for causing the epidemic "renders a meaningful apology impossible" and undermines Ban's plea for member states to chip in $400 million to fight cholera in Haiti and compensate victims.
"It condemns UN fund-raising to make up for its misdeeds in Haiti to a charitable operation, rather than one that is required and which must be funded," Alston says.
Ban's mixed-message apology, and his ambiguous statements about compensating Haitian victims of cholera, kick the long-running internal controversy about the U.N.'s responsibility in the cholera case to Ban's successor, Antonio Guterres, who becomes U.N. secretary-general on Jan. 1.
Guterres has said little about the U.N.'s obligations to Haiti. "This is a particularly complex question…how to be able to preserve diplomatic immunity but at the same time guarantee that there is no impunity," he said as he was being interviewed for the secretary-general job. "I will pay a lot of attention in trying to find the right equilibrium…."
Public health researchers and many others -- including Haiti authorities — are convinced U.N. peacekeeping soldiers from Nepal brought cholera to Haiti in the fall of 2010. The disease-causing organism apparently leaked from a U.N. encampment into a tributary of Haiti's largest river, touching off an explosive epidemic that quickly spread throughout the country. Genetic analysis showed that the cholera strain carried by Nepalese soldiers was identical to the one that spread throughout Haiti.
So far, the disease has struck nearly 800,000 people and killed almost 10,000.
A separate written report from Ban quotes a 2013 scientific paper by U.N.-appointed experts saying "the preponderance of the evidence and the weight of the circumstantial evidence does lead to the conclusion that [U.N. peacekeeping] personnel...were the most likely source" of the Haitian cholera epidemic. But that's not the same as accepting legal responsibility for causing the epidemic.
In his speech, Ban, whose 10-year term as secretary-general ends this month, pleaded with U.N. member states to come up with $400 million — half to fight cholera over the next two years, and half to provide "material assistance" to victims and their families. So far, the U.N. has only about $500,000 in pledges.
Ban pointed out that the cost of his plan is not large. "This mission is realistic and doable," he said. "Cholera is a treatable and preventable disease. It can be controlled and eliminated."
A previous $2 billion grand plan to guarantee safe drinking water and proper sanitation to all Haitians -- the only way to eradicate the disease, experts agree -- went unmentioned in Ban's "new approach." He said merely that the World Bank and other agencies "are working to expand access to water and sanitation for all Haitians over a 10- to 15-year horizon."
It's also not clear how committed the U.N. now is to compensate cholera victims and their families. Part 2 of Ban's package would include "material assistance" to communities most heavily affected by cholera -- and maybe compensation to individuals.
"Some have urged that the package also include an individual component, such as the payment of money to the families of those who died of cholera," Ban said. "This approach would require identification of the deceased individuals and their family members. It would also require the certainty of sufficient funding to provide a meaningful fixed amount per cholera death."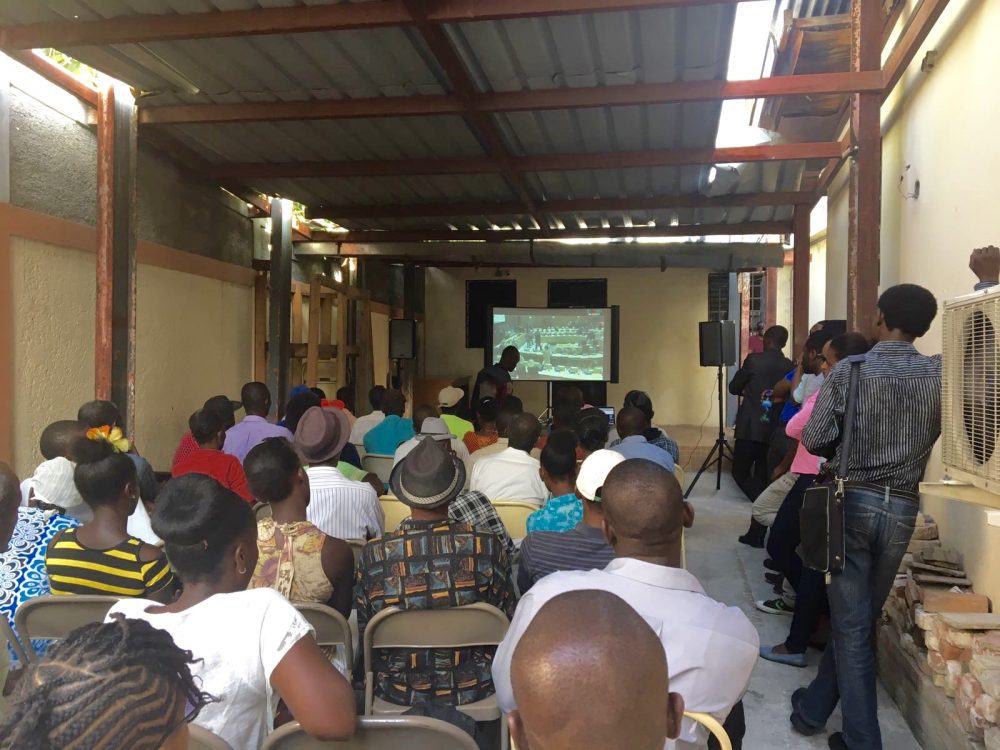 Still, Haitian cholera victims and their advocates were positive about the secretary-general's apology and "new approach." About 100 of them gathered in Port-au-Prince to watch a live-streamed broadcast of Ban's speech, applauding his hoped-for apology -- which he initially delivered in Creole. Haitian public opinion overwhelmingly blames the U.N. for the continuing epidemic.
"We accept the declaration that he made," Jean-Charles August, a teacher who was watching Ban's speech in Haiti, said in an email from advocates there. "We're moving forward but we're not finished. We want eradication and compensation."
"This was a victory for us…but it can't end there," added Desir Jean-Clair in emailed comments. "This battle hasn't finished. They need to say how much money they are giving to each person and exactly how they will eliminate cholera. Our children died, our wives died."
Beatrice Lindstrom -- an attorney for the Boston-based Institute for Justice and Democracy in Haiti, who attended Ban's speech -- said it was "quite an emotional moment when the secretary-general delivered the apology…We've been fighting so long to get to this point."
Lindstrom represented Haitian cholera victims in a lawsuit against the U.N. last year. A U.S. federal district court ruled that the U.N. is immune from such suits, and last August an appeals court upheld that opinion. Lindstrom said her clients are weighing an appeal to the U.S. Supreme Court.
Lindstrom said her clients are heartened that Ban has promised the U.N. will consult Haitian cholera victims in implementing his "new approach." But, like Alston, the U.N. human rights watchdog, she worries about the implications of the secretary-general's failure to acknowledge that the U.N. caused the epidemic in the first place.
"I'm not sure that a general moral responsibility is enough to convince member states why it's so crucial to fund this," Lindstrom says. "The secretary-general's avoidance of fully admitting responsibility will undermine the U.N.'s ability to fund-raise for this plan. Without money to put into this plan, it won't be anything more than just words on paper."