Transition To All-Electronic Tolling Is Saving Some Mass. Pike Drivers 12 Minutes, State Says
This article is more than 2 years old.
Nearly six weeks after the state's transition to all-electronic tolling, officials say drivers on the Massachusetts Turnpike are starting to reap the benefits.
The Department of Transportation said in a statement Thursday that those traveling eastbound on weekday mornings between Interstate 495 and South Boston saved up to 12 minutes in travel time between Nov. 19 and Dec. 1 when compared to the weeks before the switch to all-electronic tolling.
"The transition to All Electronic Tolling has been a smooth one and we believe the public has started to realize the goals of the program which include increasing safety, some relief from traffic congestion and a reduction in greenhouse gases," Transportation Secretary Stephanie Pollack said in the statement.
The new overhead toll gantries have registered more than 50 million transactions since the program was launched on Oct. 28 — 86 percent of which were cars with an E-ZPass transponder. Officials say more than 3 million Massachusetts transponders are now in circulation.
While the demolition of the old toll booths is complete, crews are continuing to work on areas around the toll plazas — including demolishing any toll administration buildings and remaining tunnel infrastructure. Ongoing construction will also include improving road drainage, repaving road surfaces and adding lighting and guardrails.
Officials say that work will continue through the winter as weather permits, with all work expected to be completed by the end of 2017.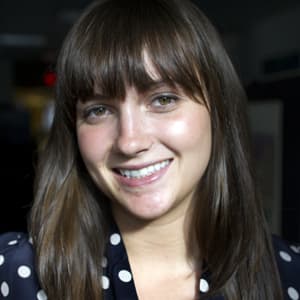 Abby Elizabeth Conway Digital Producer/Editor
Abby Elizabeth Conway was formerly a digital producer and editor at WBUR.