New Rep's 'Fiddler On The Roof' Reminds Of The Past, And Warns For The Future
When a theater company dubs its season with a name, it usually lands as a harmless marketing move. But as perpetrators of hate crimes in America increasingly signal a newfound boldness following the presidential election, New Repertory Theatre's theme for this year, "What's Past Is Prologue," feels more and more provocative.
Earlier this fall New Rep staged "Good," a story of how the path to Nazism could be paved with small, ordinary compromises. Now comes "Fiddler On The Roof," which for all its Golden Age of Broadway luster is a deeply unsettling story about the fragility of life in the face of hateful intolerance.
"Fiddler" was directed and choreographed on Broadway by the legendary Jerome Robbins. Here, we benefit from the sensitive direction of Austin Pendleton, who originated the role of Motel the tailor in the original production and has enjoyed a prolific career as actor, playwright and director.
Even if creators Joseph Stein (book), Jerry Bock (music) and Sheldon Harnick (lyrics) rounded off some of the rougher edges present in the source material — stories written in Yiddish by Sholem Aleichem in the late 19th and early 20th centuries — on their way to creating a masterstroke of commercial art, the work is still deeply harrowing. As central figure Tevye outlines at the top of the show, the Jewish community of the little Russian shtetl Anatevka is perched precariously, like that titular fiddler. State-sponsored pogroms (or, in the doublespeak of a Czarist agent, "spontaneous demonstrations") loom as an ever-present threat. Frightening rumors of unknown veracity circulate, tales that the Jews have been forcibly removed from other shtetls in the western region of Czarist Russia where they had been permitted to live in the past.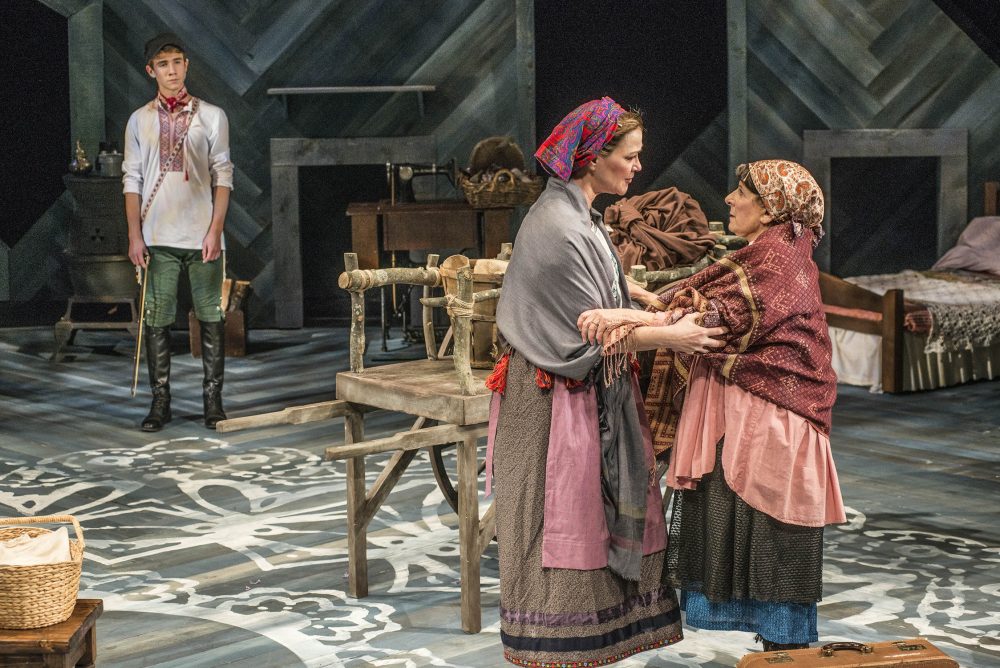 For Tevye and many of his peers, continued poverty is the only sure promise. But their world is held together, he famously explains, through tradition — a social order which, while regressive by contemporary standards, at least provided a role for everyone, and depended upon everyone indeed playing their prescribed roles.
The precariousness of this order, threatened by forces of modernity we're accustomed to rooting for, is embodied by the almost impossibly sympathetic performance of Jeremiah Kissel as Tevye, which grows richer and richer throughout the show. I hope it implies no limits on the great creativity of this actor to say it feels like he was born to play this role.
In that opening number "Tradition," Tevye proclaims that he's the Papa and thus due certain privileges as the decision-maker for his family. Another piece of that tradition is that marriages should be arranged by the matchmaker (Bobbie Steinbach, typically excellent) and approved by the patriarch. Yet in Kissel's deeply sweet portrayal, we feel a threat to this stifling order as something dangerous — while still empathizing with his eldest daughter Tzeitel (an effective Abigail Goldfarb) and Motel, seen in a detailed performance by Patrick Varner, who wish to countermand Tzeitel's marriage contract to an older man.
Later, a cross-cultural romance is something we instinctively want to cheer, but we sense how forcefully the match would engender chaos, and challenge the self-conception of someone whose identity is built around his religion and a belief in the strength of family ties. The push and pull between the old ways and the new is written here in the worried creases of Tevye's face.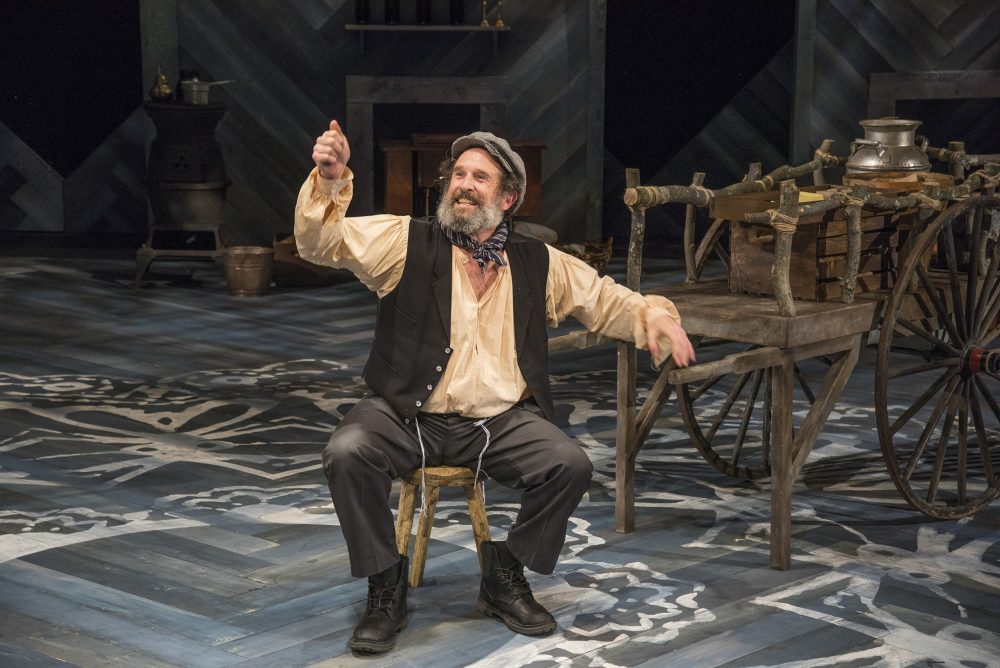 A running joke in "Fiddler" is that the local rabbi is revered, but has very little to say. This could suggest the limits of religious tradition as a means of negotiating an ever-changing world, or mirror the muteness of God, to whom Tevye is forever directing questions and appeals.
Yet the existential threat to this community comes not so much from Perchik's innovation of dancing with a girl in public as it does from the anti-Semitism of the Russian authorities and, presumably, unseen gentile neighbors. Pendleton is working with a generally young ensemble here, and that proves an issue for moments in which Russian soldiers assert their authority; they're not that menacing.
But the everyday humiliations the authorities inflict is registered in the reactions of Tevye and company — dignified men stand in silent attention at the appearance of these sadistic brutes, complying wordlessly with instructions to dance or to overturn a table. In their presence, a young woman asks for permission to walk by. We are reminded of Jim Crow in this country, which enforced similar humiliations on African Americans during the time period depicted in the musical as well as 50 or 60 years later, when "Fiddler" was on Broadway.
At a time when the president-elect is satisfied to let uncertainty hover over his ominous campaign pledges to ban Muslims from entering the country, to force Muslim Americans to register with the federal government and to subject mosques to routine surveillance, these reminders of ethnic persecution feel not like idle reminders but like a warning.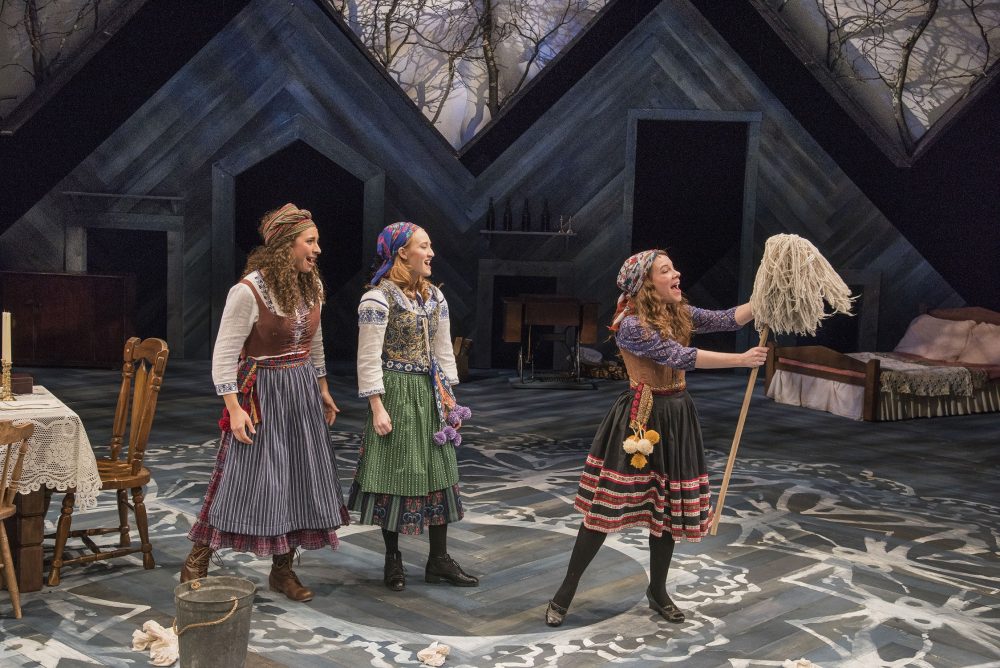 This world is conjured with the help of the flexible scenic design of Stephen Dobay, communicating the poverty of these surroundings and successfully evoking a series of locales; two rows of large triangles upstage suggest the village, and a series of patterns colored onto the very deep stage may mirror those found on some of Kathleen Doyle's colorful costumes. Kelli Edwards' choreography is particularly strong in the wedding and dream sequences.
A polished, eight-person orchestra does well with the familiar score, rooted in Klezmer idioms (and sharing some musical DNA with bebop). The singing is capable throughout, with most performers employing a somewhat casual, folk style that suits the material. As Tevye's daughter Hodel, Sarah Oakes Muirhead's vocal performance is easily the most polished and conventionally impressive; her duet with Ryan Mardesich's Perchik ("Now I Have Everything") is excellent. The quietly moving duet for Tevye and wife Golde, a deeply expressive Amelia Broome ("Do You Love Me?"), is thoroughly charming.
This winning production of "Fiddler On The Roof" communicates the promise and uncertainty of change. It also warns of the damage done to one's own humanity when a group of people is considered to be something Other, less human. If past is prologue, let's hope New Rep's next production, a show about the great Thurgood Marshall, proves more relevant to the immediate future.
"Fiddler On The Roof" plays at New Repertory Theatre's Charles Mosesian Theater through Jan. 1.