Mass. Unemployment Rate Falls To 2.9 Percent
The Massachusetts unemployment rate is now at 2.9 percent — 0.4 percentage points lower than it was the month prior, and a full 2 percentage points lower than it was a year ago.
It's the fifth consecutive month the jobless rate has declined, and the state figure is well below the national unemployment rate of 4.6 percent. Here's the chart: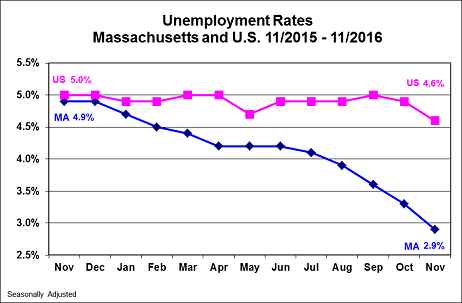 But Thursday's monthly employment snapshot from the Massachusetts labor department isn't all good news. The state's labor force decreased by 6,300 from October, and the labor force participation rate — measuring how many residents over 16 are working, or actively seeking work — declined 0.2 percentage points over the month. That suggests residents are aging out of the workforce, or perhaps becoming discouraged and dropping out.
The low Massachusetts jobless rate is below what economists consider "full employment," and it points to increased competition for labor.
The state added an estimated 5,800 jobs in November, reversing losses from October.
Year-to-date, Massachusetts has added an estimated 67,200 jobs.
You should take the monthly snapshots with a grain of salt. The unemployment rate is based on a survey of households, while the jobs figures are based on a survey of employers, and both are subject to revision -- sometimes significantly.