The High School Of The Future — Right Here In Boston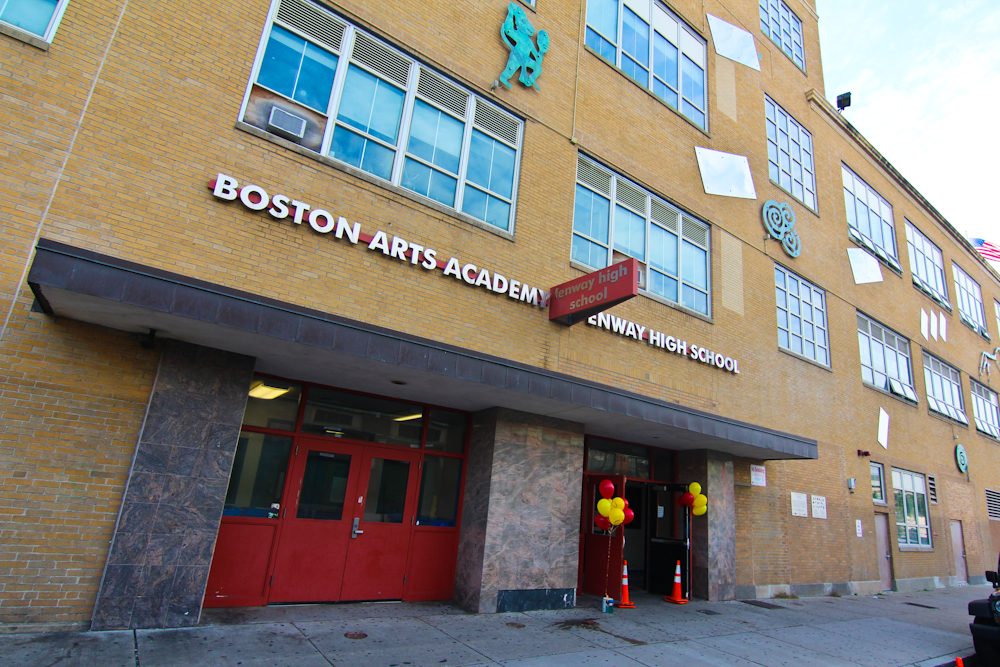 This article is more than 5 years old.
COMMENTARY
Many education leaders lament the current state of American high schools and say we need to redesign them to do better at teaching creativity, design thinking, forming and defending ideas, collaboration and effective communication, and STEM skills. But there's a school in Boston that's already doing all that right now: Boston Arts Academy.
In fact, as delegations of U.S. educators travel to Scandinavian countries to study their education systems, a team from the Netherlands is coming to BAA this winter to learn best practices for organizing a school around creativity and innovation.
Tucked behind Fenway Park, BAA was founded in 1998 as the city's first public performing and visual arts high school. Its 457 students specialize in either dance, music, theater or visual arts.
The school is routinely recognized for its excellence in arts education, with awards in the last few years from the Grammy Foundation, the Arts Schools Network, the John F. Kennedy Center for the Performing Arts and more. Notable alumni include dancer/choreographer Kirven Douthit-Boyd, actress Diane Guerrero and singer Brittany Butler, who's competed on "The Voice."
BAA seeks to offer equal opportunity and access. All Boston students can apply, and admission is not based on prior test results, GPA or attendance histories. As a result, BAA's students represent a diverse cross-section of the city. Forty-two percent are African-American, 39 percent Hispanic, 15 percent white, and 5 percent Asian.  Further, as designated by the Massachusetts Department of Elementary and Secondary Education, 51 percent are "high needs," 64 percent are economically disadvantaged and 14 percent have disabilities.
But BAA's excellent arts education and its student diversity are only the beginning of the story.  Under the leadership of Headmaster Anne Clark, BAA has also emerged as one of the city's highest-performing, most innovative academic schools.
Last school year, BAA and Clark were profiled in Sir Ken Robinson's book, Creative Schools: The Grassroots Revolution That's Transforming Education, for the school's success with high-need students. BAA was also one of just eight schools in the country to receive the innOVATION STEAM Award (for science, technology, engineering, arts and math instruction) from the President's Council on the Arts and Humanities and the Congressional STEAM Caucus.
And BAA was one of seven schools – and just two out of 125 Boston Public Schools — selected by the Boston Schools Fund as a high-quality school. BSF thoroughly vets district, charter and parochial schools across the city, identifying those that have a proven track record of academic success.  These schools then receive financial and technical assistance to support their expansion, in order to offer more high-quality classroom seats to Boston students.
This school year, the acknowledgment and awards keep coming. In the fall, BAA was one of 20 schools across the country to receive a School of Opportunity silver award from the National Education Policy Center – a national recognition of public high schools that excel in meeting the learning needs of all students and closing achievement gaps.  BAA was singled out for its innovative curriculum and student support services. Most recently, the state designated BAA a Level One school, the highest rating, for its success in narrowing proficiency gaps among student subgroups, meeting year-to-year student growth goals and maintaining high graduation and low dropout rates.
The key to BAA's academic success? In addition to its core focus on high-quality artistic instruction, Clark outlines the following core strategies:
1. Strength-based, or "passion-based," model. BAA identifies students' passions – in this case, the arts – and then very intentionally teaches everything through this lens. History, geometry, physics, English language arts – all are taught through the arts. For example, a BAA student recently completed a project that demonstrated his mastery of Einstein's theory of relativity by contrasting it with John Coltrane's approach to sound and perspective in jazz.
2. Blurred boundaries between disciplines. BAA adopts an interdisciplinary approach, so that its curriculum and instruction blend art, science, math and technology content. BAA ninth graders recently completed an exhibition on ancient African civilizations, for instance, that drew on several disciplines, including history, geometry, dance, music and visual arts. To support this content integration, in 2013 BAA launched a STEAM makerspace. There, students and teachers can explore connections between disciplines in a hands-on way and incorporate new technologies – 3-D modeling, design, electronics, digital media and more – into their academic and artistic projects.
3. Deep partnerships. BAA collaborates closely with the Professional Arts Consortium of arts-related colleges in Boston. Consortium members helped found the school, sit on the governing board, participate in student auditions, co-construct curriculum, share faculty, offer professional development and provide scholarships for BAA graduates.
4. Common planning time and teacher autonomy. BAA teachers meet daily in content teams, and weekly with their content department and interdisciplinary teams, to review student work and achievement data, plan lessons, design exhibitions and assessments and participate in professional development.
5. Personalization and tiered supports. With its academic-blind admission policy, BAA enrolls students with a range of learning needs. BAA provides each student with the same adviser for all four years; all teaching staff serve as advisers to 10 to 12 students. These advisers monitor academic and artistic progress toward graduation, manage student schedules, add supports as necessary and track college and other post-secondary plans and applications.
6. Focus on adolescent literacy. On average, one-third of BAA students enter high school reading below grade level. In response, BAA launched the Literacy Development Initiative to offer intensive, targeted literacy instruction for ninth-grade students, both during the school year and over the summer. As a result, 80 percent of these students improve their reading abilities by one or more grade levels by the time they start 10th grade.
7. Proactive health and wellness screening. Depression and anxiety affect nearly half of BAA's students, many of whom have limited access to mental health services. BAA instituted an "early and often" screening system to identify students with social and emotional challenges. The school provides these students with an array of on-site mental health services, including counseling from licensed clinicians.
These are not magical strategies. In other schools, the passions might be different – computer games, engineering or sports instead of the arts – but many schools can replicate these practices with their students and teachers.
First, though, it would be smart for a school's leaders to visit BAA and study its strategies in depth. Of course, they may have to get in line behind the Netherlands delegation.
Jacob Murray is the faculty director for professional education at the Boston University School of Education. Follow him on Twitter @jake_murray44.