Joey Beats Another Overdose, But Drifts In And Out Of Heroin Use
07:30
Play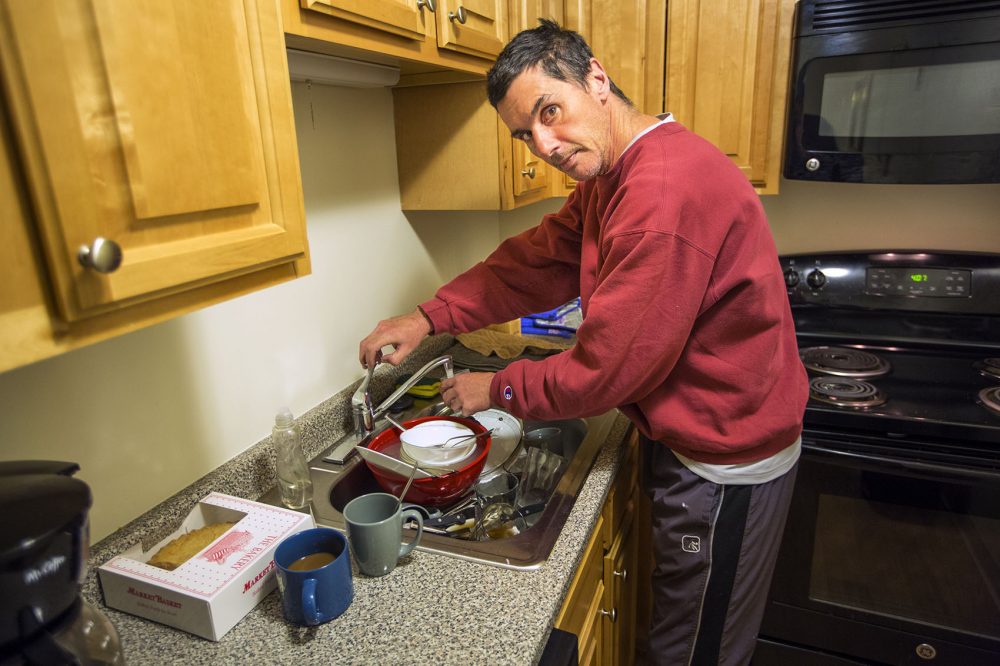 This article is more than 5 years old.
Across the United States, 580 people, on average, will start using heroin today. Those who become addicted and survive will likely need to manage the disease for the rest of their lives.
To get a sense of what it takes to beat this addiction, we're following Joey, from Everett. (We've agreed to use just his first name.)
Joey is 48. He started taking Oxycontin in his early 20s for pain related to a brain aneurysm and a stroke. When his doctor cut off that prescription, Joey switched to heroin. He's been addicted to an opioid for more than half his life.
When we met Joey, he'd started methadone treatment but was still using heroin occasionally. He had overdosed seven times. Why, Joey asked last year, had he beaten the odds? Why was he still alive?
Early in 2016, Joey overdosed again. We caught up with him in March, just after the anniversary of his mother's death. Joey had slipped into a deep depression.
Joey Says 'OK'
A typical day starts at the methadone clinic. After his dose kicks in, Joey takes a couple of Klonopins and then shoots a gram of heroin. He cries, nods off, wakes and repeats.
"It was horrible, just horrible," Joey says. "I was ready to kill myself 'cause I had nothing to live for except to get up every day and do drugs and ruin my life and everybody's life around me that loved me."
Joey comes up with a plan.
"I was going to do it on a Sunday mornin'," he says. He would go to Bellingham Square in Chelsea, the center of his heroin universe. "I'd have coffee with the guys, buy like 10 Klonopin and two bags of heroin. I'd go to sleep and probably never wake up."
But the Friday before, Joey runs into an old buddy. Chris, who Joey used to shoot heroin with, was working for one of the street outreach programs, handing out clean needles.
"He walked up to me, right, and said, 'Joe, you look terrible, let me take you to detox,' " Joey recalls. He'd said no, dozens of times, to counselors and cops and his brother. But on that Friday, in the dead of winter, Joey heard himself say 'OK.'
He's not sure why. Maybe it was God talking for him, or maybe, "I was just feelin', like, cared for by someone, for once in a long time," Joey says.
'Now I'm Ready'

Now Joey sits at a peeling picnic table outside New Hope, a residential treatment program in South Weymouth. He's been here for two months, going to group counseling twice a day. He eats three regular meals a day, sleeps at night, and is working his way through the AA 12 steps of recovery.
Joey has been at this stage many times before. But this time, "I'm a lot more spiritual. Sometimes I pray 100 times a day. I'll just be sitting here and…" Joey pauses. He sits up straight and lifts both arms toward the sky. This time, says Joey, he really will start a new, sober life.
"I didn't, I didn't go after it before 'cause I wasn't ready. Now I'm ready," Joey says, letting his arms fall. "I know I'm ready, I want it. I want to be better. I don't want to use drugs any more. I'm changing."
Joey stays at New Hope for another month, until he secures a spot in a halfway house with supervision. During the move, his phone goes missing and I lose track of him.
'Now I'm Running Again'
Then one Thursday in late September, there's Joey, plastic cup in hand, walking past cars stopped at a light in Everett.
"Come on, baby," he says, shaking his medley of coin, "someone gotta give, someone gotta give."
On good days Joey can make $50 to $70 in a morning. But business is slow this day. Joey agrees to break for a cup of coffee. We head to Dunkin' Donuts because Joey has a gift card. He gets tested for HIV every few weeks if he can.
"I'm negative," Joey says. "I get tested, like, all the time. I just did it for the card."
Joey orders his usual, a medium with cream and eight sugars, and sits down to fill me in.
He did, indeed, move into a halfway house in Somerville. He lasted two months.
One day, as Joey tells the story, he was sitting quietly, reading the Gospel according to Matthew, his favorite New Testament book, when one of the guests started harassing him. It was a guy who always wears black and calls himself a Satanist.
"He kept pushing me and pushing me," Joey says. "Finally I got up and I cracked him. Now I'm running again, you know, doing drugs here and there."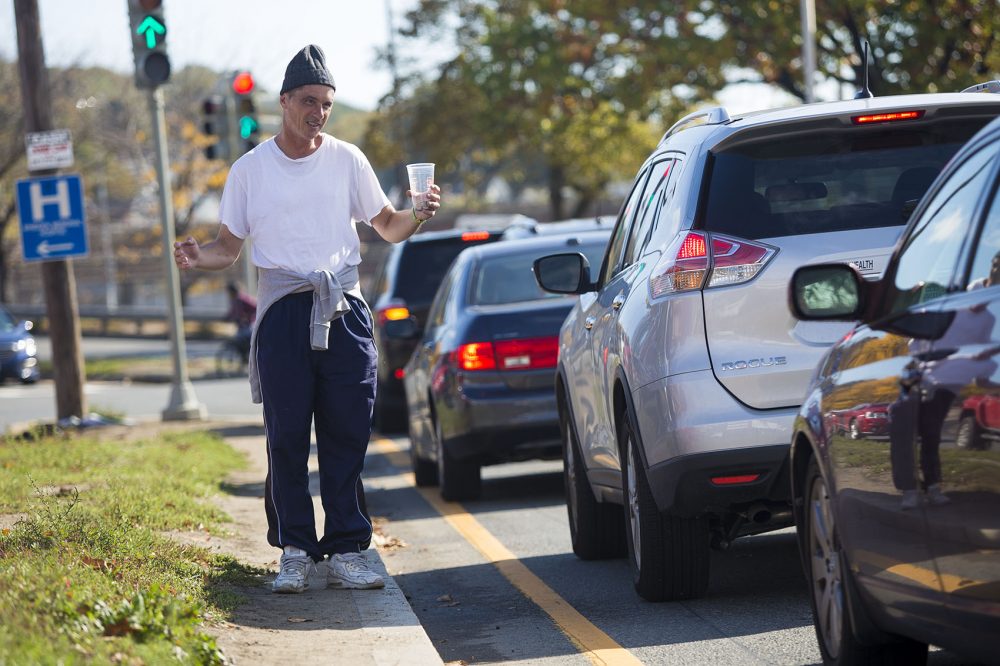 Joey has stopped going to AA regularly, but he's still on methadone, the medication that is supposed to help curb his craving for heroin and block the effects. Doctors say few patients beat an addiction with methadone or Suboxone alone, that some kind of counseling or support group is critical.
Joey's shooting heroin again even though, he says, "I'm wasting my money 'cause I don't feel it. It's just the addiction, like just the whole thing of like, getting it and putting it in the spoon, and drawing it up, and seeing the blood. That's the whole part of the high."
For a vicarious high, it's incredibly dangerous. Someone from Whidden, the local hospital, tells Joey they're losing a patient every day to an overdose -- a fact we confirmed during the summer.
The news terrifies Joey.
"Someone dies every day, just around here? That's crazy," he says. "The amount of people doing heroin right now, it's out of control."
A Pack Of Cigarettes, And Love
Joey says he's taking small steps toward a more stable life. He uses the money from panhandling to buy food first, then drugs, for example. He may take a big step soon. Joey just got word that after years of waiting, his application for a subsidized apartment is approved.
"I am so happy," he says, emphasizing every syllable. "If I get that, my life will be so much easier. And I deserve it. I didn't ask to get sick."
In early December, a case manager from Heading Home invites Joey to visit a fully furnished one-bedroom apartment in Revere and then hands him the keys. Joey contributes a third of his monthly income, $192.50, for rent.
"They gave me this place and I should be real happy and ecstatic," he says a few weeks later during a visit, "but some days I still wake up depressed and not happy."

For years, Joey's life revolved around running and doing drugs in the square near Chelsea City Hall. It's not a healthy place for him now, but he doesn't have a replacement. He meets with a counselor once a week to talk about getting a part-time job or going back to school. He has one friend, a guy he knew from high school, who stops by a few times a week. Joey spends a lot of time alone.
"There's no friendship today like there used to be, that's for sure," Joey says. "People rat on each other, send people to jail, steal from one another."
Joey seems a little out of it. He says he's smoking weed but hasn't used heroin in five days. Joey isn't sure if he'll go to an uncle's for Christmas or stay home alone. He stares at a small artificial Christmas tree on his kitchen table, one of the few things he has from his mom. I stare at him, wondering what's missing from this recovery plan, what he needs.
"I need a pack of cigarettes," Joey says, "and I need, um, I need love. Just good ol' love."
Joey, the survivor, is optimistic.
"Good things come to those who wait," he says with just a little twinkle in his eye.
This segment aired on December 23, 2016.