Beyond 'Mona Lisa Smile': Art, Race And Social Media On Campus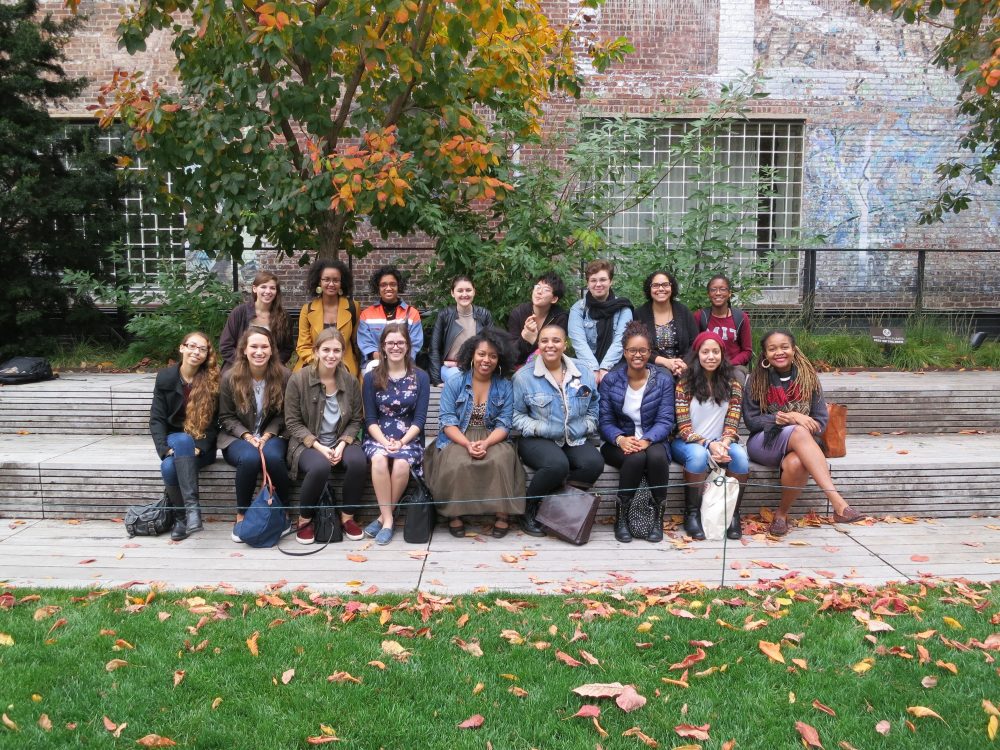 This article is more than 5 years old.
COMMENTARY
For people who know about the Wellesley College art department, it's usually from the 2003 movie "Mona Lisa Smile," about a radical art history teacher (Julia Roberts) who inspires her students. When people learn that I teach art history at Wellesley, they often mention it.
I respond, "Yes, I'm the new Julia Roberts!" That always brings a smile.
For me, though, it is a reminder of how much has changed in the world — at Wellesley, in higher education and for art history as a profession.  As an African-American woman, I do not resemble an art historian at a women's college in 1953.
What's more, I am proud to defy the tradition — and stereotype — of my discipline as solely lauding the virtues of Western art that has traditionally been taught and consumed mostly by affluent white women and men. Though vestiges of this perception still exist on campuses across the country, I think of the "then and now" of Wellesley because it crystallizes for me a responsibility I have to my students, in particular to ensure that neither their ethnic background nor their bank account deter them from pursuing an interest in art history.
I still use traditional methods, including formal lectures and field trips to area museums. A Latina student once remarked that she hadn't previously believed that she belonged in museums. That changed after a tour from curator Dennis Carr of his exhibition, "Made in the Americas: The New World Discovers Asia" at the Museum of Fine Arts, Boston. For once she recognized parts of her own culture. When our young people place themselves — and see themselves — within the spaces where the canon is defined — where Mona Lisa reigns — then they will struggle less to find their place wherever they are in the academy.
New approaches, like interviewing living artists, designing webpages and using cutting-edge technologies, have become critical for all college students taking an art history course.  But when students don't find themselves physically inside a museum gallery, then what is a professor to do?
This year's newest Wellesley students, the class of 2020, have grown up with smartphones, and many have used Facebook since middle school. That knowledge, along with the advances in digital imaging, means students have unprecedented access to museum collections, views of archaeological sites and artifacts, and exterior and interior views of architectural wonders from around the globe right at their fingertips for free. And students of color, LGBTQ students and other underrepresented groups who often feel left out of the conversation because they rarely see themselves reflected in "art" can use those same technologies to seek — and find — research topics that will allow them to experience art history through their own lens.
I know this to be true because social media and other free technological tools have made a difference in my classroom. Combining real locations (Boston's MFA) with virtual arenas (Instagram) is giving students a new way to analyze their visual worlds, and consequently giving them new critical skills and vocabularies.
For instance, students in one of my advanced seminars, "The Body: Race and Gender in Modern and Contemporary Art," use Twitter to respond to readings and lectures. Since I'm using Twitter to talk about race in art, I encourage my students to use the same platform to talk about race in America.
During this course, we witnessed the continuing rise of the #BlackLivesMatter movement. On college campuses, student organizers used the hashtag to call out — in a public, searchable and even archivable way — systemic racism in college administration and to speak to the alienation that many students of color experience on a daily basis. These efforts are connected to the classroom because students of all backgrounds (and their professors) can potentially create productive spaces beyond the classroom where their hashtags are encouraged and might just actually matter.
The art world is already changing, feeling the effects of this new generation. Kimberly Drew (@museummammy) began her Tumblr page, "Black Contemporary Art," as a Smith College student in 2011, after an internship at The Studio Museum in Harlem. Her page gave her a voice in promoting artists of African descent. It took off. She now holds the influential position of social media manager for The Metropolitan Museum of Art. With over 300,000 followers in only five years, Drew has become one of the foremost voices in the art world through the powerful accessibility of social media.
One last example: When my class collectively read Claudia Rankine's "Citizen," a book of prose poetry, one student could succinctly state her summation in fewer than 140 characters: "Citizen blurs the line between text and image, exploring the embodied negotiation of understanding herself as a self in a system."
This kind of small notational act took poetry from the page to the reader's mind to the outside world of Twitter. When students understand the power of social media to have a real-world impact, their attention spans lengthen in order to capture the bigger picture. That should make everyone smile.
Nikki A. Greene is an assistant professor of art history at Wellesley College. She teaches and writes about race, feminism and music in modern and contemporary art.