Allegations Of Unpaid Wages And Benefits Hit Asbestos Cleanup Firms
Resume
Federal prosecutors are investigating an asbestos-removal company active in the Boston area to see whether the firm withheld wages and benefits from workers, according to people familiar with the matter.
The case is part of widening U.S. Justice Department activity and private civil action targeting asbestos-removal and demolition contractors for alleged worker mistreatment amid a construction and renovation boom in Massachusetts.
Registered asbestos-abatement jobs in the state totaled 25,660 in 2016, up 64 percent in five years, as construction materials in many older buildings being torn apart for renovation often contain the carcinogenic mineral.
Within the last two years, two criminal cases and three civil lawsuits have been brought in U.S. District Court in Boston alleging companies are cheating asbestos-removal or demolition workers on wage and benefits payments. In one of the cases, the owner of an asbestos-abatement firm pleaded guilty to federal charges after prosecutors alleged he paid workers in cash to avoid employment taxes and payments he owed to union benefit funds.
The asbestos and demolition workforce has a large number of immigrants, some of whom have told The Eye and WBUR that they believe they are being exposed to asbestos without adequate protective breathing masks or other required safeguards. Inhalation of asbestos fibers can lead to lung cancer and other potentially deadly diseases.
On the wage front, a federal investigation is looking at Absolute Environmental, a Salem, New Hampshire-based company, according to industry insiders, including one former worker who testified before a federal grand jury in Boston hearing evidence in the case.
Union benefit-fund officials sued Absolute Environmental Inc. and a second company, Absolute Environmental Contractors Inc., in 2015. The officials alleged a scheme in which Absolute Environmental's owners used the second company as a front to pay workers less and avoid making benefits payments mandated by a collective bargaining agreement.
Proceedings in the lawsuit have been put on hold until May as the parties try to reach an agreement.
"Absolute was cheating me," said Jean Jimenez, 27, of Methuen, who said he went before the grand jury about nine months ago, and was asked about the company and how his wages were paid there.
Two other people with direct knowledge of the investigation say it is ongoing. The U.S. attorney's office in Boston did not respond to several requests for comment.
Absolute Environmental said in a statement that it "is a highly regarded business which operates in a lawful and responsible manner.'' It called the union lawsuit "without merit" and said "it looks forward to vindicating its position in court." The statement said the company wouldn't comment on "speculation about government investigations."
Jimenez, a union member, said he worked for the company for about two years and quit in 2015 because he wasn't always paid the wages he was due.
Red Check, Green Check
According to Jimenez and the union lawsuit, he was paid $34.75 an hour from Absolute Environmental for removing asbestos-filled floor adhesive from the Prudential Center in Boston and for abatement work at a power plant in Salem, Massachusetts.
But the lawsuit said that in his next paycheck he was paid $17 an hour for similar work in a South Boston warehouse. In both cases, Jimenez said he picked up a company truck at the same Absolute location in Salem, New Hampshire, before heading to work.
"They think people are not going to talk" and "that they are just grateful to work," said Jimenez, who estimated he is owed at least $5,000 in back pay. He said union wages were paid with a red check, and nonunion wages were paid with a green check.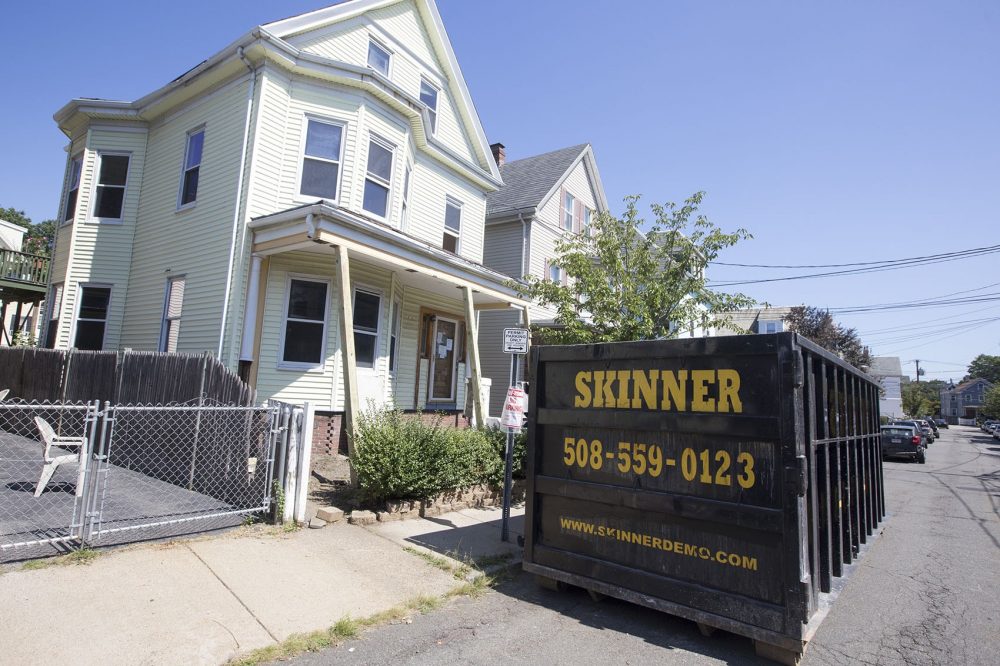 In a complaint with the Massachusetts Commission Against Discrimination, 11 workers have accused another contractor, Skinner Demolition, of underpaying them and providing them with inadequate asbestos protection.
Scott Connolly, an attorney for Skinner Services Inc., which runs the demolition company, said the allegations in the MCAD complaint were unfounded.
One of the complainants in the case, Marco Lopez, is also a plaintiff in a separate federal lawsuit filed in November against Skinner and its owners for alleged non-payment of wages. According to the lawsuit, Lopez drove workers between job sites and Skinner's headquarters without pay, sometimes up to three hours each way, and also had weekly deductions taken from his checks for "uniform washing" that was done only two or three times in 18 months.
"We don't get paid for all the work we do," Lopez said.
Skinner and its attorney didn't return requests for comment on the federal lawsuit and Lopez's allegations.
Disputes about wages and working conditions are hardly unique to the asbestos abatement industry. But many asbestos workers are vulnerable because they have entered the country illegally, and are typically in no position to complain or switch jobs, according to workers and labor advocates.
There are more than 3,400 asbestos-removal workers licensed in the state, and demolition companies employ thousands of others who can also confront the carcinogen on the job.
"Because of the nature of asbestos work, the industry uses the most vulnerable workers," who fear deportation, according to Tom Juravich, professor of labor studies at University of Massachusetts Amherst.
Union Allegations 
The U.S. attorney's office in Boston indicted the New Hampshire owners of Air Quality Experts Inc. and AQE Inc. in January 2016, alleging a scheme that cheated workers out of about $2 million in payments to health, pension and other employee benefit funds. Union officials who run the funds filed a federal civil lawsuit with similar allegations against the companies in 2015.
Both the indictment and civil case allege that AQE signed an agreement with a local union in 2005 promising to pay union wages to all its employees. According to the lawsuit and indictment, AQE owners Christopher and Kimberly Thompson also own Air Quality Experts, which allegedly paid workers below their entitled rates and didn't contribute toward their pension and other funds. The indictment also said some employees weren't paid for all hours worked.
Owners are allowed to have two companies that do similar work, one union and one nonunion. But case law and construction industry attorneys say they must be run as separate organizations with separate employees, operations and management. The criminal indictment alleges that AQE and Air Quality Experts were essentially operating as a single organization.
Howard Cooper, the Thompsons' attorney, said that prosecuting the couple "is unjust and absurd." He added that they "would like to know where that $2 million is because they don't have it.''
Cooper said Air Quality Experts existed for more than two decades as a nonunion shop and always paid nonunion wages. AQE was formed later to give union workers, and the business, more opportunity, but that did not require the Thompsons to start paying non-unionized workers union wages, according to Cooper.
In pretrial proceedings, U.S. District Court Judge Patti Saris said she had "deep concerns" about the case because it wasn't clear workers were being defrauded, according to hearing transcripts.
In a separate federal case, Ronald Mulcahey, the owner of Andover-based Wing Environmental, pleaded guilty in October to tax evasion and making false statements to union benefit plans covered by the Employee Retirement and Income Security Act.
Mulcahey paid asbestos abatement workers in cash to avoid benefits payments and employment-tax payments to the government, according to the U.S. attorney's office. He is scheduled to be sentenced in March.
The Eye is the online news site of the New England Center for Investigative Reporting, based at Boston University. Beth Daley can be reached at bdaley@bu.edu. WBUR's Bruce Gellerman, Jenifer McKim of The Eye and Will Norris, an Eye intern, contributed to this story.
This segment aired on January 18, 2017.