Exhibit Looks At Macabre Master Edward Gorey's Late Drawings Of Elephants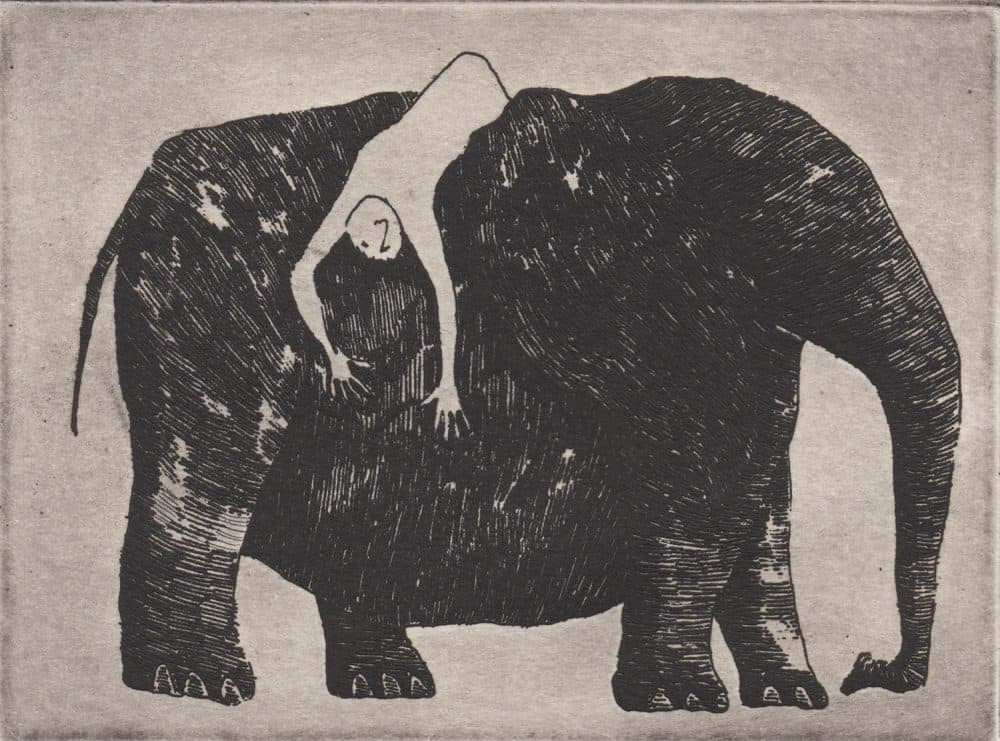 This article is more than 4 years old.
Late in life, artist Edward Gorey, the master of eerie Edwardian macabre, went back to school. Having summered for years on Cape Cod, and living full-time in Yarmouth Port since the mid-1980s, "in his 60s, he decided to enroll in Cape Cod Community College, and took a printmaking class," reports James Edwards, the curator of "E is for Elephants: The Etchings of Edward Gorey," on view at Massachusetts College of Art and Design in Boston through Feb. 7.
"The last decade of his life he devoted almost entirely to etching and puppet theater … local puppet shows on the Cape," explains Edwards, an illustration teacher at the University of Massachusetts Dartmouth, where the exhibition debuted in 2014. As for the etchings, "it turned out that the vast majority of them were elephants."
Elephants?
Gorey wrote and illustrated more than 100 of his own wickedly funny books before his death on Cape Cod in 2000, and he illustrated dozens more by the likes of Dickens, Updike and Virginia Woolf. His own dark tales are filled with barons and vicars and waifs, with tea cozies and ballerinas, with topiary gardening and menacing carpets and ominous mansions and mysterious creatures. The tone is all innuendo and melancholy and loneliness and rueful humor and the capriciousness of fate.
"The things that happen to you are usually the things that you haven't thought of or that come absolutely out of nowhere," he told the New Yorker in 1992. "And all you can do is cope with them when they turn up."
It's hard not to speculate about how his life and art were shaped by his parents' divorce when he was 11 (they remarried 16 years later) and his experiences as (apparently) a closeted gay man (he publicly professed to be asexual: "I'm neither one thing nor the other particularly").
He was a Chicago native, who studied at Harvard (the celebrated poet Frank O'Hara was a roommate), and found his calling as a book designer and illustrator in 1950s New York. There he developed a reputation for being the tall, bearded recluse who frequented the ballet and small screenings of surrealist films dressed in his signature floor-length fur coat, scarf, blue jeans, earrings, rings on most fingers and sneakers.
So why elephants? Some of Gorey's late prints depict a dancer with an elephant head and human body. Many show elephants lumbering around empty spaces. The prints are more murky than his famous line drawings.
Edwards traces the elephants back to some drawings Gorey made in the 1980s: "The elephant does appear, but only briefly and anecdotally in a couple illustrations and a poster." Another likely source was the large collection elephant bookends, elephant statues and other "elephant ephemera" that he kept in a back room of his house, private from visitors.
Perhaps the elephants were also symbolic self-portraits. Edwards suggests that Gorey may have identified with elephants as a tall, conspicuous, but shy man. "His obsession with elephants," Edwards says, "almost certainly stems from him kind of locating himself in that particular creature because he shared many traits of elephants."
The elephants probably also reflect Gorey's commitment to animals. At his death, he left a considerable portion of his estate to the cause, helping fund agencies ranging from the Bat Conservation International Foundation in Texas to the Elephant Sanctuary in Tennessee.
And maybe the ballet had something to do with it. Gorey was a tremendous fan of the New York City Ballet under the direction of choreographer George Balanchine. "Gorey lived in New York for about 17 years and he said the only reason he stayed in New York was to attend the New York City Ballet. He didn't miss a single performance for 17 years," Edwards notes. "He was obsessed with George Balanchine's work as an artist," calling him "the greatest living genius in any of the arts."
So Gorey, Edwards argues, had to have known about the infamous ballet Balanchine choreographed for the Ringling Brothers and Barnum & Bailey Circus in 1942. Working with composer Igor Stravinsky, who penned a new "Circus Polka" for the occasion, he arranged a dance for 50 elephants. True story.