Opinion: Trump's Reinstated 'Global Gag Rule' On Abortion Is Cruelest To The Poorest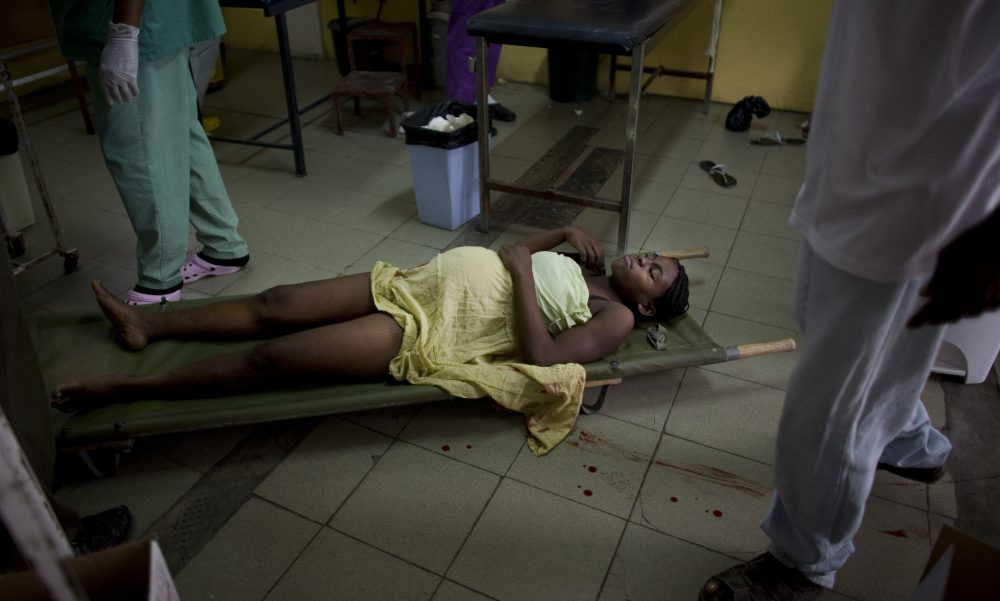 This article is more than 5 years old.
COMMENTARY
Late one evening in 2013, while I was working for Partners In Health in Haiti's central plateau, a colleague called requesting my help with a young woman who had fallen desperately ill after delivering a healthy baby at home. She had arrived at the hospital by motorcycle, propped up by her brother the entire two-hour ride.
By the time I traveled the 10 minutes along the dusty road to the hospital, the young woman had fallen into cardiac arrest. Even in the most technologically advanced critical care units, a woman dying in this way stands little chance of survival. A brief ultrasound of her heart, my crude attempt at an echocardiogram, revealed signs of postpartum cardiomyopathy, a debilitating complication all too common in places like Haiti.
I had to tell the woman's brother that his sister had died. With a blank stare, he told me that his other sister, and his mother before that, had died in just the same way.
Simply put, pregnancy is far more dangerous in poor countries. I have seen this firsthand working for Partners In Health, a Boston-based international health care organization active in 10 countries around the world.
And that experience informs my opinion that the Reagan-era relic exhumed Monday by President Trump, -- called the "global gag rule" — is an extraordinarily cruel rule, one that even opponents of Roe v. Wade should disown.
The order bans U.S. federal funds from being spent to support organizations that provide counseling to women on family planning when abortion is part of the conversation.
Since its inception in 1984, the order has followed party lines, being reinstated and rescinded like a political hot potato. That political back-and-forth makes the sustained provision of lifesaving family planning services harder for organizations that commit to caring for the world's most vulnerable populations.
The World Bank estimates that, in Haiti, for every 100,000 live births, 359 women die due to complications of labor and delivery. This is compared to 14 in the United States, and six in places like Germany or Australia.
The worst place on the planet to be pregnant is Sierra Leone, one of three countries ravaged by Ebola in 2014-'15, where the maternal death ratio skyrockets to 1,360 out of 100,000 births. In all of sub-Saharan Africa, that rate is 547.
Because pregnancy is so risky in developing countries, women should have even more of a right to understand how they can avoid it — or end it.
Meanwhile, many communities around Sierra Leone and Haiti rely on women for their own health and prosperity. As a clinical director in West Africa during the Ebola epidemic, I witnessed firsthand the power of a community's matriarchs, banding together to educate their neighbors, care for the sick, and welcome home the healed. Our success at finally stemming Ebola's tide lies solely on the backs of those women, who knew the very existence of their families and communities depended on them.
Reinstating the "gag rule" is largely a politically symbolic maneuver in terms of directly blocking abortions, because U.S. foreign aid has not been used to perform abortions since the 1970s.
But reinstatement will have real impacts, including on the International Planned Parenthood Federation, which estimated it will lose about $100 million over a two- to three-year period for services in 20 poor countries.
The latest version expands the ban on funding beyond just family planning services, to all federally funded global health programs administered by USAID. In the complicated but piecemeal system of health care delivery, often by non-governmental nonprofit organizations, de-funding reproductive health services has knock-on effects for programs that provide critical maternal-child health services, HIV counsel and treatment, and lifesaving contraception. Lose the "entry point" and you lose many chances to help.
In its newest iteration, the gag rule will restrict the $10 billion in lifesaving global health expenditures by the federal government, with far-reaching effects for groups seeking to provide health equity for the world's poorest people.
Marie Stopes International, which provides birth control and abortion, has studied the effects of the policy during previous administrations and found that abortions in poor countries actually increased, and that many of those abortions were considered unsafe.
I have seen far too many women die because they do not have access to proper counseling on their reproductive health. I only needed to see the look in the eyes of a dying mother I could not save once to make a vow of my own: Save the mothers of our world and we can save humanity. Policies that repeal a woman's right to choose and reduce access to reproductive health care only weaken communities around the world.
In all, my patient in Haiti left behind six children: her sister's three small children, and her three, including a newborn.
John Welch is a senior nurse anesthetist at Boston Children's Hospital and consults independently on issues with global surgery and anesthesia, including health equity. His views expressed here are his alone.