Singer-Songwriter India.Arie Brings Message Of Inclusivity And Hope To Berklee's MLK Celebration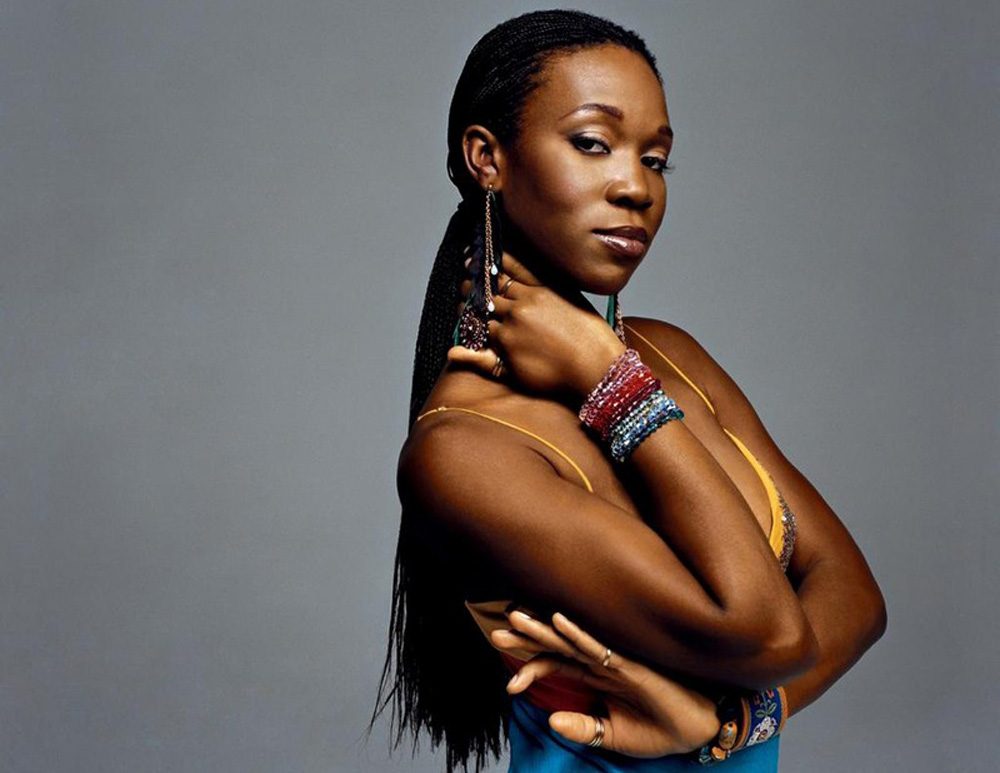 This article is more than 4 years old.
The marches, speeches and philosophy of non-violent resistance were important facets of Martin Luther King Jr. and the civil rights movement, but King described music, specifically freedom songs, as the "soul of the movement." "They are more than just incantations of clever phrases designed to invigorate a campaign; they are as old as the history of the Negro in America," King said.
The roles of musician and activist often overlapped in people like Elaine Brown and Nina Simone, giving the movement a repertoire of protest songs. R&B and soul singer-songwriter India.Arie, who is performing at Berklee's MLK celebration on Friday, Feb. 3, is carving out a place for herself in this realm today.
Her work joins the growing collection of contemporary protest music emerging with the Black Lives Matter movement from artists like Kendrick Lamar, Beyoncé, D'Angelo and Blood Orange.
Arie hit her performing and recording stride in the early 2000s, and is now more on the periphery of the pop music limelight. That doesn't stop her from creating music that is culturally and politically aware.
A robust, athletic voice and sensitive songwriting gave Arie a large local following in Atlanta when she was a teenager, often performing solo, accompanying herself on guitar. A Motown music talent scout discovered Arie in 1999 and her debut album "Acoustic Soul" was released in 2001. The seven Grammy nominations for "Acoustic Soul" would be the first of many, as well as some wins later on.
From her debut, Arie was infusing social commentary into her lyrics as in the body positive lead single for "Acoustic Soul," "Video."
In 2008, Barack Obama included Arie's song "There's Hope" in his campaign. Her most recent single, "Breathe," was released shortly after Election Day. The description for the video reads "Inspired by the death of Eric Garner and in solidarity with the Movement for Black Lives" and shows Arie along with other people of color wearing T-shirts that say "Worthy."
The bouncy, soulful swing that provides the rhythmic foundation for "Video," "Breathe" and many of Arie's other songs sets a tone of optimism. Her lyrical style contributes with direct storytelling: "Sometimes you just can't believe the things your eyes see, so much injustice in this life," and inspirational hooks: "Continue to breathe."
Arie is a regular at events remembering MLK's legacy across the country. She performed at the dedication gala for the Martin Luther King Jr. Memorial in D.C. and the Women Who Dare to Dream Luncheon in 2011. Last year, she spoke and sang at MLK Now. A video from that event shows Arie radiating emotion, strength and inclusivity as she talks about Shirley Chisholm, the first African-American woman elected to Congress. Arie's rounded, deep voice is intensified by a quick vibrato and acrobatic riffs.
The song she performed, "I Am Light," encapsulates her spirit of positivity and self-affirmation. Arie's songs sometimes touch on difficult issues, but ultimately uplift.
Claire Dickson Contributor, The ARTery
Claire Dickson is a jazz vocalist and writer studying at Harvard College.