If Obamacare Is Repealed, Could Mass. Fall Back On State Law? It Wouldn't Be Easy — Or Necessarily Wise
Play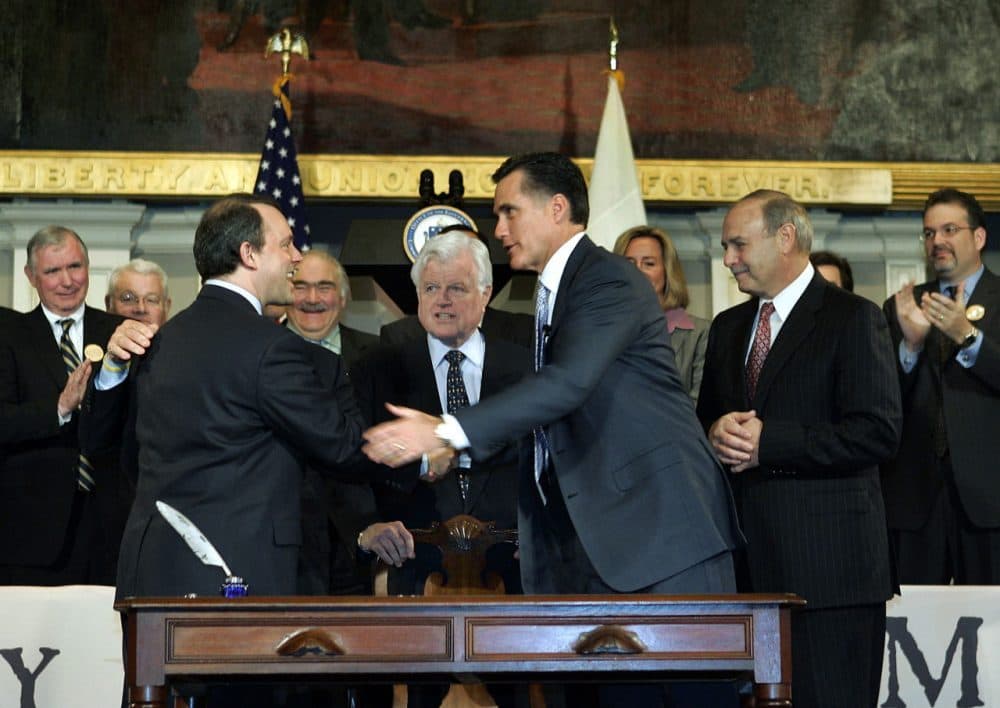 This article is more than 5 years old.
Kai Vlahos is busy, balancing carpentry jobs with the drawing and painting he loves. So he doesn't keep up with every update from Capitol Hill about efforts to repeal, replace or repair the Affordable Care Act (ACA). Vlahos has reason to worry. He pays his share of a subsidized insurance plan through the Health Connector, Massachusetts' state health care exchange, and knows it might be at risk if the ACA disappears.
"I still feel like, being in Massachusetts, that I would somehow be protected," Vlahos says.
This 50-year-old from Haverhill was uninsured back in 2006 when Massachusetts passed the law some call Romneycare. Now, after 10 years of health insurance, Vlahos is one of many in Massachusetts who assume the state could fall back on that law if Republicans do away with the federal version.
"If the Affordable Care Act was repealed, I just somehow feel like we wouldn't let it, we would go back to the old plan, to what we had before," he says.
But is reviving the state law a realistic option? The short answer is: no.
"That's a big myth, that we can go straight back to Romneycare, or our 2006 law, if the ACA is repealed."

Suzanne Curry of Health Care for All
"That's a big myth, that we can go straight back to Romneycare, or our 2006 law, if the ACA is repealed," says Suzanne Curry, the associate director for policy and government relations at Health Care for All.
One reason is that Romneycare is no longer a fully functioning law. Parts that were in conflict with the ACA were changed or deleted. Curry is part of a coalition of more than 50 groups that has "review Romneycare" on its "to do" list.
"We're still parsing through a lot of this and trying to figure out what issues may be intact or not," Curry says. "One of the biggest ones that we know was repealed was the employer mandate, which was repealed back in 2013."
Gov. Charlie Baker has proposed reviving that state fine on employers with 11 or more employees who don't offer coverage for their workers. There's a lot of controversy about just how much employers should pay.
But even if Massachusetts could put the state law back together again, there's no guarantee the federal government would pick up at least half the cost, as it did in 2006. Ten years ago, the Bush administration was willing to let Massachusetts try something unique.
"When we got our system in place in 2006 and 2007, we were the only ones standing at the door," says John McDonough, a health policy professor at the Harvard T.H. Chan School of Public Health. But now "there would be 49 other states at the door, with their hands out, some with much deeper needs than Massachusetts."
And back then, former Gov. Mitt Romney, a Republican, formed an unusual alliance with the Democratic health care titan, Sen. Ted Kennedy. The pair coordinated efforts to secure federal assistance for the state coverage law. These days Massachusetts is hardly the favored child, being home to one of President Trump's most vocal critics, Sen. Elizabeth Warren, and a Republican governor who did not vote for President Trump.
"The Massachusetts landscape was one of the bleakest in terms of the Trump campaign, so that's not a great calling card," McDonough said. "[But] other states are in a similar situation."
So singling out Massachusetts would be difficult.
Some people mapping the options for Massachusetts under various "repeal and replace" scenarios are reluctant to talk about returning to Romneycare. They don't want to create the impression within the state or in Washington, D.C., that Massachusetts might try to go it alone or might be just fine on its own. And in fact, Massachusetts would not be just fine.
The state will bring in just over a billion dollars more in federal funding this year than it did before passage of the ACA, according to the Baker administration. The ACA has more generous benefits and eligibility standards than the state law did. As many of half a million Massachusetts residents could lose their health insurance if the state went back to the rules of Romneycare.
"We would not be immune to some of the stories of people losing coverage or to people losing benefits that we've seen under the Affordable Care Act," Curry says.
Which is why some health care advocates don't want to consider reviving Romneycare. All the attention, they argue, must be on fighting efforts to dismantle Obamacare.
"People should be focusing on preventing that from happening rather than thinking about alternatives," says Rob Restuccia, executive director at Community Catalyst.
Many men and women covered by MassHealth or a Health Connector plan say they don't care whether they get health insurance through a state or federal law, they just want something that works.
Melissa Ferretti, of Buzzards Bay, worked for a real estate agent before she had a bilateral mastectomy in 2015. She's scheduled for more reconstructive surgery this spring — covered, she hopes, by her government-subsidized health plan.
"I think that they'll keep the coverage," Ferretti says. "I don't think that they'll take it from me altogether. I don't feel that's going to happen. It's just I'm uneasy not knowing what's going to happen."
Health insurers are uneasy too, says Lora Pellegrini, president and CEO of the Massachusetts Association of Health Plans. Pellegrini says many of the federal ACA replacement plans pledge generous, affordable coverage but would no longer require that everyone have health insurance.
"The individual mandate is absolutely essential to ensure that healthy young people are buying insurance to offset those we know will buy insurance who have illness and are more expensive," Pellegrini says.
The individual mandate is still part of the state law in Massachusetts.
Gov. Baker says lawmakers, business and health care leaders want to preserve health insurance for all who have it, although with the uncertainty in Washington, he isn't sure how.
"There's a bipartisan commitment in Massachusetts to ensuring that whatever the rules are at the federal level that we're going to work together to make sure that people in Massachusetts continue to be covered," Baker says.
Amid all this uncertainty, a near record number of Massachusetts residents signed up for coverage through the state's Health Connector for the coming year, including almost 54,000 people who weren't in the system last year. It's not clear why enrollment is up here, but down across the country.
Connector officials say they made a concerted outreach effort in many ethnic communities where enrollment had been lower than expected. Are Health Connector members demonstrating confidence that insurance for all is here to stay in Massachusetts, or are people signing on to make sure they get that knee replaced before coverage goes away?
There's a lot at play as the country contemplates another round of major health care change.
This segment aired on February 7, 2017.