For Comedian Lewis Black, Humor Starts With Anger
Lewis Black is riding on his tour bus to his next gig in Maine when he takes my call for this interview. Before he can answer a single question, the bus hits a bump, and a bottle of hot sauce smashes, eliciting a string of profanity from Black and an apology. It sets the mood Black has been in for most of his career, which is why the show he's bringing to Boston's Shubert Theatre Friday and Saturday is called "The Rant, White and Blue Tour."
His comedy specials have names like "Old Yeller" and "Red, White and Screwed," and he's been doing his apoplectic op-ed "Back In Black" on "The Daily Show" since the show began in 1996. His day isn't going to get any better with the inevitable questions about current events.
When I ask about having to talk about President Trump, Black says, "It always kind of starts there. There's a kind of level of exhaustion already." With the news surrounding executive orders, political appointees and protests, it can be tough to change the subject. "That's what happens when you allow a narcissist to run the country," says Black. "You might date one, you don't elect one."
Black is in a new movie, the animated "Rock Dog," in which he voices Linnux, a kind of wolf mob boss. "It's got a great cast," says Black. "A remarkable cast" that includes the voice talents of Luke Wilson, Eddie Izzard, J.K. Simmons, Mae Whitman and Kenan Thompson. When Black was on "The Late Show with Stephen Colbert" last Tuesday, they showed a clip, but most of the conversation was about Trump's first week in office. "Hopefully they'll run some ads," says Black, laughing. "I've talked about [Trump] whenever I do an interview. It's knocked the Super Bowl out of the box, except maybe up in Boston. Or Atlanta."
Even the big game is not immune. Some liberal New England football fans were having a crisis of conscience about rooting for their team because of its stars ties to Trump. Black is a self-described socialist, but he doesn't restrict his criticism to the opposition, and has no sympathy for the conflicted fans. "Well that's absurd," he says. "You know, god. The problem with liberals, if they can find a way to lose their minds, they'll do it. For no reason. You know, keep a clear space in your head, a------. Have a panic room inside."
Black says the panic doesn't help anyone. "Instead of panicking, whatever it is that's upsetting you, send five bucks to whatever legal group will be dealing with that," he says. "'Cause it used to be Congress, now we're going to be in the courts. It's going to be the most litigious four years of anybody's life. Unless you've had 10 divorces."
Satirists have been bemoaning for years the idea that reality has become stranger and funnier than anything they could come up with. That problem only got worse in the recent election cycle. Most recently, "South Park" creators Trey Parker and Matt Stone said they don't know what to do for the next season, because it's too hard to keep up.
"We're living at the intersection of satire and reality," says Black. "Really, even more so, we're living in fictional times. Meaning if you took the reality that we're living through and put it in a book, everbody'd go, 'Wow, that's a great book.' "
"We're living at the intersection of satire and reality. Really, even more so, we're living in fictional times. Meaning if you took the reality that we're living through and put it in a book, everbody'd go, 'Wow, that's a great book.' "

Lewis Black
One of the things that keeps Black grounded is the live streaming segment he does after every show on his website. People submit questions for him to address. Black shares examples of everything from a darkly funny experience with a mammogram to somebody being furious because there's a pickle on their plate. That helps him keep in touch with what people who aren't featured in the current news cycle are dealing with. "Look, you know, if [there's] anything that I've learned over the past 10 years, it's that I'm in a bubble," he says. "I don't work in an office and I don't drive a car and I don't go through what a lot of people have to go through anymore. So the people who know it, I'm interested in hearing from. I'm kind of getting more and more of those."
It also helps him keep track of the local news for current tour stops. Before his show in Maine, he was learning about controversial governor, Paul LePage. "They're governed by a guy who only 32 percent of the state voted for," he says. "Which is unbelievable."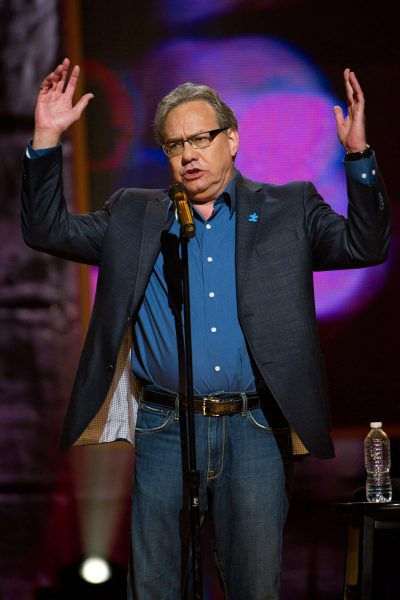 All of it upsets Black, but that doesn't mean he'd rather be talking about something else more pleasant. The reason it hasn't given him a heart attack yet is probably that he needs that as fuel for his standup comedy. "It makes me angry, and that's when I start to poke at it and find a joke," he says. Would he rather be talking about something more pleasant? "No, no," he says. "'Cause that's where my humor comes from. So I'm [screwed]." He can't resist laughing at that. "My humor always starts with anger. Whether it be about whether the weatherman told me some b------- in the morning or, you know, I just spent an hour and a half trying to become a member of Instagram."
Which starts the cycle again, as Black talks about his irritation with social media, which he thinks is a misnomer — it's more a social connection than actual media. That connection is becoming increasingly political, and Black believes it's making things worse. "Yeah, it's becoming nonsense is what it's becoming," he says. "Part of the problem is, you've got one side being bellicose and the other side whining and then another side responding to the whining by being bellicose, and the other side starts whining. It's beyond belief."
Trump has shown a proclivity for tweeting at celebrities or shows that mock him, including Alec Baldwin for his running impression on "Saturday Night Live." That led Black to ask that Colbert pixelate his face and disguise his voice on his "Late Show" appearance. "I don't want that big baby yelling at me," he said. Black doesn't think he's a big enough target to attract Trump's ire, but if he does get an angry tweet: "It can only help my social media cred," he says, laughing again.