The Jewelry Of Burning Man Comes To Fuller Craft Museum
This article is more than 5 years old.
Each August, upwards of 60,000 punks and makers and hippies and electronic dance music ravers pilgrimage to the Black Rock Desert, a remote area in northwestern Nevada, for Burning Man. The three-decade-old festival gets its name from the giant abstracted sculpture of a man — towering as high as a 10-story building some years — that's torched in the event's climax.
The epic week-long party is also known for its transient tent city, solemn temples, meandering mutant vehicles, dust storms, circus acts, groovy light shows and monumental art rising from the parched desert earth.
And the jewelry. "People wear a lot of jewelry because it is a portable art," says Karen Christians, of Lowell.
"It's a way of taking a little bit of the playa back home with you to wear throughout the year," says Christine Kristen of California, aka LadyBee, who was the art curator for the festival for a decade.
Kristen is now the curator of "Playa Made: The Jewelry of Burning Man" at Brockton's Fuller Craft Museum from Feb. 11 to June 2. And Christians is the author of the companion book "Jewelry of Burning Man."
The 175 pieces in the exhibition — ranging from handmade to manufactured, in plastic, glass, metal, wood or fabric — come from Kristen's own collection, assembled over two decades.
"Burning Man" jewelry, Christians says, is often "trying to embody two things. One, the icon of the Man and how the Man stands with his hands down and then his hands up, his hands raise up right before the burn. … The second thing is the city. The city is the real heart of what we do. The city is how we find people, how we connect with people."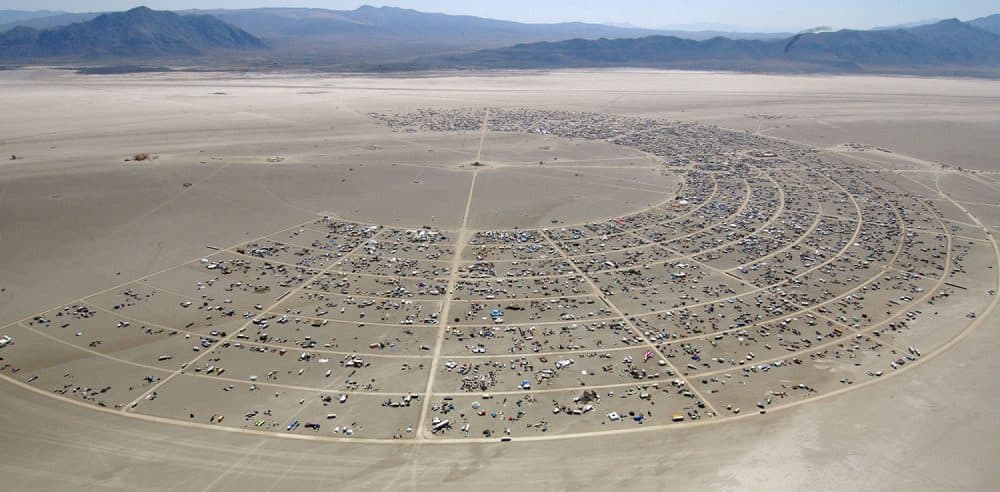 Christians — a founder of the jewelry studio at Somerville's Artisan's Asylum and of the Metalwerx jewelry school in Waltham, one of the places she teaches — recalls the first time she went to Burning Man in 2006. The festival had been like a legend, something she'd read about and seen on television, and long dreamed of visiting. She flew into Santa Barbara, California, then drove out to the Nevada desert, arriving at the festival encampment, known as Black Rock City, around 2 a.m.
"It was all dark. I couldn't barely see anything. We very tired," Christians says. They quickly retired to bed. "I woke up in the morning and that's when I started to look around. And when I looked around me, it shattered everything I know about art and how people work in a community."
Among the things that astonished her was "Uchronia," a colossal 300-foot-long, 40-foot-tall assemblage of 2x4s nailed together into arches that formed "this random, fantastic sculpture you could walk through. And they had music and lights."
"It didn't take lots of red tape. It didn't take lots of engineers to say this is OK. It didn't take lots of permission," Christians says. "That's what blew me away about Burning Man — the size and the immediacy."
At an old friend's theme camp, called Oasis 47, she helped launch the "Pendant Project," which invited passersby to embellish 150 cast-bronze medallions she'd brought along with colorful epoxies.
"When people fill this little open-cell pendant cloisonné, and they come over to the grinder and they sand it and it becomes nice and flat … all of a sudden they take one look at it and go, 'Huh,'" Christians says. "That breath is what I live for. … That breath is the gift to me and the pendant is my gift to them."
The pendants are all just given away — in a jewelry-making workshop project that now continues each year. "Gifting" and "decommodification" are two of the 10 core principles of Burning Man. Kristen notes, "Everything is gifted, nothing is for sale at Burning Man except for coffee and ice." The Burning Man legal department will chase you otherwise.
The jewelry, Christians says, "It's the thing that contains all the stories."
"Usually what people pay attention to is the large-scale art," Kristen says. "It's nice to see the small stuff get attention."
Below is some background about pieces in the Fuller Craft Museum exhibition:
Thomas Mann of New Orleans, pendants, 2014. Brass and nickel silver.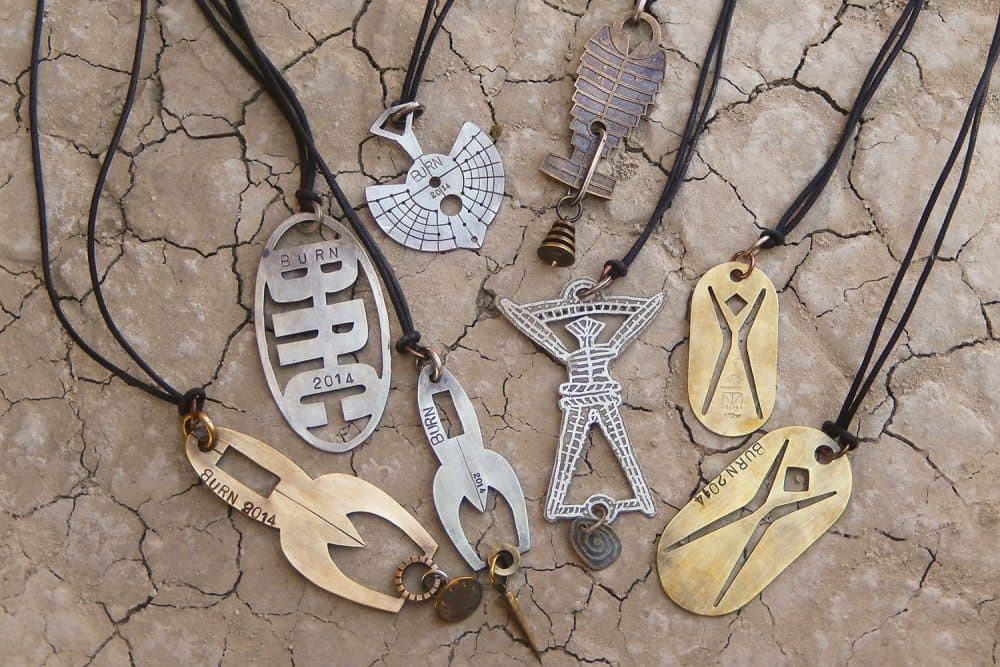 Mann is a well-known jeweler of assemblage pieces, Kristen says. The first time he traveled to Burning Man two or three years ago, he taught jewelry sawing and filing and he came with lots of pendants that he'd made to give away.
"He studied what we were doing and he came prepared with gifts," Kristen says.
---
Steve Curl of Michigan, "BRC Map Breastplate," 2005. Aluminum hard drive disk stamped, pierced.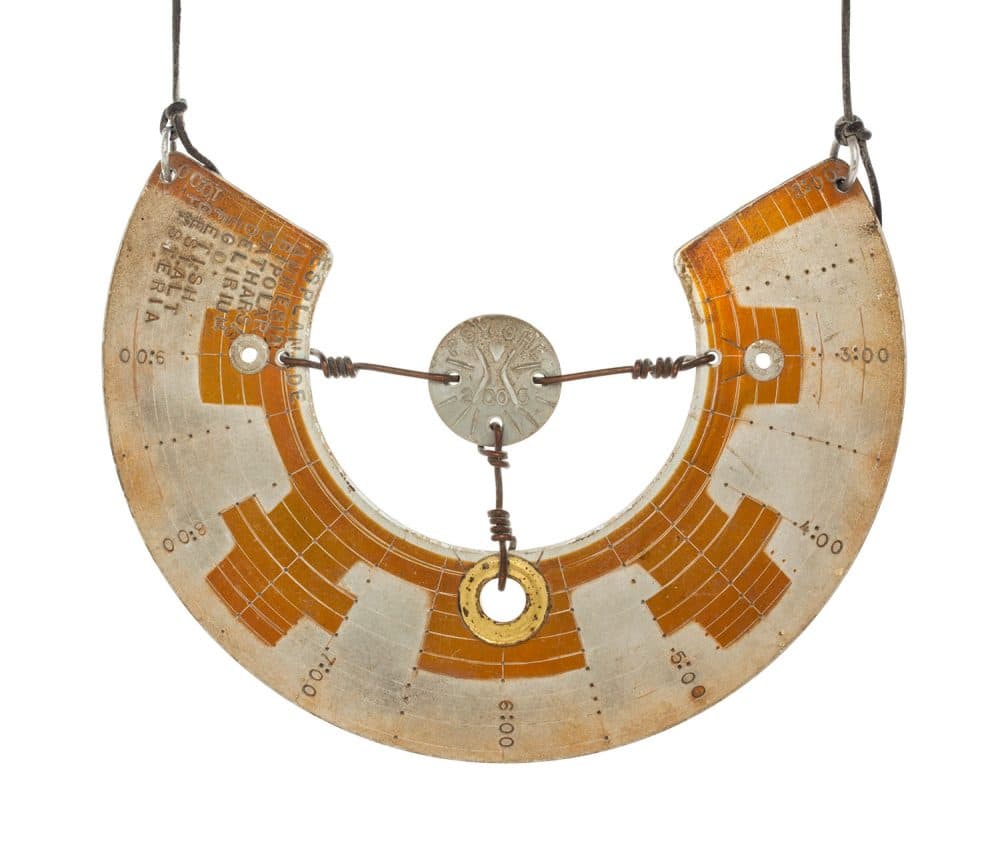 In 2005, someone gave Kristen a steel pendant in the iconic half-circle layout of Black Rock City, the Burning Man encampment. But she lost it. So she asked online for help tracking it down. Curl offered to send her one — but what he sent wasn't the one she lost. Instead it was a one-of-a-kind pendant handmade from a recycled computer disk drive. Then the creator of the pendant she lost sent her another one too.
"When you reach out to the Burning Man community, you may get what you need and you may get some wonderful gift you weren't expecting to get," Kristen says.
---
Ronnie Nelson, "Playa-Go-Round," 2007.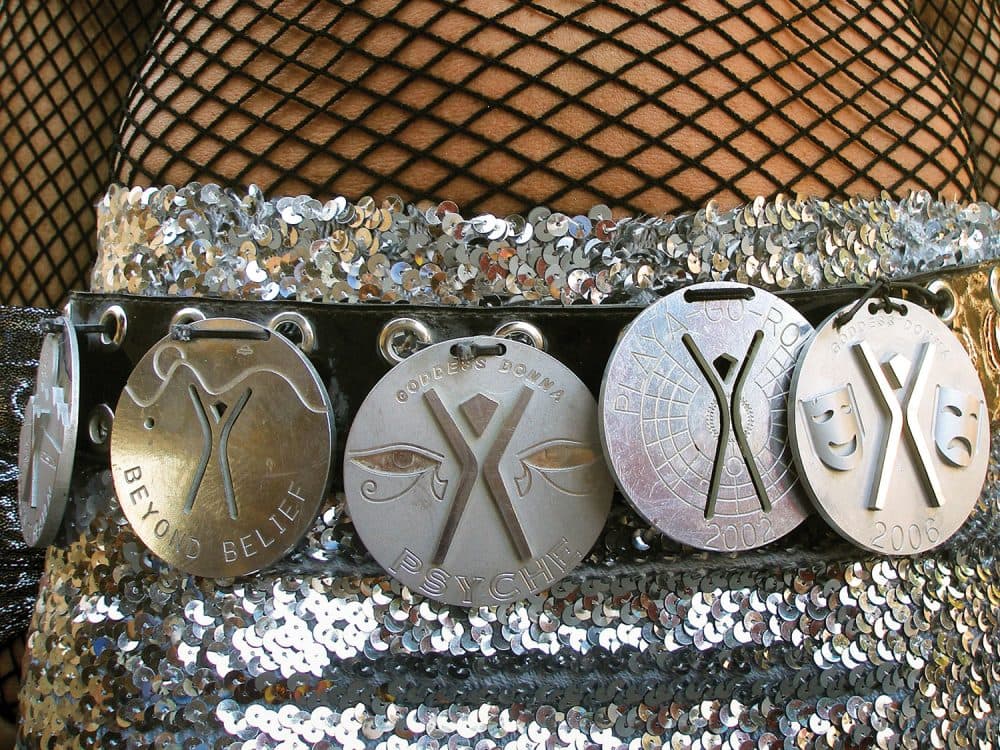 Several years' worth of cast-aluminum medallions, decorated with the Burning Man symbol, by this West Coast artist, become a woman's belt in this photo.
---
Kenn Kushner, "BRC Map Pendant," 2013. Cast bronze with synthetic ruby.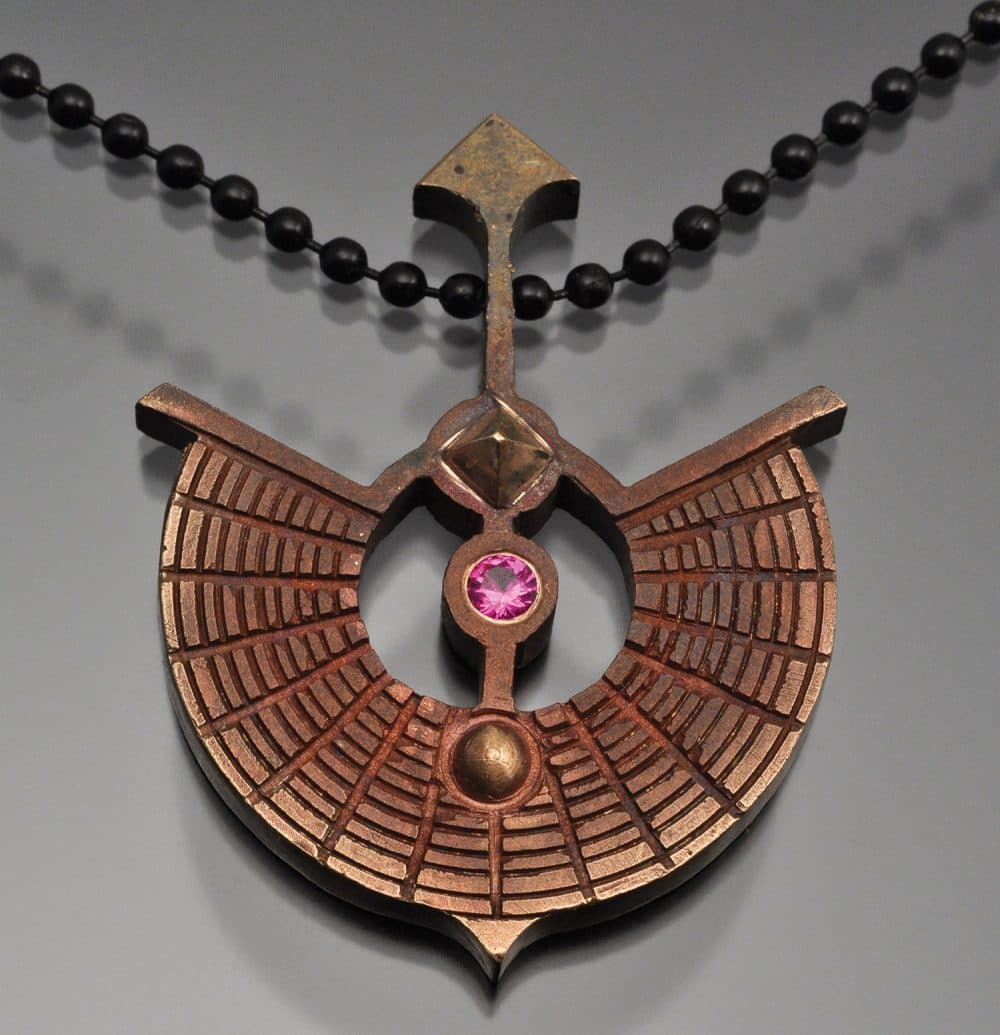 The Boston-area artist often works with precious materials — gold, precious stones.
"It was very liberating to make a piece for Burning Man that he could just give away," Kristen says.
---
Scott Dylewski of San Francisco, "Vault of Heaven Pendant," 2004. Inlaid walnut, maple and cherry.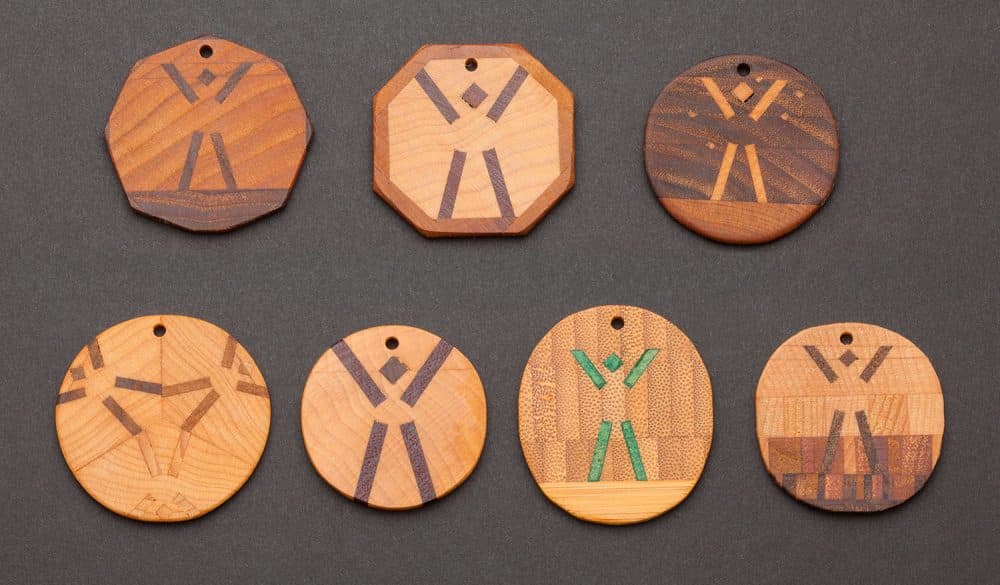 Dylewski makes long rods of wood, inlays them with pieces of different colors, then slices them up like millefiori (or, perhaps, sausages) to create medallions. "Very, very labor intensive," Kristen says.