Baker Cannot 'Speak To' Unsubstantiated Trump Claims About Fraud By Mass. Voters In N.H.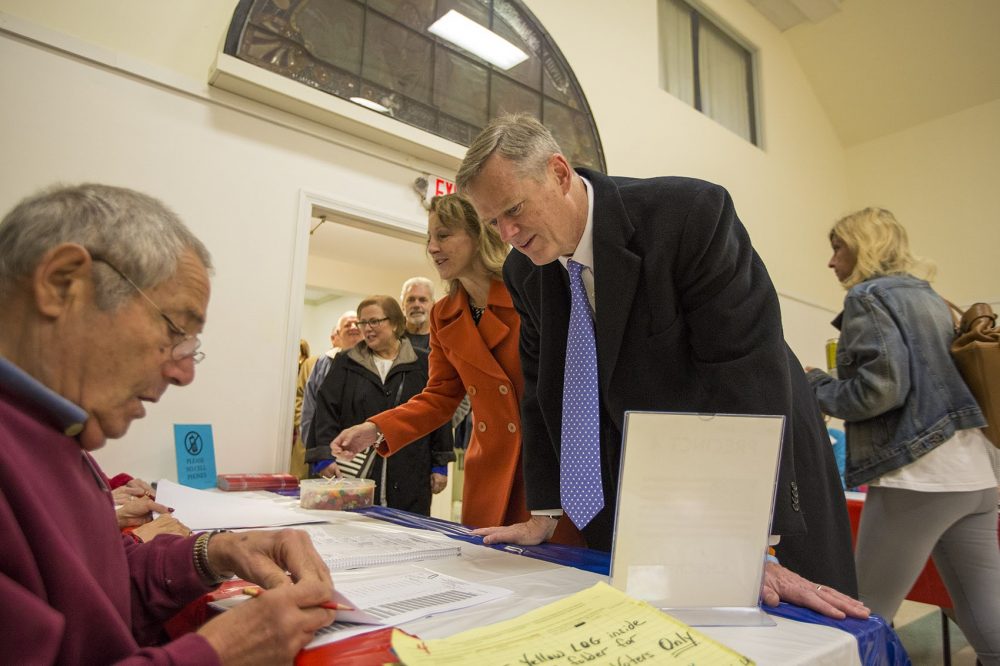 This article is more than 3 years old.
As President Donald Trump and senior White House aides stand by assertions of widespread voting fraud in New Hampshire, Gov. Charlie Baker said Monday he could not judge the validity of claims that thousands of Massachusetts residents crossed the border to vote illegally.
"I don't know much about what goes on in New Hampshire, so I'm really not in a position to speak to that one. Obviously, if people have concerns up there I'm sure there's a process for redress that you can pursue to determine if, in fact, there were any issues," Baker told reporters on Monday.
Trump has claimed that thousands of Massachusetts voters were bused into New Hampshire in November to illegally vote for his opponent, Democrat Hillary Clinton.
New Hampshire election officials have said there is no proof to support the president's claims, but over the weekend senior White House policy advisor Stephen Miller reinforced Trump's statements that he would have won the Granite State if not for voting fraud.
"I can tell you that this issue of busing voters into New Hampshire is widely known by anyone who's worked in New Hampshire politics," Miller said on ABC's "This Week" Sunday. "It's very real. It's very serious."
The idea that Massachusetts residents flock across the border to illegally take advantage of New Hampshire's same-day voter registration law is not a new claim, but it is also one that has never been substantiated.
Former U.S. Sen. Scott Brown made similar assertions after his loss against New Hampshire Sen. Jeanne Shaheen, and Gov. Chris Sununu told radio host Howie Carr before this year's election that, "We have same-day voter registration, and to be honest, when Massachusetts elections are not very close, they're busing them in all over the place."
After winning in November, Sununu expressed interest in doing away with same-day registration or tightening the state's voting laws, but in a statement to WMUR on Monday he said he was "not aware of any widespread voter fraud in New Hampshire."
"However, the (Trump) administration has made some strong assertions to the contrary. I take their concerns seriously and look forward to working closely with them to learn of any evidence they may have and help address any concerns that may develop from there," he said in the statement, according to WMUR.
Massachusetts does not have same-day voter registration, but House and Senate lawmakers have filed bills this session to implement such a system.
Sen. Joseph Boncore, a Winthrop Democrat, filed one of the same-day registration bills in January and told the News Service on Monday that he's not worried it could lead to the type of voter fraud suggested by the president.
"I think the president's claims are ridiculous. I think many Massachusetts residents were going to New Hampshire at that time, but for a much different reason, probably to support the Democratic nominee," Boncore told the News Service.
Though Baker did not want to talk about voting in New Hampshire, he did say he opposes same-day registration.
"As a general rule, I don't support same-day voter registration because I think it's a really difficult task for a lot of our smaller communities to manage," the governor said.
Boncore said he believed any concerns about implementation could be mitigated, and noted that he received positive reviews from the smaller towns he represents after the first year of early voting in Massachusetts this cycle.
"I think same-day registration will help those moving to our commonwealth and those otherwise not registered have the access to be able to vote in this country," Boncore said.
Baker also said he was pleasantly surprised by the implementation of early voting.
"I think a lot of us, including me, were surprised by how many people came out and voted during that early voting period. I think that was a big success and that's probably something we'll continue to do in the future," Baker said.