Beginning With Soil Cleanup, Wynn Casino Construction Is In Full Swing
Resume
The Wynn casino construction site along the Mystic River is a massive operation. Just getting from construction headquarters to the site itself takes a five-minute ride in an ATV, past hundreds of yards of staged equipment.
"You see these trailer trucks lined up?" asks Chris Gordon, president of design and development at Wynn Massachusetts. "Every night we line up loads of steel. They'll stage here tonight, then they'll put it up tomorrow, then they'll put another load, another load, so every night there's loads of steel lining up here that are going to be set for the next day."
Gordon is tasked with building the largest single-phase development in the state's history. When it's done, company officials say the $2.1 billion Everett casino will be a gleaming glass tower, 24 stories tall.
But right now, it's mostly just a hole in the ground.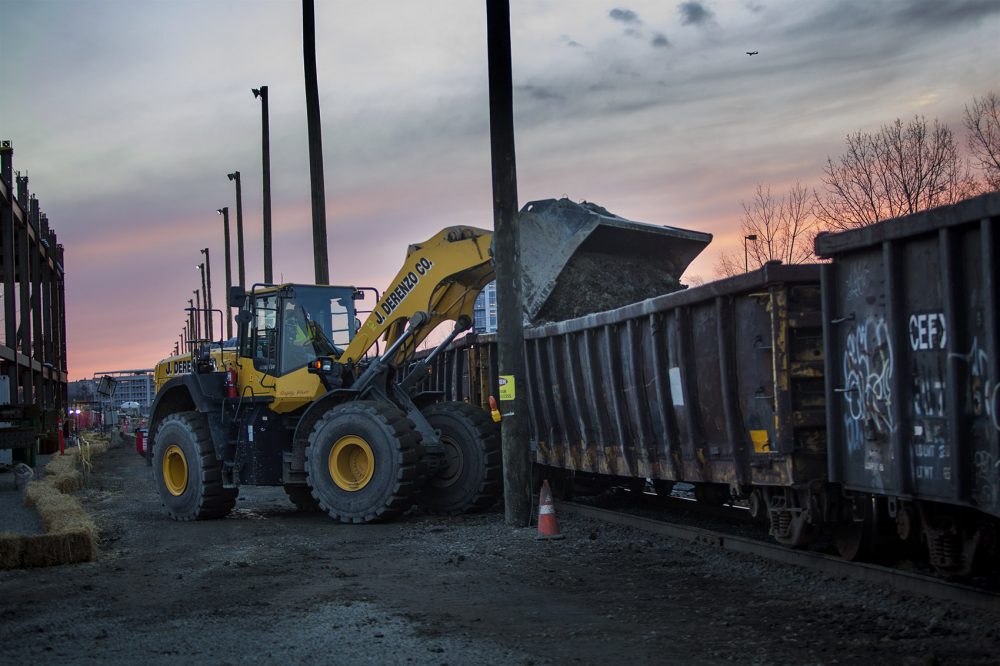 "Here you see some train cars leaving with soil. We do two of those a day, when the soil takes off," Gordon says, explaining that each train carries 28 cars, each holding 100 tons of soil. The average daily shipment, 56 cars, amounts to 5,600 tons of soil every day.
Those shipments go to different landfills based on their pollution level.
"All told, it'll probably be five months just digging dirt out of here," Gordon says.
Before Wynn bought the property, the site along the Mystic River housed various chemical companies dating back to 1868, when New England Chemical built a factory there. Since then, it's played home to multiple chemical companies, including Monsanto for more than half a century.
That means a lot of polluted soil, and a lot of effort to clean it up. Wynn officials say the cleanup alone costs about $30 million — all paid for by Wynn.
By now, the most polluted soil is already gone — loaded on those train cars — but the soil coming out now just to make room for construction still has to be tested. Depending on that, it may get sent to one of multiple landfills around the country — as far away as Georgia.
"So for example, some landfill may have more capacity this week," Gordon explains. "They may have more room for lead contamination, for example."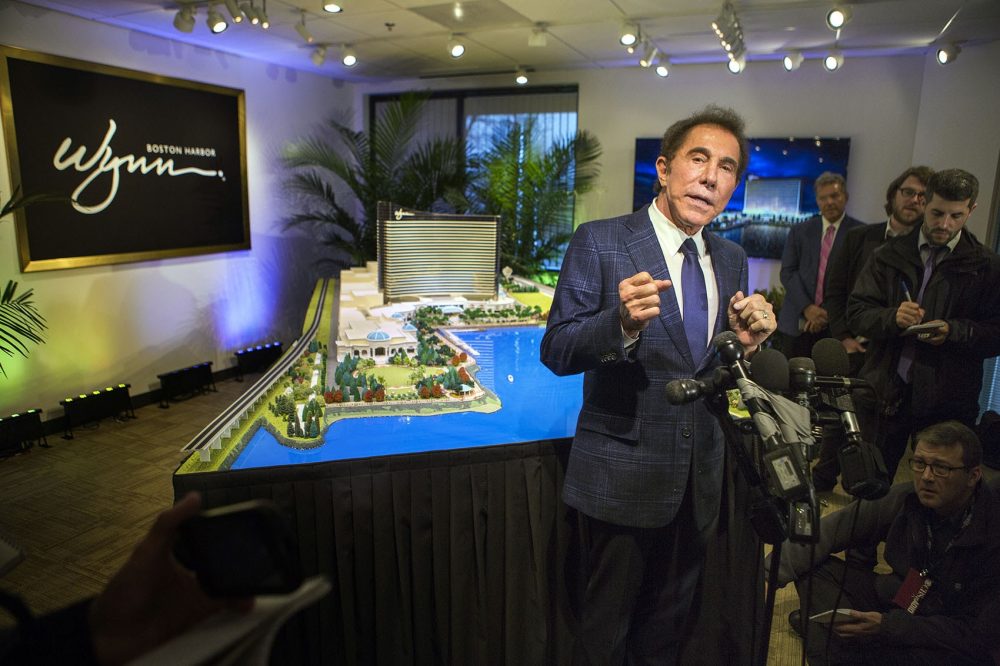 Wynn officials say they expect to be done with dirt removal in a few weeks — and already the makings of a 24-story hotel tower are starting to materialize. Girders are going up, followed by floors and glass.
Later this year, you should be able to see the casino being built from nearby Route 93 heading into Boston.
Wynn hopes the casino will serve as an entryway to Boston as you drive south -- a prominent, bronze-colored glass tower that appears in front of the rest of the skyline.
Gordon says the tower will be a major physical change for the region — but not just that.
"It's going to be a cultural change. There is not a big resort like this," he says. "This is going to be gaming, which is the first in the region. It's going to be a very large five-star hotel, it's going to be a very large ballroom with capacity. It'll be physically a big change. We also think it'll be culturally."
The Wynn Boston Harbor Casino is projected to bring in $800 million a year in gaming revenue alone once it opens in June 2019 — a slice of Las Vegas on a sliver of formerly chemically polluted land along the Mystic River in Everett.
This segment aired on February 15, 2017.