A.R.T. Offers Memorable Production Of Williams' Expressionistic 'Night Of The Iguana'
This article is more than 6 years old.
Director Michael Wilson has made the rehabilitation of Tennessee Williams one of his missions — and not just by standing over the corpse and flexing the well-worn if considerable muscle of "The Glass Menagerie," "A Streetcar Named Desire" and "Cat on a Hot Tin Roof."
Wilson's tenure as artistic director of Hartford Stage featured a 10-year Williams retrospective that included several neglected if not altogether vilified late, absurdist one-acts and made a strong, quirky case for them. Now comes the helmsman's second go at Williams' last — if hardly stellar — Broadway success: the 1961 "dramatic poem" in the guise of a play "The Night of the Iguana" (presented by American Repertory Theater at the Loeb Drama Center through March 18).
Albeit preserved in the 1964 John Huston film that starred Richard Burton, Deborah Kerr and Ava Gardner, the lyrical, atmospheric work is seldom revived (its last Broadway appearance was in 1996; I missed Wilson's 2003 Hartford staging). But when it rides into town, it tends to come well armed. The A.R.T. revival, which may or may not have Broadway aspirations, puts us in the crosshairs of thespian big guns James Earl Jones, Elizabeth Ashley, Dana Delany ("China Beach"), Bill Heck and the sublimely watchful Amanda Plummer.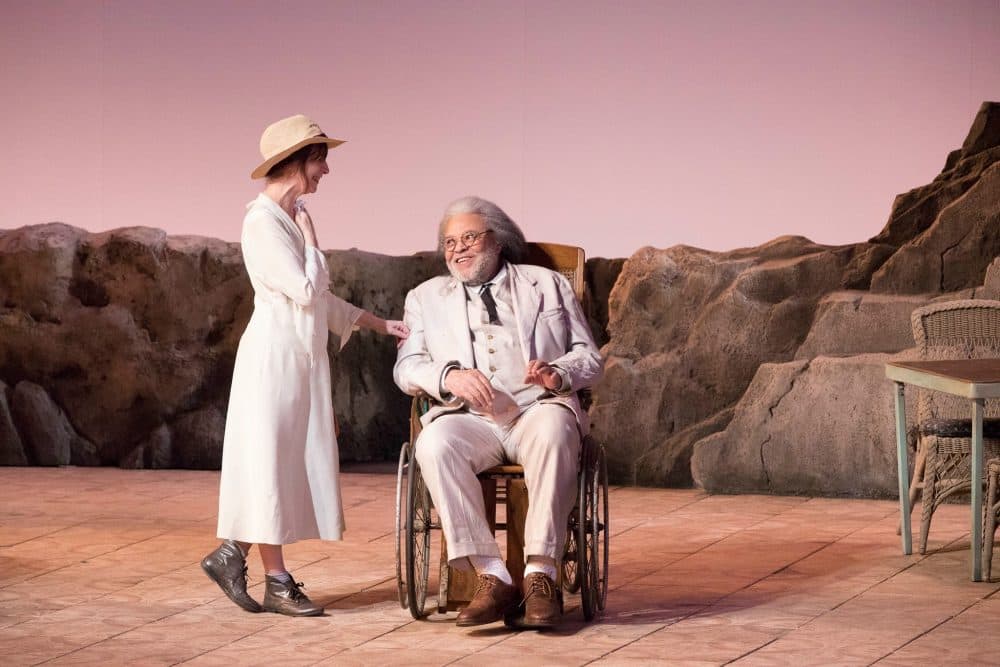 "The Night of the Iguana" has been correctly pinpointed as a kind of transition between Williams' poetic but naturalistic works and his later, more expressionistic ones. Based on an early short story and rooted in the 29-year-old Williams' own bereft and feverish World War II stay at a Mexican hostelry perched between the sea and a rain forest, the play is probably also the author's most autobiographical. (Why else include the incongruously cheerful party of vacationing Nazis except that they were actually there?)
Set in 1940 on the ramshackle porch of the Costa Verde Hotel, "Iguana" abounds in symbolism, from the "spooks" bedeviling the central characters to the titular lizard tugging at its rope as it's fattened for slaughter. But as the thin-skinned Williams himself observed: "Some critics resent my symbols, but let me ask, what would I do without them?" He might, he goes on to opine, still be punching a time clock at the St. Louis-based shoe factory from which he cut himself loose in "The Glass Menagerie."
On Tony Award-winner Derek McLane's pictorial set for the Loeb, romanticism trumps seediness, the hotel's wide expanse of veranda strung with little lights and framed by filmy draperies, wooden-louvered hotel doors and a rock-walled approach from the road below. The sky, gorgeously then forebodingly lit by David Lander, is a show in itself. Into this primitive aerie, casually run by "insatiable widow" Maxine Faulk (Delany) and a pair of muscular Mexican factotums whose duties are obvious, is poured what's left of the Rev. T. Lawrence Shannon — in the person of actor Bill Heck lanky, unstrung and visibly sweating.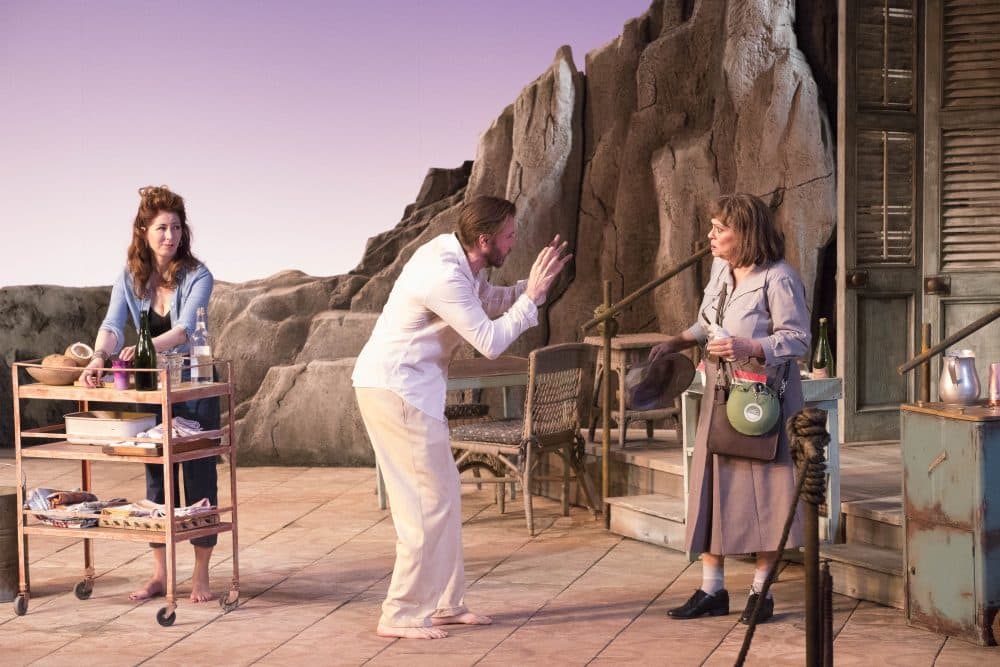 Episcopal cleric Shannon, who was tossed from his church for "fornication and heresy," is now a tour guide working for a third-rate company in the States that sends him south of the border with busloads of travelers, many of whom are women. Which is like employing a fox to guard a henhouse. Here Shannon is in trouble once again — for sleeping with the teenage protégé of the gorgon voice teacher leading a group of female Baptist academics on vacation and heartily unhappy with his services. But Miss Fellowes (Ashley) seems more irked by this detour to the scenic, slipshod middle of nowhere than she is by the defloration of her charge. Nor is she moved by Shannon's anguished request that she not "Shake if not shatter everything left of my faith in essential … human … goodness!"
That will require the arrival of New England "spinster" Hannah Jelkes (Plummer) and her near-centenarian grandfather, Nonno (Jones). A beatific team of global grifters, watercolorist Hannah and Nonno, the world's "oldest living and practicing poet," travel the world sketching and reciting for their supper.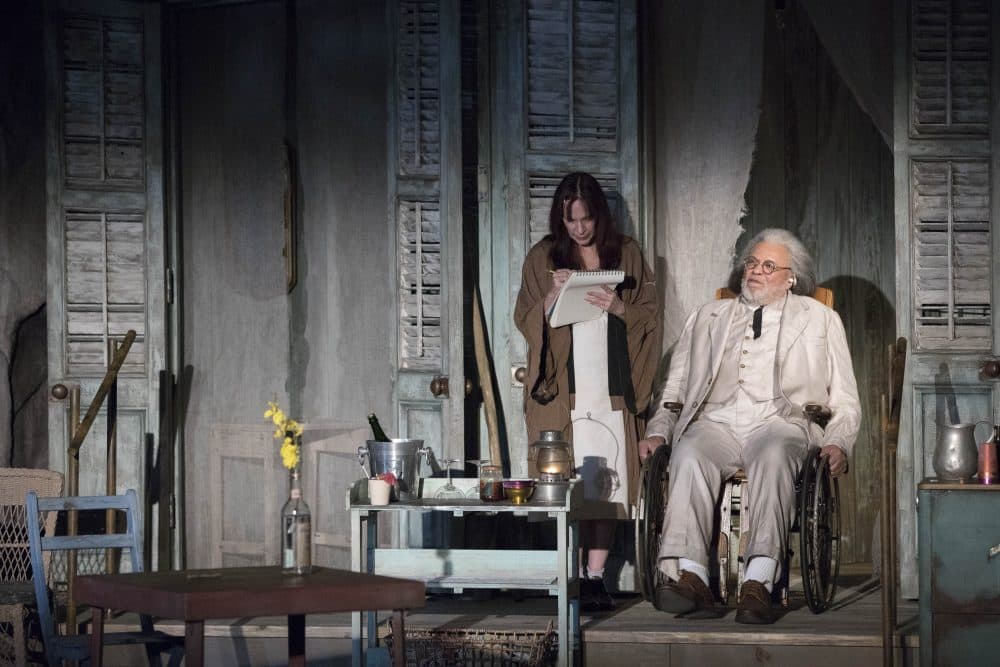 Though Maxine is reluctant to accept the pair as non-paying guests, the midnight connection between Shannon, wrestling his "spook," and Hannah, who has learned to endure in the face of her "blue devil," constitutes the poetic meat of the play (whose theme, Williams codifies, "is how to live beyond despair and still live"). Nonno's last poem, magisterially summoning courage in the face of mortality and gelling just before he dies, provides its poignant coda.
Except for a pyrotechnical storm against the lightning-lit deluge of which a Christ-like Shannon confronts his more pantheistic than prudish God, Wilson's production is less lurid than contemplative, even elegiac. The distant marimba band specified by Williams is replaced by shadowy, mournful guitar compositions by sound designer John Gromada, strummed from just behind hue-dappled draperies by one of the houseboys. And even Shannon's "crackup," during which he is trussed to a hammock, falls somewhere between the snake pit and what Hannah calls his "Passion Play performance."
The role of Shannon is a tough one. A spiritual weakling when compared to the all-accepting Hannah, he must nonetheless carry the play. Heck (Cliff Bradshaw in the 2014 Broadway revival of "Cabaret"), with and without his shirt, brings to it fire, petulance and panic without ever seeming uncontrolled. Heck improves as the play progresses, and his Shannon, even in his mealy-mouthed surrender to hedonism, is not without grace.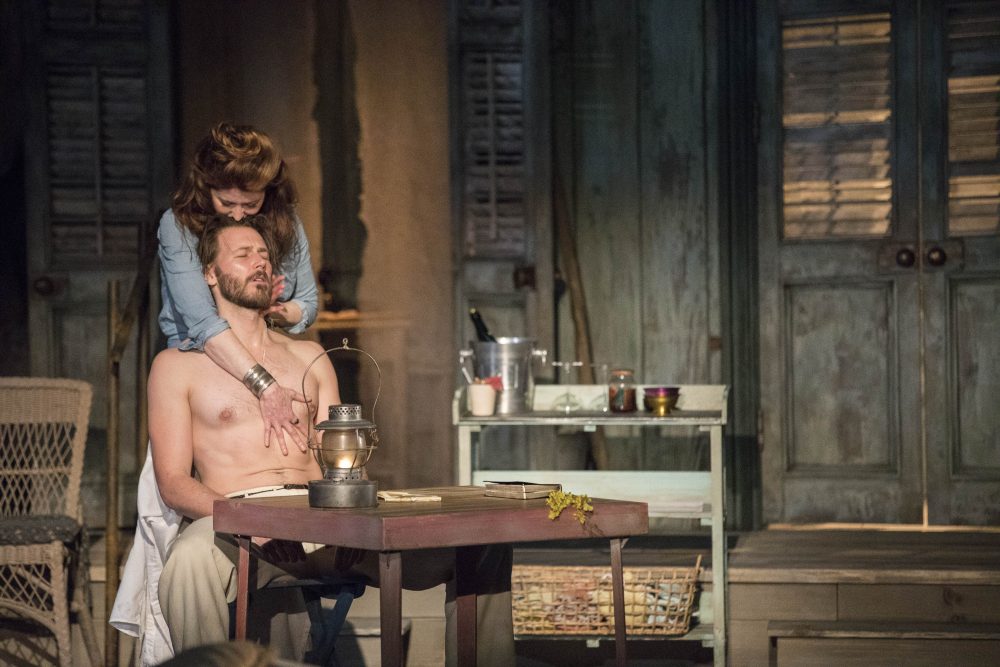 The frank, sexy Delany is younger and less blowzy than many a Maxine, which cuts down on the desperation Williams sometimes writes into his sexually predatory women. Still, she's hardly what the playwright ordered. And longtime Wilson posse member Ashley is aptly badgering as the unforgiving Baptist fury hounding Shannon for his latest misdeeds both touristic and sexual.
But Plummer, albeit less ethereal than the character imagined by the playwright, is a revelation. Stolid, prim and slightly gamine, she both inhabits the humane if untouchable Hannah and seems, abruptly yet kindly, to make her up as she goes along. Jones, in his brief times onstage, captures Nonno's Moses-like presence and stentorian wit. But the character spends much of the play rumbling from just out of view, inside one of the hotel's cabana-like chambers, as the poet shapes aloud his final verse. And really, what better vehicle could there be for the ride to epiphany than the disembodied cadences of James Earl Jones?