Mass. Flu Season Peaking, Dominant Strain Poses Added Risk For Elderly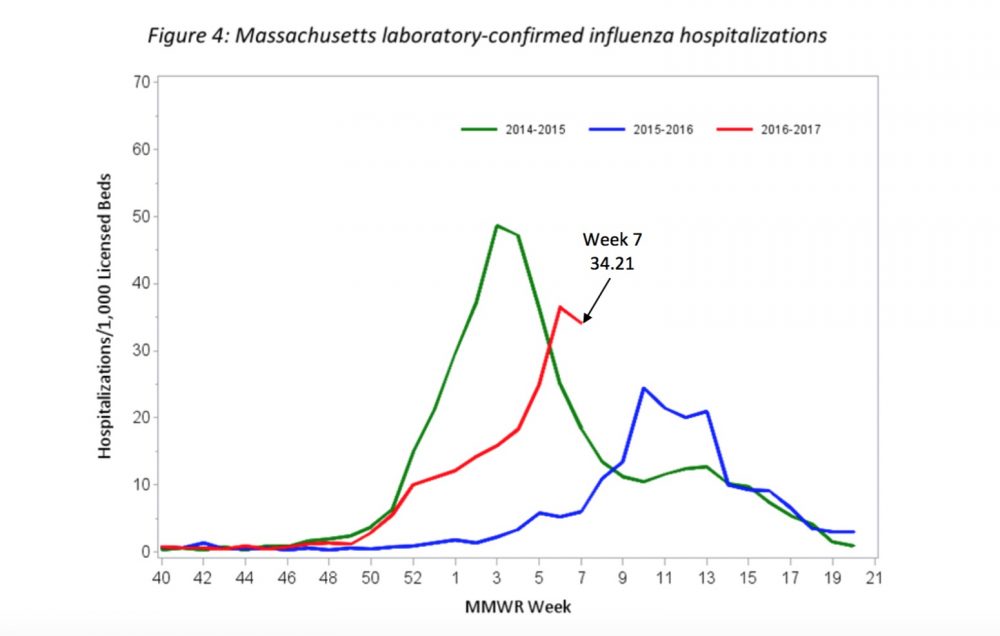 This article is more than 5 years old.
Massachusetts health officials say cases of the flu appear to be hitting their annual peak right around now — and the dominant strain tends to cause severe illness that poses a particular risk for people over 65.
"We're probably in the middle of the peak activity [for flu] right now," says Dr. Al DeMaria, the state epidemiologist for Massachusetts. "What we're seeing is the H3N2 strain, which tends to cause more severe disease, especially in older people and people at high risk, so that's a concern," he says.
In contrast, "The H1N1 that emerged in 2009 tends to affect younger people and cause milder disease in older people. So we're seeing the bad actor strain among the influenza A viruses."
The flu vaccine, DeMaria says, is about 50 percent effective against the flu this year — far from perfect but still the best weapon against the virus. The match between the vaccine and this year's virus strains is not optimal, but not as bad as a recent year when the match was poor, he says.
Antiviral drugs — Tamiflu, Relenza — can also help with the current strains of flu, DeMaria says. They're particularly recommended for patients at high risk for flu complications, including pregnant women, young children, people with some chronic diseases and people over 65.
Nationally, the latest CDC statistics suggest flu cases may have just peaked around the country, though CDC flu epidemiologist Lynnette Brammer says it's a bit too early to tell.
"As any year where you have H3N2 viruses circulating, we have severe disease particularly in people 65 and older," she says — and "severe" translates into more hospitalizations and more deaths. Deaths linked to flu range from about 12,000 in a mild year to as many as 56,000 in a bad season.
This season's numbers have not been compiled yet, but overall, it's looking like a middling year for flu, both in terms of numbers of cases and timing, Brammer says.
All the usual prevention advice applies — washing hands, staying away from sick people, staying home if you're sick — and it's not too late for a vaccine, she says.
"We want to remind people that even though we may have seen the peak of influenza activity, if they haven't been vaccinated yet, they could still benefit from vaccine," she says, "because, while influenza A prevalence looks like it may be starting to go down, influenza B prevalence looks like it's starting to go up a little bit. So if you haven't been vaccinated, there is still time to get vaccinated. And if you get sick, there are antiviral drugs that can help you get better more quickly."