'He Was A Rogue': Looking Back At Chuck Berry's Rock 'N' Roll Legacy
Chuck Berry was a legend.
"Not only did he invent rock 'n' roll, which is amazing, but his songwriting was amazing," says Tom Hambridge. "I think that at heart, he was a blues guy — that meant a lot to him. He made the grooves faster and kind of turned it into rock 'n' roll, but I think the one thing a lot of people don't talk about is Chuck Berry as a songwriter. Chuck was one of the greatest songwriters ever, one of the greatest lyricists ever to walk the earth. I'm putting him up there with Bob Dylan. If you read the lyrics, it's a commentary on life."
Hambridge knows of what he speaks and has a position to do so. He spent short, but intense, parts of an 11-year period inside the Berry bubble, gaining a unique perspective on the singer-guitarist who gave the world "Maybellene," "School Days," "Nadine," "Back in the U.S.A.," "Johnny B. Goode," "No Particular Place To Go," "Roll Over Beethoven" and so many more. Berry died at the age of 90 on March 18.
Hambridge — a graduate of Berklee College of Music and leader of the Boston-based high-energy rock band T.H. and the Wreckage from 1984-1994 — was one of Berry's prime go-to guys when it came to assembling a backing band for a concert. Berry, who traveled light and kept his purse strings close to his vest, did not have his own group; he used various pickup bands whenever he played out.
Hambridge drummed on upward of three dozen gigs with Berry from 1985-1996 and what he learned served as key building blocks of his later success. Hambridge, now 56 and living in Nashville, has a masterful musical resume: He's a singer-songwriter-drummer who has recorded seven of his own albums, earned seven Grammy nominations and won twice for his production work with Buddy Guy. He has written over 500 songs for the likes of Susan Tedeschi, ZZ Top, Eric Clapton, Rascal Flatts and Eric Burdon, among others. He's produced albums for George Thorogood, Johnny Winter and the late James Cotton. Hambridge has a new album coming out under his own name in about five months, "The NOLA Sessions," recorded in New Orleans with Sonny Landreth, the Neville Brothers and the late Allen Toussaint. "And I'm working with Buddy Guy again," he says.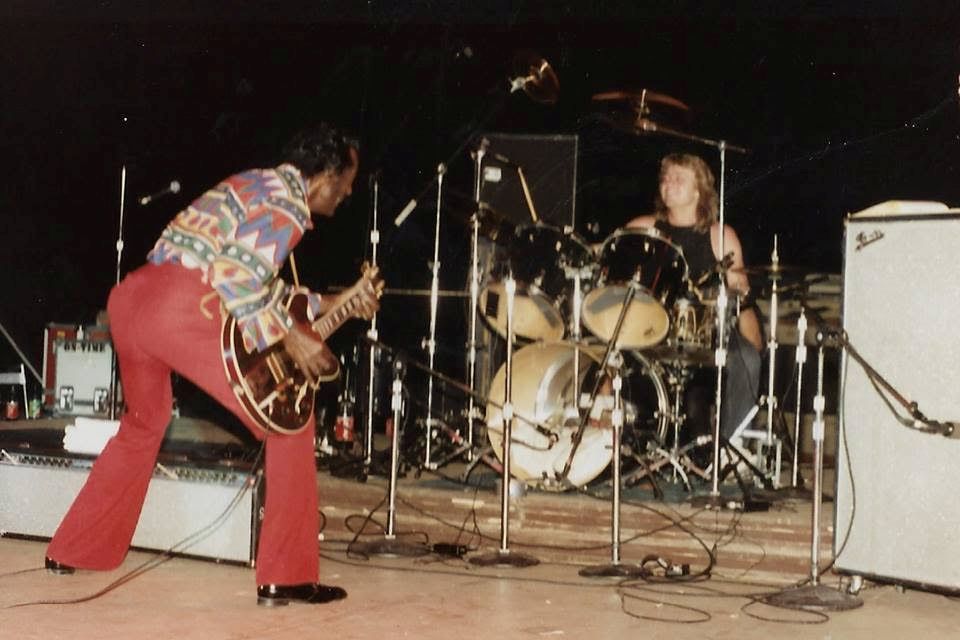 But today, he's got Berry on his mind. Like many of his generation, Hambridge learned about Berry through the Beatles, who covered "Roll Over Beethoven" in 1963 and "Rock and Roll Music" in 1965, and the Rolling Stones, who put two songs — "Little Queenie" and "Carol" — on their seminal 1969 live album, "Get Yer Ya-Ya's Out!" He'd heard the songs, read the credits and said to himself, "There's that guy again!" He bought Berry's hit-packed compilation double album "The Great Twenty-Eight" when it came out in 1982.
Thirteen years later, Hambridge was sitting at the drum kit watching Berry duckwalk a few feet in front of him.
"The first show I did with Chuck was at E.M. Loew's theater in Worcester," Hambridge says, on the phone from his recording studio in Nashville. "And it was only because the promoter had hired T.H. and the Wreckage, my band, or me, to back up a million bands like Herman's Hermits and Gary Puckett. This promoter said 'I booked Chuck Berry at E.M. Loew's and I'm supposed to provide a backup band and I was told you're the guy to call' and I said 'OK, great. Fantastic.' "
"I remember showing up for that first gig and Chuck wanted to talk to me. He said, 'Who's the band-leader guy?' That's me. He gave me his cues — 'When I do this with my leg, that means stop. If I change songs in midstream, follow me.' I was like, 'OK. Do you want a sound check or anything?' And he said, 'We're gonna play Chuck Berry music, just follow me.' No rehearsal, nothing. Went out and just did it."
Berry, Hambridge knew, had a prickly reputation and was a demanding employer. "There are a lot of people I hear about and read about who say it was the worst experience of their life," he says of playing with Berry. "But I had chills from the moment we started, when he looked at me and counted off 'Roll Over Beethoven' right to 'Johnny B Goode,' the last song."
That date, Hambridge says, was the start of playing Berry gigs in Massachusetts, Connecticut, New Jersey and New York three or four times a year. "It got to the point where they started calling me 'Chuck Berry Insurance' — that's what my nickname was," says Hambridge. He says he got used to hearing this from promoters: "'Chuck will probably show up if he knows you're there and the show won't completely fall apart if you're there.'"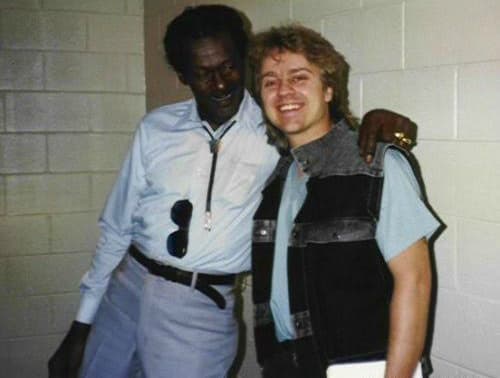 Sometimes, those other guys consisted of members of the Wreckage and sometimes other players. There was always someone on piano, bass and drums. Hambridge was careful never to add another guitarist to the mix. "Chuck didn't like having another guitar player," he says. "It's so funny to hear these stories from Bruce Springsteen or Keith Richards saying 'I got up to play and he punched me. He hated me.' He didn't like having another guitar player. He wanted a piano player."
Berry's longtime pianist was Johnnie Johnson, who played with him in the studio and on the road from 1952 until 1973. He occasionally played with him through 2003, despite suing Berry in 2000 for songwriting credits on several early tunes. (He lost that suit and died from a kidney ailment and pneumonia in 2005.)
On the road, the pianist was a crucial part of the sound. "I made a mistake one time," says Hambridge. "I had one piano player on a gig who was dying to play with Chuck and I said, 'You gotta know the Johnnie Johnson feel.' And he said, 'I got it together.' He didn't. And when we went there, two songs in, I felt it. Chuck just stopped at one point and it was one of the most classic lines I've heard anybody say on stage. He said, "Hey, don't be putting no Ahmad Jamal in my 'Johnny B Goode.' " (Jamal is an innovative jazz pianist and proponent of the "cool jazz" movement of the '60s.)
"I knew what he was talking about because the guy was playing all these sus chords — that's short for suspended chords, chords with no minor or major third. They sound more dissonant and create tension not usually found in Chuck Berry music. At one point, Chuck walked over and leaned over the guy's shoulder and soloed on piano. He played the piano just like Johnnie Johnson. He didn't even sit down; he just leaned over the guy."
Berry found both fame and infamy, onstage and off. He was notorious for playing sets timed exactly to one hour — the amount specified in the contract. And he demanded to always be paid in cash, upfront.
There were times, Hambridge says, that part of that hour was taken up with Berry futzing about at the onset. After he and the other two guys took the stage, Berry would walk on and only then open his guitar case. "I could see he'd be missing a string or two," Hambridge says. "The crowd's going crazy and so then he would take out a guitar string and start to change it with his back to his audience."
Then, after what seemed like hours to Hambridge, Berry would begin tuning his guitar, and after the audience was fully riled, the band would take off. "In a flash we'd go into 'Roll Over Beethoven' and the place would flip out," he says. "It would be a riot and I think he knew: He was letting it all kind of simmer to a bubble 'til he did that. He just would make you wait. He loved having people go crazy over him."
But that's not all. Berry demanded of the promoter that his backline equipment included two Dual Fender Showman amplifiers.
"Those were hard to come by," says Hambridge. He would get to the gig and find the promoter would have secured the proper equipment for the drummer, bassist and pianist. "But sometimes I'd say 'Where are the Dual Showmans?' and they'd say, 'Hey man, those Dual Showmans suck; I've got this setup that Chuck's gonna love.'"
Berry never loved anything else, but in some ways, he didn't mind if the promoter failed to provide the required Showmans because the contract specified an amount the promoter would be fined if the proper equipment wasn't provided, usually between $500 and $1500.
"Chuck would show up in a rented car and say to me 'How we looking? Do we have the Dual Showmans?'" Hambridge recalls. "And I would say, 'Well, we're not looking good today,' or say 'We're all set.' And if it wasn't good, he'd say, 'Go find the promoter.' I'd have to go to the promoter and say 'There's a little bit of a problem — the amps. You know what I'm alluding to?'
"Then I would have to get the money, and because it was show day, Chuck wouldn't accept a check. So, there were a lot of situations where the promoters had to scramble to get the cash. I know in one instance in Buffalo, the promoter was very upset saying, 'I paid him $20,000 and he wants to nickel and dime me $1,000!?' I said, 'Don't shoot the messenger. I'm just telling you what a contract that you signed said.'"
Hambridge says the promoter first tried to give Berry a check. Hambridge brought it to him. Berry laughed and said "I'm not taking that." The promoter then went to all the t-shirt and refreshment vendors trying to raise the cash. He handed Hambridge a fistful of greenbacks.
"I went back to Chuck. I could tell it wasn't $1,000 — it was short a bit — but I went back in the dressing room and I had all these singles and crumpled bills. I said, 'I don't know if he's got all the money, but he's scrambling.' Chuck asked 'Is it close?' and I said, 'Pretty close,' and he goes 'OK.'"
The deal done, Hambridge asked Berry if he really wouldn't have played if he wasn't paid. "He says, 'Hell no. I would've done the show.' I just think he'd been ripped off so many times."
"He could be what some people would say is a jerk. But I never walked in his shoes. He was a rogue."

Tom Hambridge
Hambridge says he did have a personal — "a little bit of one" — relationship with Berry, but he frames it this way: "At the venue he would usually just talk to me. He wouldn't talk to the promoter or the production people, so it would be funny. If a guy came in and asked a question he'd point to me, as if to say, 'No, ask him.' I would repeat verbatim the question to Chuck, and then Chuck would answer to me, and then I would tell the guy."
Berry, Hambridge says, taught him a rock 'n' roll lesson: "In this business, you can bend, but you never ever bend over. … He could be what some people would say is a jerk. But I never walked in his shoes. He was a rogue."
In his have-drums-will-travel days, Hambridge backed up a lot of rock and soul greats including Bo Diddley, the Drifters, Little Anthony and the Imperials, Martha and the Vandellas and Brook Benton. "All pioneers, the lot of them, but Chuck Berry was, to me, the architect," Hambridge says. "He wrote the history of this stuff that I love."
There's one more Berry album to come, his first new album in 38 years, to be released June 16. It's called "CHUCK" and it's comprised mostly of originals. The first song to go up online is "Big Boys." It kicks off with a classic Berry guitar lick and later Gary Clark Jr. and Rage Against the Machine's Tom Morello take leads too, which would seem to violate Berry's no-other-guitarists dictum. Then again, the man always did what he wanted to do, and if he wanted to include two of the best modern-era African-American guitarists on his last record, then so be it.
"I hope it's what he wanted to say before he left this earth," Hambridge adds.