Mark Cooper's Immersive Exhibition Is Like Walking Right Into An Exuberant Abstract Painting
Mark Cooper began with two 28-foot-long trucks filled with art — slumping ceramic pots; abstract paintings splashed with bright ultramarine blues, mint greens, milky whites, oranges and reds; unpainted wooden shelves with curved silhouettes that bring to mind coral or traditional Chinese scholar's rocks. But it wasn't enough to fill Lesley University's Lunder Arts Center gallery near Cambridge's Porter Square, so the Somerville artist made eight more trips with his car.
The result is his exhibition "Uncertainty," on view through Saturday, April 15. It feels like walking into an exuberant abstract painting. The gallery architecture is like a box, with doors at each end, situated inside an aquarium with windows out onto the neighboring streets. Cooper has filled the whole thing. Ceramic pots and dishes and some pieces resembling unfolding blossoms sit on pillows or white tiles doodled with blue flower patterns or tucked among those wooden shelves. Doodley blue and white patterns cover the surfaces of some of the ceramics. The surfaces of others crack and flake off. A tall blue and white pot — or maybe it's a parody of a pot — stands by itself with handles that ripple down the sides like ribbon candy.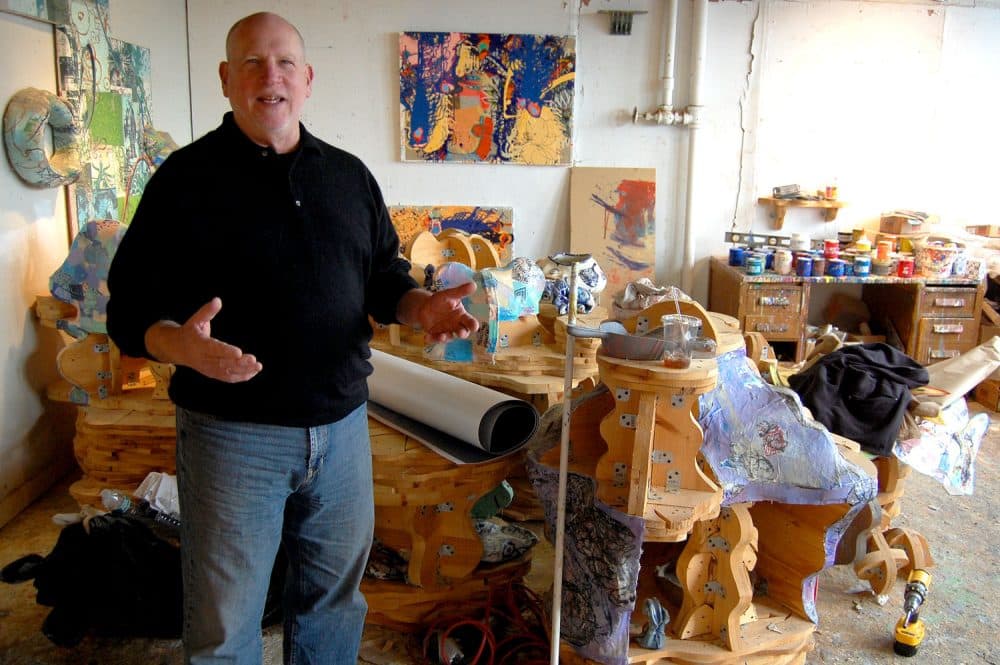 Everything is obviously handmade, one-of-a-kind, unpredictable. "We need these handmade things. I think ceramics has gotten so much more popular in the West than it's ever been before. I think it's a push back to always being on the phone and on the computer," Cooper says. "It goes back to uncertainty and discovery. You need this natural thing to happen. … I like the humanity of imperfection."
Rice paper has been drawn on and cut out into flower-sort-of-shapes and garlanded across the walls. A photo of Venice, Italy, is wrapped around one of the building's support columns. Paintings are collaged with photos of cacti and blooming forests and slathered with moist-looking paint in patterns that resemble brilliant blue peacock feathers. One of the wooden sculptures hangs from the ceiling suspended on a cable. Small pink kites hang from the ceiling wobbling in a light breeze from a small fan sitting on the floor, right out in the open.
The installation feels joyous, ecstatic, loose and freehand and improvisational, playful, at times funny even, bubbly, a bit giddy, fecund, lush, ripe, like a garden or jungle in blossom.
"It was really like creating an original art object, the installation itself," Cooper says.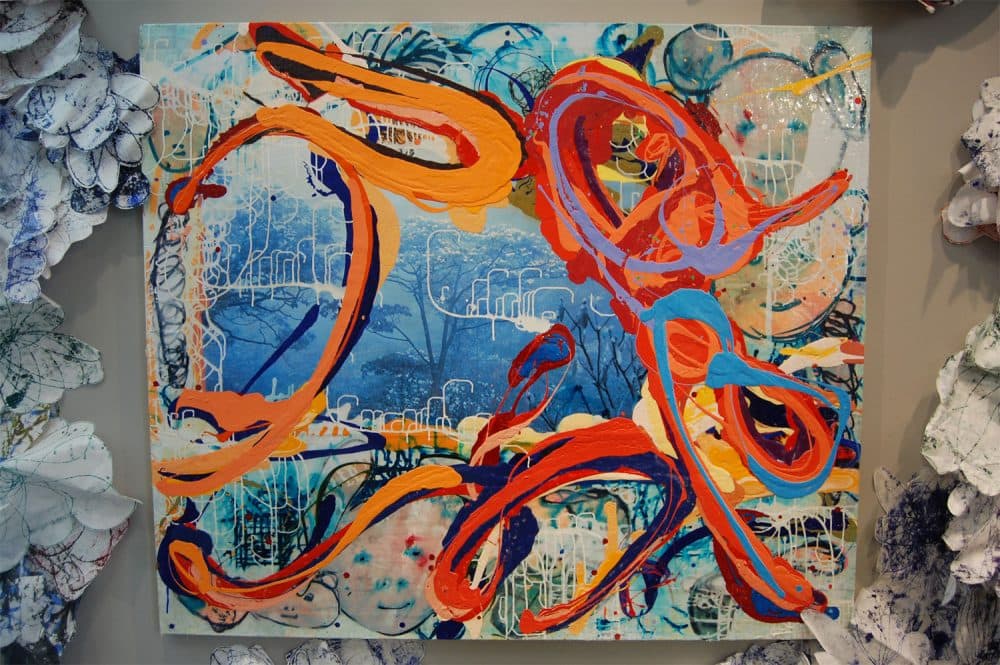 Cooper was born in 1950 in Indiana and grew up in the southern part of that state "with very little exposure to art." He studied business as an undergraduate, and took photography and ceramics courses on the side. He got involved in federal politics and studied law, but found himself spending all his free time making art.
So instead of law and politics, he worked and taught at the Anderson Ranch Art Center in Colorado, then moved to Boston in the late 1970s to teach and study art. He continues to teach at Boston College and the School of the Museum of Fine Arts, where he got his master's degree in fine arts in 1980. And he makes art in the fifth-floor studio he's occupied for two decades in an old industrial building in Boston's South End.
Cooper's roots are in ceramics, in pottery, but his interests have expanded out into painting, sculpture, photography, installation art. And he travels the world to do collaborative art projects — working with Washington, D.C., teens to make a "Stop the Violence" billboard campaign in 1994; with Middle Eastern teachers and high school students in Providence to decorate one of his sculptures in 2008; with Boston College students to create a replica of the Berlin Wall in 2009 to mark the 20th anniversary of its fall; with artists and students he visited last year at the university in Jingdezhen, China, long a renowned center of porcelain production. With Lisa Sjostrom, he wrote a 2007 book about it, "Making Art Together: How Collaborative Art-Making Can Transform Kids, Classrooms, and Communities."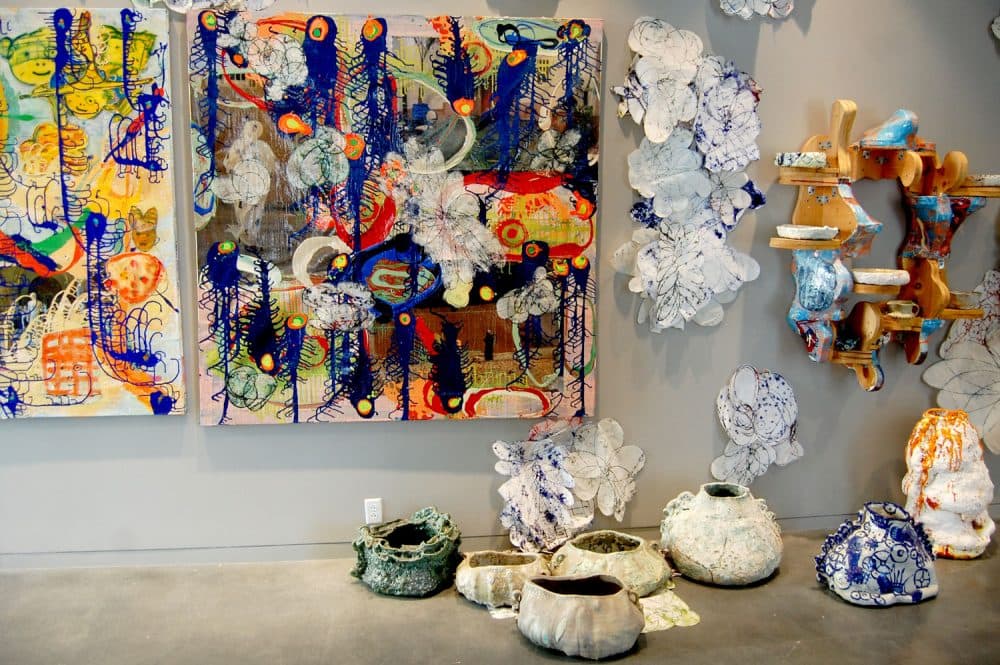 While Cooper has long worked in multiple media, it seems like in the past decade that he's brought them more and more together in elaborate, immersive installations — at Samson gallery in Boston in 2011; at Boston's Institute of Contemporary Art and the Museum of Fine Arts in 2013; at the Seattle Art Museum and the National Museum of Fine Arts in Hanoi, Vietnam, in 2015; and at Kansas City's Kemper Museum of Contemporary Art and at the Yuan Museum in Beijing, China, last year. In these exhibitions, hundreds of objects seem all connected, like an ecosystem spreading and sprawling all over the place.
"One of the underlying themes is the sum of the parts is greater than them individually," Cooper says. "It's a metaphor for when we work together it's actually a better world."
Perhaps a turning point was a 2009 exhibit at Montserrat College of Art in Beverly, when he reimagined the fiberglass-skinned sculptures he'd been making. They had resembled coral or spreading blobs scrawled with graffiti. He opened them up to reveal raw wooden ribs inside that he turned into pedestals and shelving to display his ceramics — which themselves had shifted from traditional vessels with doodley decoration to curious lumpy things with paint dripping down the sides or flaking off, that seemed melted or moldy as if they've just been dug out of the ground or retrieved from the bottom of the sea after being lost for decades.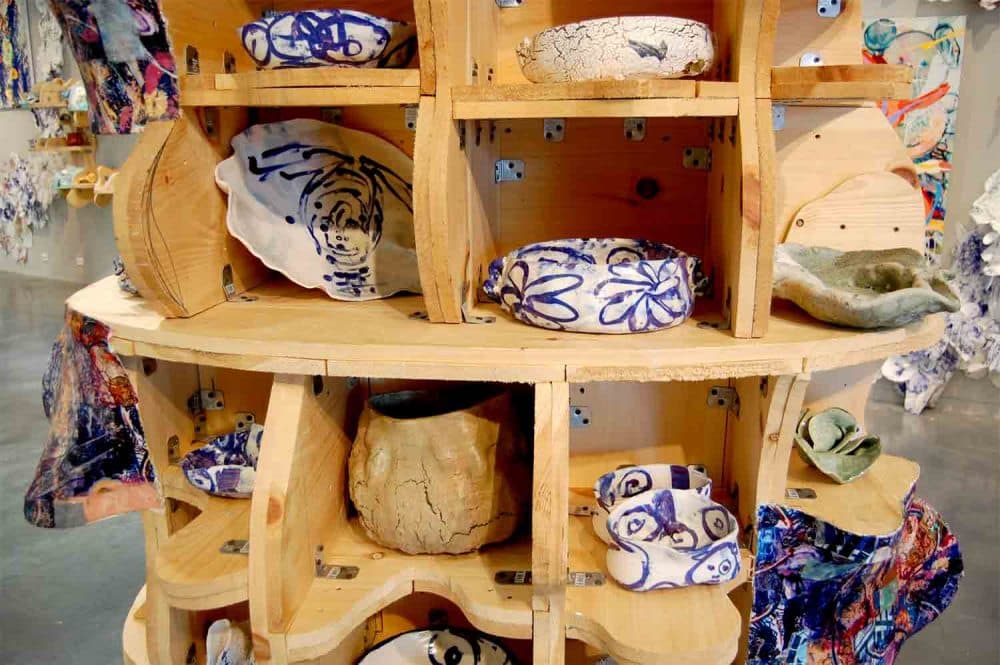 "That natural asymmetrical beauty," Cooper says.
The wood sculptures didn't operate like regular pedestals or shelves. "Definitely playing with the whole notion of display, curio cabinets gone crazy," Cooper says. The wood and the ceramics also seemed more related, interwoven, even as the raw lumber contrasted with the ceramics' elaborate surfaces.
In his paintings, the grids that often organized his compositions went away or were submerged under layers of collage and swirling, gestural paint. And these gestures expanded out into his ceramics and wooden sculptures and paper garlands and across gallery spaces. "It's a trigger for thinking about all these relationships together and how they inform each other and how we understand each other," Cooper says.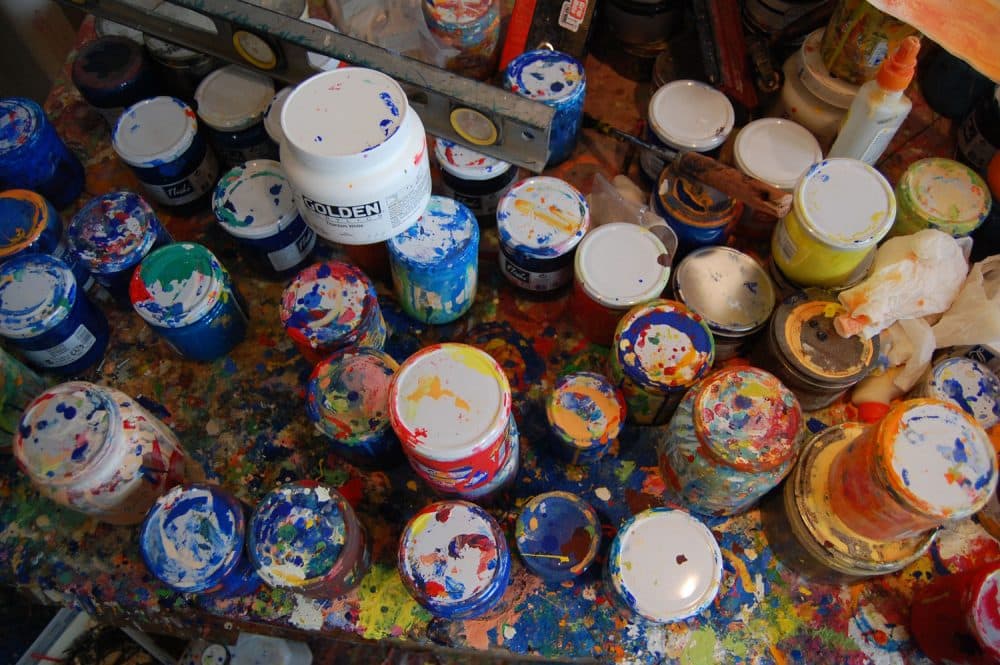 All this interconnectedness and maximalism allowed him to incorporate inspirations from travels to India, China, Morocco, Vietnam, Italy, Bali and Florida, from rock gardens and dolmen stones and bamboo scaffolding, from seaweed (he used to scuba dive when teaching tennis in the Caribbean, he says) and beehives, from art deco design and the architectural confections of Antoni Gaudi, Frank Gehry and Zaha Hadid. You can feel the different echoes in individual pieces and ranging through the gallery, not clashing but enriching the experience.
"I'm interested in the conversation of the visual world as a metaphor for life in general," Cooper says. "Among other things, to accept and learn to live with the differences. Not just live with the differences, but to see their value. And see how much better the world is when they're all together."