Jocks And Rock — 'Hot Stove Cool Music' Benefit Concert Comes Back To Boston
There was a time when rock 'n' roll and baseball would have seemed to make for strange bedfellows. Jocks? Rock? No way.
But 16 years ago in Boston, it became less strange when the Hot Stove Cool Music event — a rock concert/baseball talk session done for charity — was launched on a cold January night at the Paradise Rock Club.
"I have to think about those humble beginnings in 2000," says Letters to Cleo singer Kay Hanley. "With [former Boston Herald sportswriter] Jeff Horrigan and [future Hall of Fame sportswriter] Peter Gammons proposing to launch this crazy baseball/music auction/charity thing and within six weeks actually pulling it off — it was a pretty punk rock, all-hands-on-deck kind of affair and I remember being utterly gobsmacked when I learned that concert and auction had raised, like, $25,000."
Letters to Cleo band manager Michael Creamer and Buffalo Tom singer-guitarist Bill Janovitz were also in on the formation.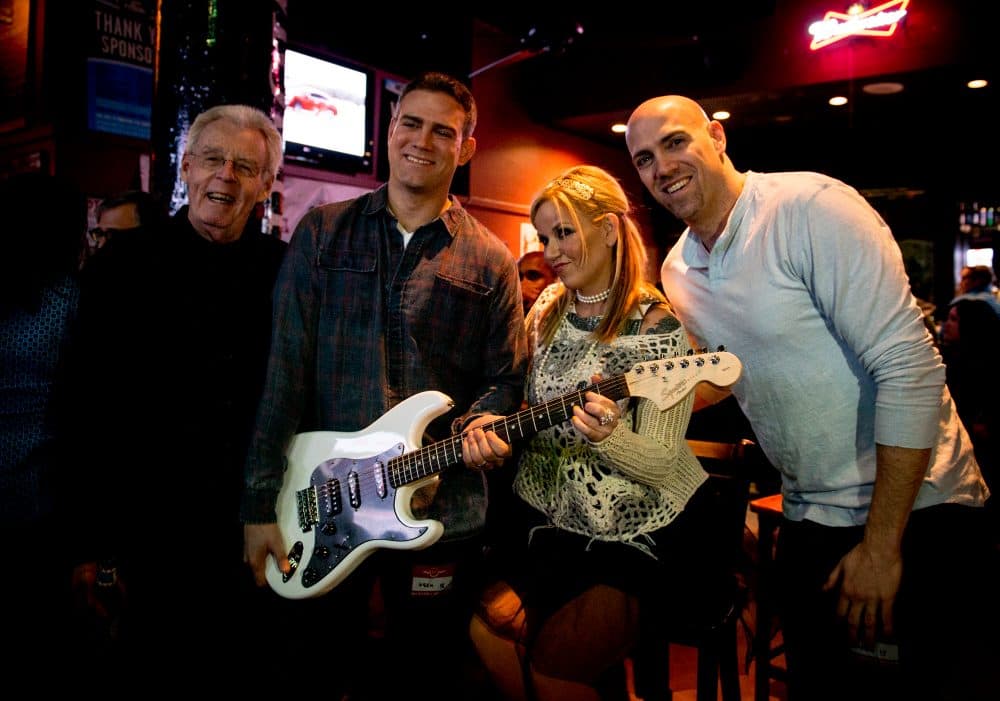 "Obviously, many things have changed," says Hanley, "not the least of which was the Epstein brothers [then-Red Sox general manager] Theo and [his fraternal twin] Paul jumping aboard, helping to crystallize the mission."
Theo played guitar in his band Trauser in 2003, and two years later, the Epsteins created the Foundation To Be Named Later and linked up with HSCM. It's an umbrella organization that aids underserved children and has raised about $10 million over the years, according to Creamer who has been one of the longtime organizers and promoters.
Hanley calls it an "incredible charity constellation," which also includes Peter Gammons Scholars.
"In this time," says Gammons, "when the federal government has very little interest in inner cities, it's far more important than ever before to help those people that can be left behind."
Traditionally, the Hot Stove Cool Music show at the Paradise has been a winter event that featured lots of prime local rockers and some national talent. Gammons takes the stage with his band of varying players, the Peter Gammons All-Stars, which is rooted by bassist Ed Valauskas (of Jenny Dee & the Delinquents) and singer-guitarist Bill Janovitz (of Buffalo Tom). Epstein has retired Trauser, but still jams with Gammons and company.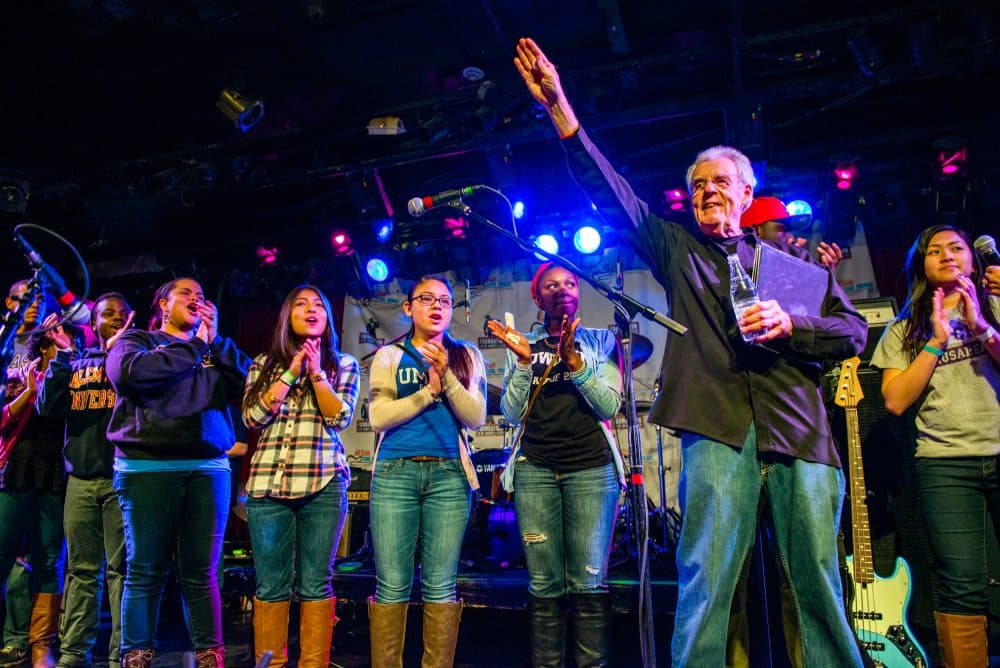 When it began, there was music and baseball chat, led by Gammons with off-the-cuff comedy and auctioneering from former Boston-based comic, actor and emcee Mike O'Malley, who joined up in 2003.
"I love rock 'n' roll," O'Malley says. "And Boston is this interesting hotbed where there's a love of rock 'n' roll and of baseball. If you're gonna grow up in Boston and not love the Red Sox, you're really making an active decision to separate yourself from a large part of the community. Which I think it says more about the person: I'm not going to root for or pay attention to the Red Sox."
More than passive aggressive, adds O'Malley, with a laugh, "it's aggressive aggressive." As to rock 'n' roll? "Rock 'n' roll is a group of guys getting up there with their instruments and banging out some great songs. It's what Boston is about in my mind. It didn't seem foreign for these two things to come together."
All of the above is still true except the time frame. This year, the event didn't happen in the winter — it's Saturday, April 29, at 8 p.m. following a 4:05 p.m. Red Sox-Cubs game at Fenway. The concert sold out in a flash and fans who didn't snap up tickets immediately were not happy about this situation. The only place you could buy tickets was the secondary market sites such as Ace Ticket, StubHub and VividSeats, where tickets were going for $525 and up. (Ace Ticket took the tickets off site after Janovitz complained.)
There may be a ray of sunshine, or a possibility thereof. "It's possible tickets may be released" this week, said Hot Stove co-organizer Creamer. These $65 face-value tickets would not be sold at the Paradise; they would be sold through Ticketmaster, on the Foundation website and Hot Stove's Facebook page.
And what makes potentially missing the event all the more bitter is this: Theo Epstein, who became the Chicago Cubs president in 2011 and was just named by Time magazine as one of the "100 most influential people," struck up a friendship with Pearl Jam singer Eddie Vedder. The latter is a lifelong Cubs fan who penned the Cubs anthem, "All The Way."
Vedder has played with Hot Stove and the Gammons All-Stars in Chicago for two years running. He makes his Boston debut with the All-Stars Saturday.
"He is extremely personal and inclusive," says keyboardist Phil Aiken, who played with Vedder in Chicago and will again in Boston. "Basically, he is a musician that loves to play music and we all have that in common, despite any star power or lack thereof. He is also very open minded about arrangements and instrumentation, from having Paul Ahlstrand take a sax on a Pearl Jam song, to coming up with arrangements on the fly in soundcheck, to being genuinely enthused at [band leader] Ed Valauskas' suggestion of having us do some Split Enz covers. It's not like he comes in with an agenda. He interacts with the players, and the feel of the event. He's at the top of the list of the most gracious superstars I've met or played with."
Vedder's involvement in Boston guaranteed an immediate sellout. General admission tickets were priced at $65 and "sold out in minutes," according to Hot Stove publicist Keith Gainsboro. And though they've had some top talent at the Paradise shows — like the Tedeschi Trucks Band, Little Feat's Paul Barrere and the Baseball Project — Vedder's superstar power ratchets it up more than a few notches.
"Eddie's generosity and enthusiasm for participating is 100 percent upside," says Hanley. "If you ask me, by every account, he's been a worker among workers in Chicago and personally, I was shocked — although I shouldn't have been — at what a magnetic, generous and super-sexy performer he is."
O'Malley says when they had their last Chicago Hot Stove, Vedder played on 11 songs. Among other things, Vedder played piano and sang on Pink Floyd's "Comfortably Numb."
Lenny DiNardo, former Red Sox pitcher and fledgling guitarist, says he first played with the All-Stars in 2005. And this year? "I'd like to be up there with a musical hero. I got [Pearl Jam's debut LP] 'Ten' when I was 11 years old," DiNardo says. "For me and my generation, it's like our Rolling Stones, our Who. He's what we have to look up to to get our teenage angst out."
Singer-guitarist Will Dailey has been watching Vedder for years. "The thing that kept me coming back was the generosity to the audience and the truth in the music. It is hard to make a bunch of hardened Boston musicians swoon and rock. Ed has a special elixir and it invigorates this now historic event that originated from the hearts of Paul, Theo and Peter to our present tense. A present tense that requires a lot of us to keep lifting each other up and supporting the causes, communities and people that are most vulnerable. Vedder couldn't come to Boston at a more important time."
Boston will field two main groups: the Gammons All-Stars — which includes an HSCM regular and out-of-town ringer, former New York Yankees star outfielder/accomplished jazz guitarist Bernie Williams — and the all-female BOTO, which stands for Band of Their Own.
"We're a bunch of chicks playing music by chicks," explains singer-guitarist Jen Trynin. "And I have to say: It is so fun! The hang time with the ladies is awesome and ridiculous and we all have a great time together. I think we're doing a five- or six-song set and there are nine of us in this reincarnation." BOTO includes Hanley, Belly's Tanya Donelly and Gail Greenwood, Magen Tracy, Jenny Dee and Fuzzy's Hilken Mancini and Chris Toppin.
"Personally," Trynin adds, "I like to rock the BOTO and then go watch the rest of the show. I also sort of suck at the old 'sit-in' thing, and it's keeping me busy enough learning all the songs for the BOTO set. A lot of my chick-rades are more adventurous than I and go up there and sing and dance."
"BOTO is a group of women who don't regularly get to play together," adds singer-guitarist Toppin. "It's truly a rare treat for me to play with such talented women whom I've admired over the years. We plan to rock and play hard. Don't be surprised if a few of us bum-rush the stage during some of the other acts."
The city of Chicago will also import a group of musicians, including two from Poi Dog Pondering. Red Sox organist Josh Kantor and Blake Babies drummer Freda Love Smith will do double duty with both Chicago and Boston outfits.
The fact that the Cubs play the Red Sox at Fenway for a three-game series, which starts Friday, made it obvious to Gammons that they should shift the date from January to April, citing the parallels between the World Series-winning Red Sox of 2004 and the World Series-winning Cubs of 2016 and Espstein's close ties to both teams.
"There will be a lot of Cubs people in attendance," Chris Cote says. He plays bass for the humor rock band the Upper Crust under the name Count Bassie and says he's a "utility player" with the All-Stars. As to the Cubs and Red Sox fans that will be in the crowd, "Since there is a lot of shared pain and triumph, it should add a new level of energy to the proceedings."
Letters to Cleo's Hanley chipped in, "The added element of competition just adds a layer of tension. Tension makes you rock harder."
DiNardo was used to tension on the diamond, but baseball was his profession and music is not. He says Valauskas had him learn the Replacements' "Unsatisfied" and Buffalo Tom's "Taillights Fade." "I'm out of my element," DiNardo admits, talking about his musical skill set. "I typically have a deer-in-the-headlights look on stage. I'm a nervous wreck. My amp will probably be turned down to negative one. But it's fun, it's meditative, and it's a little bit cathartic just to get out there. If I can stream together a few chords that sound melodic and cool to me then, hey, I'm a little bit accomplished in the arts. … I know a couple of Pearl Jam songs, not their radio hits, but if they need a backup guitarist I'm there."
In the old days, Red Sox players like Kevin Millar, Kevin Youkilis, Johnny Damon and Jonathan Papelbon would cavort on stage. Not so much in recent years (few live in these parts in the winter), but Gammons also said he expects many of the Red Sox and Cubs players to come and participate — unless there are extra innings or a rain delay.
As to ballplayer hijinks onstage, there was the year Damon took the Paradise stage, ripped off his shirt, tossed it to the rafters and dove into the crowd as 20-plus musicians rocked through Cheap Trick's "Surrender." Then Sox manager Terry Francona and first basemen Kevin Millar stood side-stage, shaking their heads.
"I don't think anyone will be like Damon taking his clothes off," says Gammons, with a laugh. "Not in today's Twitter world."
And after all the music is played and the baseball yak has abated, what of the Cubs and Red Sox this year? "Baseball seems to be the most unpredictable of the major sports," says Aiken. "I believe the Red Sox will make the playoffs, but after that, all bets are off. How great would it be to have a Sox/Cubs series? I mean, really!"