Why College Students Really Should Vacuum (It's About Health, Not Disgusting Dustballs)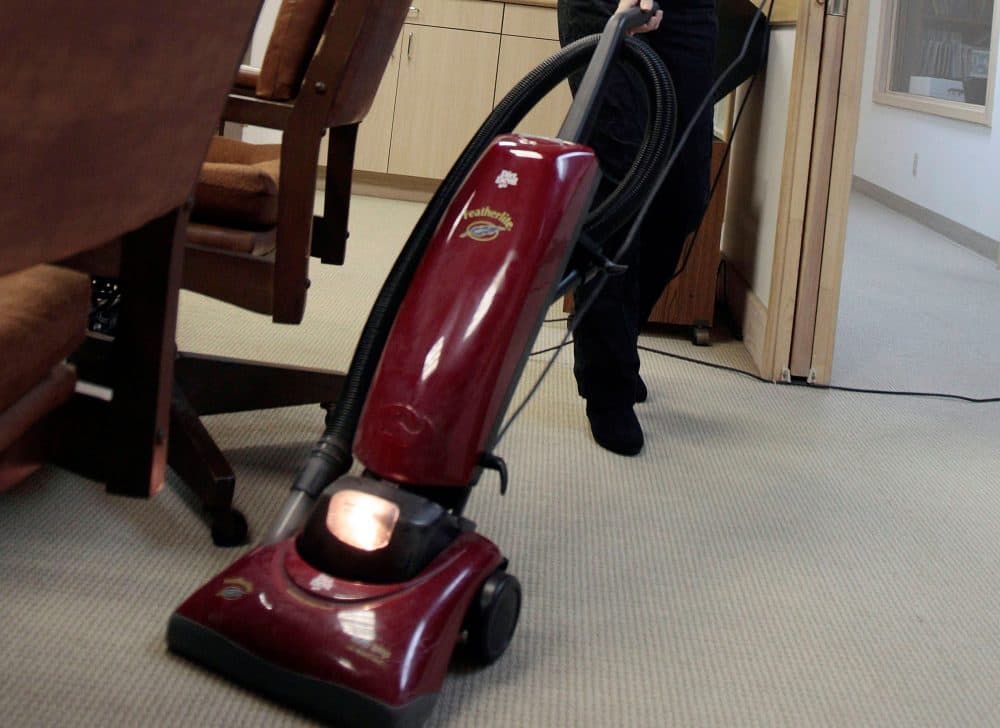 This article is more than 5 years old.
Robin Dodson, who has a Harvard Ph.D. in environmental health, never thought she'd be vacuuming for a living. But a recent study had the research scientist collecting dust from college dorm rooms -- which certainly gave her mom a good laugh.
The study convinced Dodson, a research scientist at the Silent Spring Institute in Newton, that all parents should be encouraging their college students to vacuum more regularly.
The reason: The dust in their dorm room could contain carcinogens. (Though the risk is still largely theoretical: No one has ever connected a cancer diagnosis to their college room.)
Her study, published this week in the journal Environmental Science and Technology, found that the flame retardant chemicals sprayed on foam mattresses and upholstered furniture can migrate out and build up in teenagers' never-too-clean bedrooms, as well as the common rooms where many study or spend their downtime.
Previous research, mostly in animals, has found that these flame retardant chemicals can potentially cause cancer. Dodson says the levels she found in the dorm-room dust were comparable to what studies tested in animals.
"The potential for health risk is there," she says.
But colleges have to balance legitimate concern about these flame retardants with the need to maintain fire safety, says Kathleen Almand, vice president of research for the National Fire Protection Association.
Between 2000 and 2015, there were 85 fatal fires in American dormitories, fraternities, sororities and off-campus housing, leading to 118 deaths, a report from the U.S. Fire Administration found. And flame retardants remain an important part of fire safety, Almand says, along with sprinklers and smoke detectors.
"We can't close the door to fire retardants full stop," she says.
The American Chemistry Council agrees. "Moreover, the chemicals found in this study were detected at extremely low levels, far lower than the levels at which toxicological responses have been observed in animal studies," Bryan Goodman, director of product communications with the council, says in an email. Also, he notes that the new study included many flame retardants that have long been phased out of the supply chain.
Luckily, there is a lot that parents can do to help reduce dorm room risks, says Dodson, who collected dust from 100 rooms at two New England universities that are not identified in the study.
She found higher levels of chemicals in rooms where students had brought a lot of their own upholstered and foam furniture, particularly the egg crates that many use to make thin dorm mattresses more comfortable, says Dodson. Egg crates manufactured within the last two years are likely to have fewer dangerous chemicals in them than older ones, she notes.
She says parents have an opportunity to buy furniture that is flame retardant-free when they indulge in that "big buying spree right before college."
Parents can also encourage their students to regularly vacuum up dust, she says -- though she doubts that's likely to happen. (Silent Spring's Tip Sheet on managing flame retardants on campus is here.)
The study also found that fire safety standards make a difference, says Dodson, who conducted the study with colleagues at the Harvard School of Public Health, the University of New Hampshire and the University of Antwerp in Belgium.
She found more chemicals at the school that was subject to stricter local fire safety codes and therefore had more retardants in its furniture. Next, she wants to look at whether relaxing those standards reduces the students' exposure.
"We want to keep thinking about this idea that flammability standards matter, and they likely drive the actual exposures," she says.