'peerless' Reimagines Macbeth As A Tale Of Asian-American Teens Fighting For College Admission
This article is more than 5 years old.
By the pricking of my thumbs, something wicked crazy this way comes! In her 2015 satire "peerless," playwright Jiehae Park reimagines Macbeth and his lady wife as Asian-American teenage twins, one more ruthless than the other, and an exclusive college as the Scottish throne. As unlikely as the intrusion of Shakespeare's tragedy into the fraught college admissions process may sound, it's the stuff Park's arch dark comedy is made on.
Seen here in its area premiere by Company One Theatre, which likes to mix up its playing spaces, the play is being performed at Rabb Hall in the Boston Public Library (through May 27) as part of "All the City's a Stage," a BPL celebration of Shakespeare for the 400th anniversary of his death. Well, if we could dig up the Bard and put him in an aisle seat for "peerless," he might die all over again — though whether from outrage or laughter it's hard to say.
Certainly the play is funny and certainly it's outrageous — though a bit too far-fetched to make a serious point about how destructive the college admissions gauntlet has become. Still, Park's shoehorning of so many elements of "Macbeth" — the witches, the ghost, the screwing of one's courage to the sticking-place — into her tale of competitive high-school overachievers is a pretty good party trick. Moreover, the 30-something dramatist complicates her cartoon with some interesting if creepy borrowings from the true story told by Marjorie Wallace in "The Silent Twins," about identical siblings, Caribbean immigrants to Wales, who communicated only with each other and were committed to a mental institution after committing arson.
When we meet M and L they are identically dressed in matching tunics, leggings and sneakers; only the colors of their backpacks (and in a later scene the flowers in their hair) differentiate them. The actors are not twins, of course, but they have worked at being in sync, feathering their dialogue and seething in unison at the news that the one coveted early-admission slot at "The College," sought by M with the help of L, has been "usurped by a no-good no-talent no-brain-fat f---" by the name of D.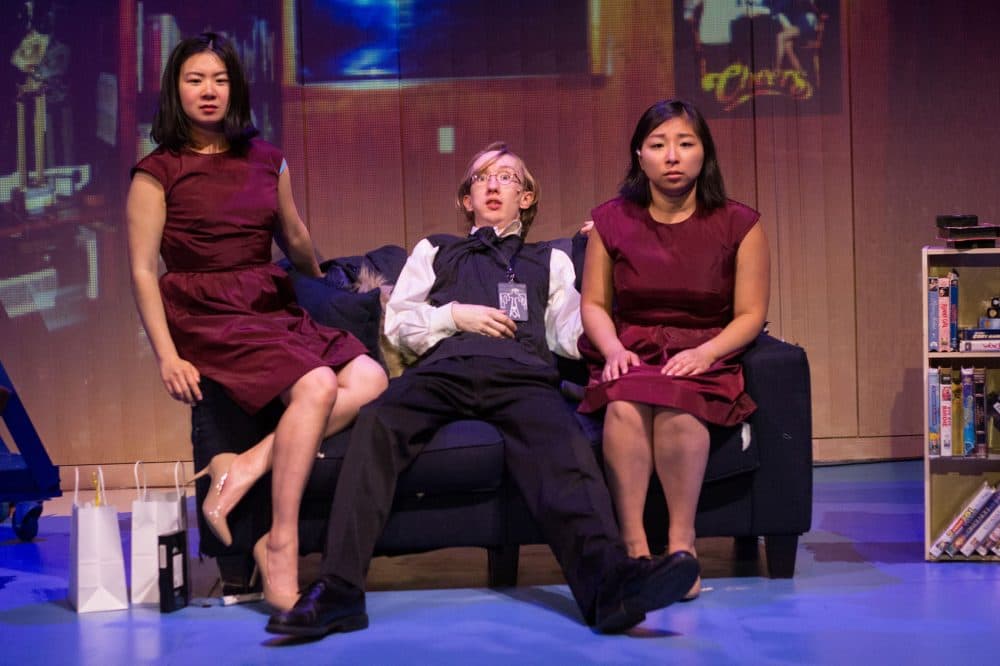 This despite careful planning — seemingly since the womb — that has included relocation to "Midwestern suburbia" to get a leg up on geographical diversity and the acquisition of a 4.8 grade point and 2400 on the SATs. L has even matriculated one year behind her sister so that they might win, in succession, that singular early-admission spot. Alas for M and L, D is one-sixteenth Native American and takes solicitous care of a brother with cystic fibrosis.
But the Asian-American ladies, especially the pitiless L, are not to be robbed of what Shakespeare would dub their "black and deep desires." Spurred by a Goth- and grubby-looking classmate called Dirty Girl, who would seem to be clairvoyant and to command a chittering band of rats, the pair soon has plans for offing the infinitely better-hearted D. But as in "Macbeth," disposing of one innocent obstacle — who happens to have a tree nut allergy and a deep fear of his EpiPen — turns out to be just the tip of the iceberg.
Company One Theatre is performing "peerless" in Rabb Hall partly because teaming up with the BPL has allowed them to offer the entire run of the play on a pay-what-you-can basis. Certainly that's a worthy aim, especially if, as is a trademark of C1, you are trying to accrue a younger and more diverse audience. But the play, with its quick, tongue-in-cheek format, seems almost dwarfed by the steep and stodgy auditorium. And JiYoung Han's set — a wide, somewhat cheesy-looking collection of multi-colored geometrical panels — is too busy to serve as a projection screen for effects that range from omens to explosions. (Sound designer Lee Schuna provides the subtle if eerie, electronically tinged music that augments the satire's spooky goings on.)

Steven Bogart, however, proves a wise choice of helmsman. The longtime head of Lexington High School's drama department, now a freelance director and writer, knows all about the skewed values and seemingly life-and-death stakes of getting into a prestigious college. And he has coaxed his actors to play against parody in favor of sincere, fuming desperation, even when what the geeky, mean-spirited characters are up to is as dark and sticky as pitch.
As the twins, Kim Klasner is the more empathetic if also driven M, Khloe Alice Lin the angelic-looking but utterly merciless L. Brenna Fitzgerald makes of the tangle-topped, black-clad Dirty Girl both a spooky presence and an ostracized teen. Kadahj Bennett is deceptively likable as M's African-American, Snickers-addicted scholastic-snake-in-the-grass of a boyfriend. Best of all is James Wechsler, whose touching, braying bonhomie as D will take you back to the very real if less lethal perils of high school.