Local Fans Of England's Premier League Forge Tight-Knit Community In Boston's Pubs
Play
This article is more than 5 years old.
Boston is definitely a sports town. At bars in the city any weekend, it's pretty easy to find fans of the Red Sox, Celtics, Bruins or Patriots congregating to root on their team. But you can also find fans who live and die with the success of teams like Liverpool, Chelsea or Arsenal — soccer teams in England's Premier League.
On a recent Sunday, while Celtics fans began to gather for an afternoon playoff game just a few blocks away at TD Garden, a couple hundred rabid soccer fans pack into The Kinsale, an Irish restaurant and pub in Government Center.
They're here to watch a match between two of the Premier League's top clubs. Arsenal and Tottenham Hotspur (or Spurs for short) are bitter rivals, both located in north London. Picture the Red Sox and Yankees, if Fenway Park and Yankee Stadium were just four miles apart.
Almost everyone is wearing a game jersey, including a couple sets of parents with young children. Occasionally the crowd breaks into Spurs cheers or the team song. To an unsuspecting person, it must seem like another sports planet.
"It's definitely a different world for the outsider, but, I mean, if you came in here it's hard not to get sucked into this and just be excited about it, you know? Everybody likes the Red Sox and Bruins," fan Tom Geary says, "but can you really go into a bar on any of their game nights and get this atmosphere?"
Most of the fans here are Americans who adopted Spurs. Many first got into soccer by watching the World Cup and then scouting around for a club to follow.
"I started doing some reading about the history of football and Tottenham Hotspur and just looked into their sort of difficult history, getting close to glory but not quite getting there, and that appealed to me," says Mark Seide, a Jamaica Plain resident who is here with his 9-year-old daughter Maya. "This was pre-2004 and as a Red Sox fan that kind of romantic history was very appealing. And they have a big Jewish following in London, which was interesting to me as a Jewish person."
As her father talks about his fandom at the pub, Maya grumbles "Chelsea scored," adding with amiable conviction that she hates that club. "We tell her the only time it's OK to hate is when it's another sports team," her dad clarifies.
In choosing soccer clubs to root for, most of these fans look past the New England Revolution, this region's U.S.-based Major League Soccer team. Though it's improved over the years, the quality of play stateside isn't quite good enough, they say. Most of the best players in the world play for the English, Spanish and French soccer leagues.
Everyone finds a different path to following a team that plays 3,000 miles away. For instance, Matt McDonald, of Dorchester, has been pulling for Spurs for more than 10 years.
"I used to work with a bunch of Irish guys," he says. "On the weekday games we would leave early and go to the bar, and that's how I got into it, just as much as the Bruins or the Patriots or anything like that."
At The Kinsale, you can feel the stakes are high. If Spurs win this match with Arsenal, they'll finish the season above their rivals for the first time in 22 years.
The tight match is scoreless at half time and I dart out to the T station. After a 15-minute subway ride, I go behind enemy lines — at Lir, the Boylston Street pub where Arsenal fans gather.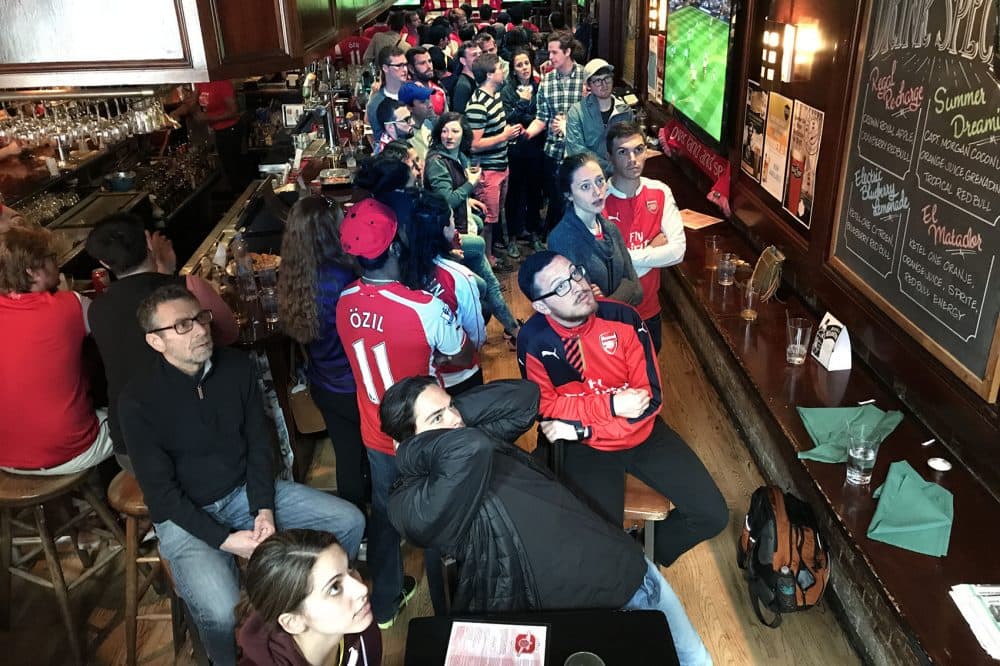 Bodies there are packed shoulder to shoulder and it's a sea of Arsenal red. Ten minutes into the second half, Spurs score and the boisterous room gets deathly quiet. For a while, all you can hear are the cheering Spurs fans on TV.
Spurs hold out for the win and I can only imagine the jubilation over at The Kinsale. Here at Lir, the unhappy Arsenal fans, who call themselves Gooners, stick around for a post-game raffle and a pep talk. Bill Hanage, a London transplant who found this welcoming group of like-minded fans a few years ago, grabs ahold of a microphone. "This is the time to show it's worth it," he shouts. "This is the time to show you're a fan! This is the time! You are a Gooner!" The group breaks into a cheer.
Spurs and Arsenal fans are not the only diehards of English soccer teams who take over local pubs once a week. Liverpool fans pack the Phoenix Landing. Manchester United supporters flock to McGann's. The Banshee attracts Everton fans. And it's all under the nose of folks walking by outside who may have no idea this subculture exists.
After watching the Arsenal match, proud Gooner Jeffrey Werner says there's a sense among local fans of being in on something special that flies under the radar.
"There's a feeling of camaraderie, a feeling of being a part of something that a lot of people don't understand but those that do, really, really understand it," he says. "So it's a really easy way to make instant friends."
And he adds that those bonds stay strong even when your team lets you down. "In a lot of ways this is a family. You stick with your family through thick and thin," Werner says. "And today we lost a game I really would have liked to have won, and we didn't, and I'll see you next week."
As disappointed Arsenal fans drizzle out of Lir, someone turns on the Celtics game and the scene begins to look like any old Boston pub. Until next weekend, when soccer fans will take it over once again.
This segment aired on May 5, 2017.