The Titans Head To Rydell High In Ryan Landry's 'Greece'
This article is more than 5 years old.
Greek mythology is full of weird hookups: Leda and the swan, Europa and the bull. But no mating could be stranger — or, as it turns out, more inspired — than that of strange bedfellows "Grease" and "Clash of the Titans." Leave it to Ryan Landry to breed the two in the hothouse of his mind and call it — what else? — "Greece."
In this latest from the Gold Dust Orphans (at Machine through June 4), the 1971 musical set at Rydell High is mashed up with the 1981 film transpiring on Mount Olympus and lesser environs. And the result is, you might say, "Greased Lightning" — one of only two songs from the actual "Grease" shoehorned into a show that substitutes winged horse Pegasus (here, a personable if aeronautically challenged Pegasissy) for the iconic automobile.
I have to hand it to Landry: I didn't think you could get any campier than the original "Clash of the Titans" (the 2010 remake of which I didn't see), with hunky Harry Hamlin inhabiting Perseus while Laurence Olivier and Maggie Smith cavorted woodenly in the heavens. But the Orphans impresario has not only done so; he has approximated most of the film's apocalyptic effects on a shoestring while spelunking in the 1950s-'60s songbook from Lesley Gore and Roy Orbison to "Hair."
In this ingenious exercise in Aegean fusion, Sandy, from "Grease," morphs into Cassandra, a misbehaving daughter of Zeus flung from Olympus into "that hell every spoiled teen deserves: a public high school." Her crime? Pen-pal fraternization with an ostensible mortal named Danny Zeuso, leader of a tight, toga-clad gang called the Titans — high-school guys who frown on intimacy unless it's of a purely sexual nature, and with each other.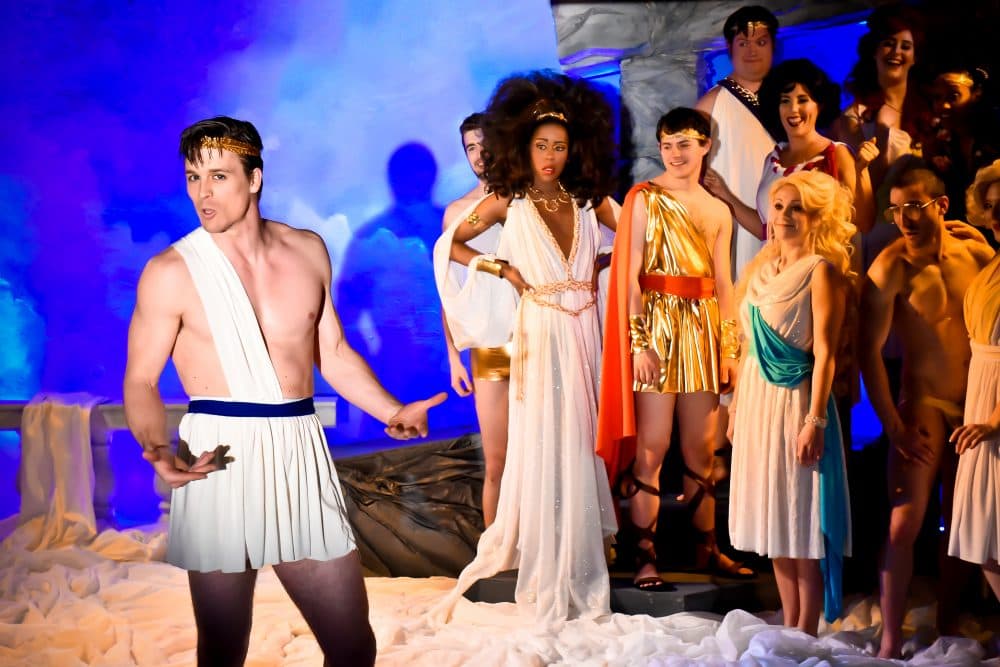 Of course, once Zeus starts flinging thunderbolts, Danny and his cohort — which includes Icarus, Hades and Narcissus — must get up close and personal with monsters ranging from a Cyclops to a Gorgon to that fabled Titan menace, the Kraken. Before the dust settles, there has been galloping gladiating and virgin sacrifice, even a "pre-battle sock hop," all of it neatly portrayed via the Orphans' signature effects, including elaborately cheesy scenery, staging in miniature that magically morphs into the gigantean, back-up by video, pop-out Muppets and flights of the Barbie. Really, what's next for these low-tech geniuses? Jason Bourne?
What's new in "Greece" is about half of the cast — fresh Orphan blood attached to some pretty great voices. In particular, MacMillan Leslie, as a conflicted Danny drafted into all manner of monstrous combat, manages an affecting mix of bravado and terror. And his singing is both effortless and excellent. Backing him up is Michael Underhill as gallant bud and Pegasissy groom Icarus. Also on their team is a "transitioning" satyr named Pita, brightly played by Robin JaVonne Smith.
Taryn Cagnina is Sandy, all shy smiles and teased blonde hair, whose simper quite disappears when she's snubbed. Moreover, Cagnina gets to apply her pretty pipes to both Orbison's "Crying" (which is accompanied by a hilarious video montage) and Gore's "It's My Party." Among the pajama-partying "Pink Sirens" befriending the newcomer from Olympus are Vanessa Calantropo as a cocky Brizzo, Kiki Samko as a breathy, platinum-blonde Daphne, Meghan Edge as a daffy Sybil and Malari Martin as a brassy Medea. (She gets my favorite line, snappily remarking of Creon's daughter, who has stolen her Jason, that "the next bed she sleeps in will be an ashtray.")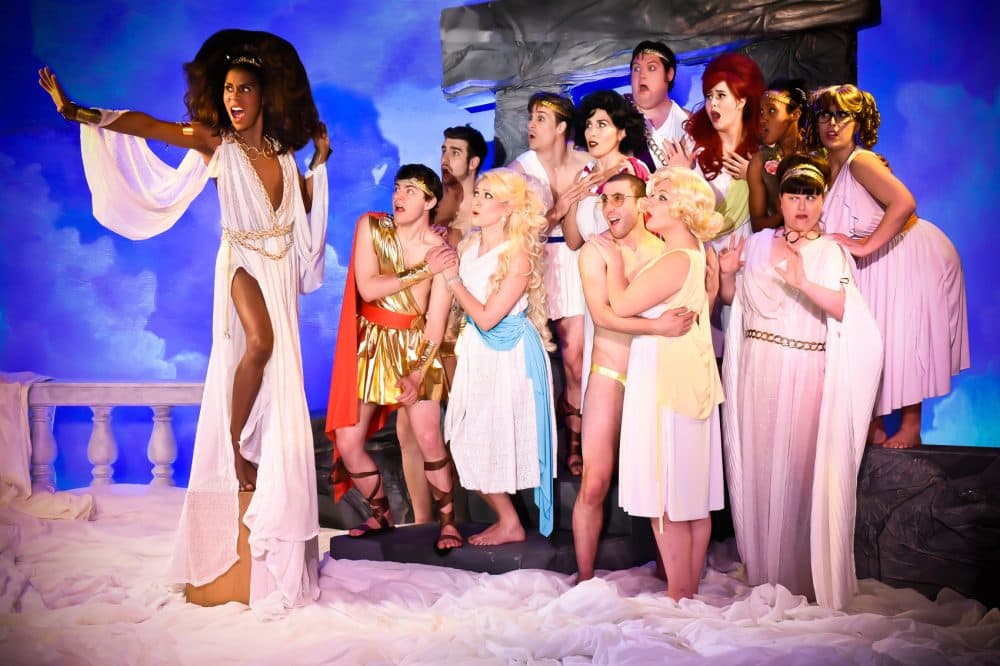 Among the regulars, Landry is a fetching, fuming strawberry-blonde Venus (except when the goddess is being represented by a decapitated statue, its cardboard mouth of stone flinging curses). He also does a quick turn as Elvis, rocking in a pompadour and big-ass, jeweled belt that would be as perfect on a jumpsuit as a chiton. Larry Coen, who also directs, is a booming, bolt-bungling Zeus. And Tim Lawton turns his impressive tonsils to an over-ambitious Hades who milks a pretty fair Trump impersonation.
As Aphrodite (aren't Venus and Aphrodite the same goddess? Who cares?), Qya Marie is as awe-inspiring as her vocal range. And Scott Martino — who also designed the endless Grecian draperies and other costumes — is a touchingly aggressive and awful Pandora Spox, trying to bulldoze Danny out of his sweet-faced lust for Sandy and/or the Titans. Led by choreographer Gabriel Nesser, the leaping, bounding, humping Glitterpuss Dancers, decked out in anything from floating cloud suits to boxers' regalia, add to the spectacle.
So, plan your next vacation at the Ramrod Center for the Performing Arts, as the basement of Machine has come to be known in these latter days of artistic aspiration. But whether you catch it there or in Provincetown, where the show moves for the summer, Landry's "Greece" is a must-go for theatrical tourists.