'Trillium Week' At Framingham's Garden In The Woods Signals The Arrival Of Spring
This article is more than 5 years old.
"It's one of the signature spring ephemerals," explains Mark Richardson, director of the botanic garden at Garden in the Woods in Framingham. "It signals that spring is here."
He is talking about trillium. The flowering plant is the star of "Trillium Week," which continues through Saturday, May 13 at the New England Wild Flower Society's Garden in the Woods, which showcases what the society bills as the "largest collection of trilliums north of Delaware during their peak flowering time."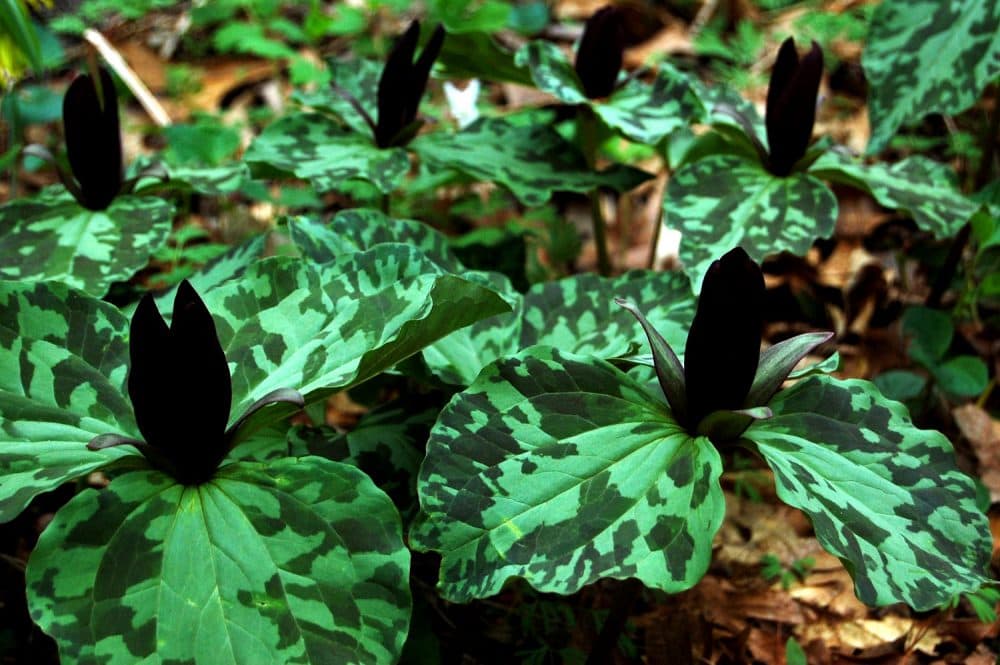 The perennial woodland wildflower is readily identified by its signature structure. Trillium has "three of everything," says Anna Fialkoff, a horticulturist at the naturalistic 45-acre garden. "Three leaves, three petals, three sepals." With the flower standing up at the center of the whirl of leaves.
And as Richardson noted, trillium are one of the spring ephemerals — sprouting, flowering, pollinating and putting out seeds in the brief span of weeks between snow melting and trees leafing out. "They take advantage of all the sunlight," says Jessica Pederson, the garden's director of public programs.
Which maybe explains why, as Richardson says, "it's a hard plant to find in the nursery. Some of them aren't that hard to grow. But they're so fleeting. They're only up for a few weeks before they go dormant."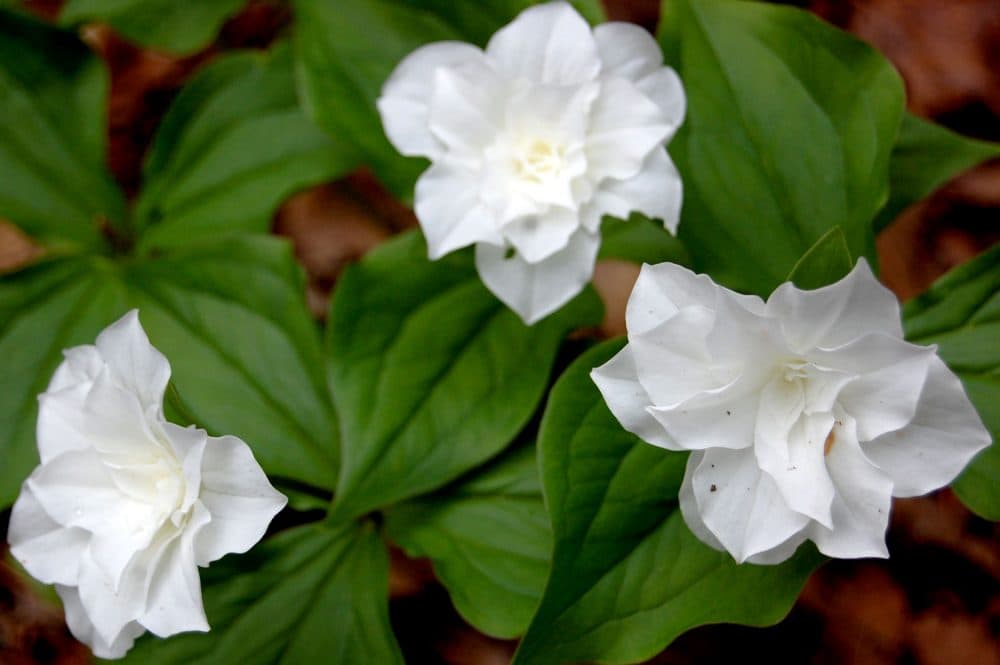 "Trillium Week" offers guided tours of the garden's blooming trillium, workshops on growing the plant, and a chance to choose trilliums for purchase from the society's propagation beds. ("Flag your trilliums during your visit; our staff will dig them at their ideal transplant time and prepare them for you to pick up later.") And on the evening of Friday, May 12, the garden offers "Trillium and Wine" — an evening to "drink wine while listening to live music" in the trillium gardens.
A bed a short hike from the entrance hosts examples of the garden's entire range of trillums — from the tiniest dwarf trillium to the double white trillium, more showy because of its extra flower petals, to the yellow trillium, with a scent that Fialkoff describes as "kind of lemony. It smells kind of like Pine-Sol sometimes."
"We have 21 species here," Pederson says. "The most extensive collection in New England. Including three that are native to New England."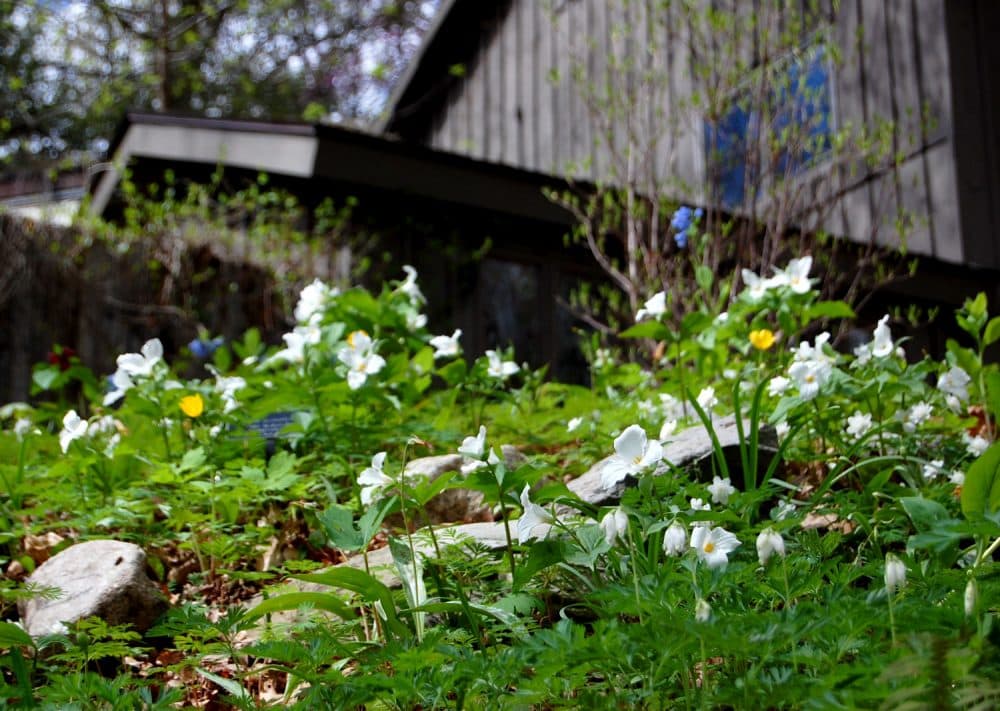 Head a bit farther down path and you'll find a hillside that forms a sort of bowl. It's been planted with white wakerobin trillium accented by yellow wood poppy and Virginia bluebells. "We planted a lot of them last year. It's filling in over time. They're very slow growing," Fialkoff says. "Later [in the season], they'll die back and they'll be replaced by a fern that will take up all of this space."
The hillside is near the cottage of Garden in the Woods founder Will Curtis. "This is where he first built his garden out here. It was the crown jewel of the Garden in the Woods," Fialkoff says.
"It was his backyard basically," Pederson says.
In 1931, Curtis (1883-1969) bought the land — "eskers [winding sediment ridges] with steep-sided valleys between, a pond, a wooden-bog, numerous springs, and an ever-flowing brook" — from the Old Colony Railroad, which had previously mined it for gravel. With his partner Dick Stiles, Curtis developed a showcase for his landscape design business as well as a model of gardening with plants native to North America. His aim: "Wild plants will be grown, their likes and dislikes discovered and the knowledge so gained eventually passed on in an effort to curb the wholesale destruction of our most beautiful natives." The duo had propagated nearly 2,000 species there by 1965, when Curtis transferred the property to the New England Wild Flower Society, which continues to maintain his focus on native planting and ecological approaches.
"You'll notice there are leaves all over the beds," Pederson says. "Nature's mulch."
The society has been making adjustments based on its 2013 master plan, shifting from Curtis' typically small garden displays to large "landscape character zones."
"We redid this garden" — the Curtis woodland garden — "over the last couple years," Fialkoff says. "We increased the garden threefold."
Further down the hill is the lily pond, where Richardson spots an unusual trillium. The flowering plant is generally easy to recognize because of its signature "three of everything," though the various species of trillium often closely resemble each other, making them difficult to tell apart, Richardson says. But this one he points out has four leaves.
"They sometimes throw up four-leaf mutations," Richardson says.
"Like," Fialkoff says, "a four-leaf clover."