Like A Live-Action Cartoon, 'Yellow Bird Chase' Just Wants You To Have A Goofy Good Time
This article is more than 6 years old.
Liars & Believers inaugurate their residency at the Boston Center for the Arts with a new version of their charming, lighthearted fantasia "Yellow Bird Chase," a witty jukebox musical of live-action cartoon that takes nothing seriously except the idea of having a good time.
The troupe creates original work with any and all materials and theatrical traditions they might happen to feel like throwing into the mix. Live music? Mime? Puppetry? Why not? These are, after all, the guys who re-cast the tragic tale of a high-flying figure from Greek mythology as a slice of Dust Bowl Americana in 2013's "Icarus." Liars & Believers also donned bright red clown noses to tell the story of King Saul at A.R.T.'s Club Oberon in 2015 — the same year they premiered "Yellow Bird Chase" at Boston's Outside of the Box summer arts festival.
Laughter and song are hallmarks of this 70-minute family-friendly production, which is a delight no matter how young (or old) a kid you might happen to be. Joining Liars & Believers for the revamped "Yellow Bird Chase" are the soul band Luminati, fronted by Johnny Blazes, a "gender-blending" devotee of circus arts and Vaudeville whose personal style is augmented by a lovely singing voice. The show is at the BCA through May 21.
"Yellow Bird" tells a simple story: A small crew of maintenance workers discover a fabulous bird, hatch plans to sell its chicks and get rich, and then have to pursue the bird to a faraway land. Their chase takes them across oceans, through deserts, down wells, and up a forbidding mountain. Along the way they face off with all the monsters and obstacles you might hope for, including a sea monster, pirates and a "snarky" camel.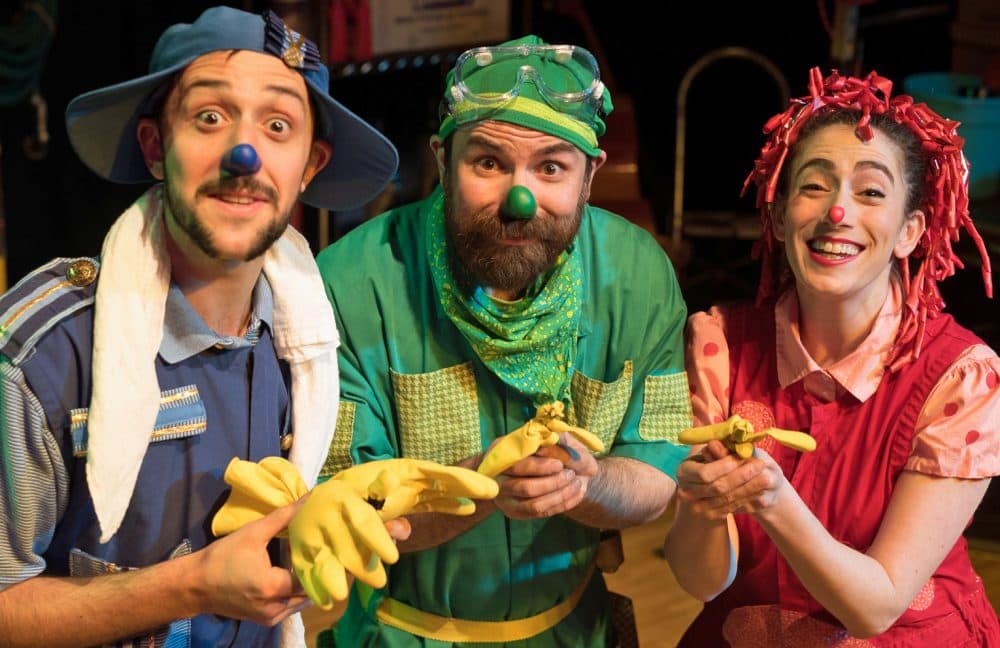 But the plot is far less important than the presentation. Bossy Capitano Marco (Jesse Garlick) drives the action and picks on his little crew, especially the likable Poodge (Glen Moore; also played by Rachel Wiese from May 11-14). True to form, the Capitano is also utterly inept; it's cheerful Poodge who provides timely insights that keep the journey moving forward. Ruffles (Rebecca Lehrhoff) is the brave one, defending Poodge from the Capitano's bullying and fearlessly jumping into whatever challenge looms next. Theirs is a story of teamwork, and the fact that their dialogue is all in "gibberish" — a mashup of what sounds like Spanish, Russian, Esperanto and baby talk -- becomes a major source of amusement. Before you know it, you're rooting along as the trio go "a desto" to capture the "flottiza."
Not that we need words to understand their adventures. The actors' mixture of mime, puppetry and comic clowning meshes with their primary-colored costuming (the work of Kendra Bell), while scenic designer Rebecca Lehrhoff's simple, effective props and settings — blue tarp for an ocean, two half-inflated yellow rubber gloves tied together to form the coveted yellow bird — are used to vivid effect. Heart, humor and imagination all get a thorough (and thoroughly enjoyable) workout.
Johnny Blazes' stylish vocals are accompanied by Brendan Higgins on bass and Tim Lewandowski on trombone. Their set list may not have a lot to do with the play's story beats, but they do underscore and broaden the emotional impact of the journey's various twists. The Beatles' "Oh Darling," Smokey Robinson's "The Tracks of My Tears," and Steve Winwood's "Bring Me a Higher Love" are all given juicy renditions; there's also a smoking take on "Fever" that summons the spirit of Peggy Lee.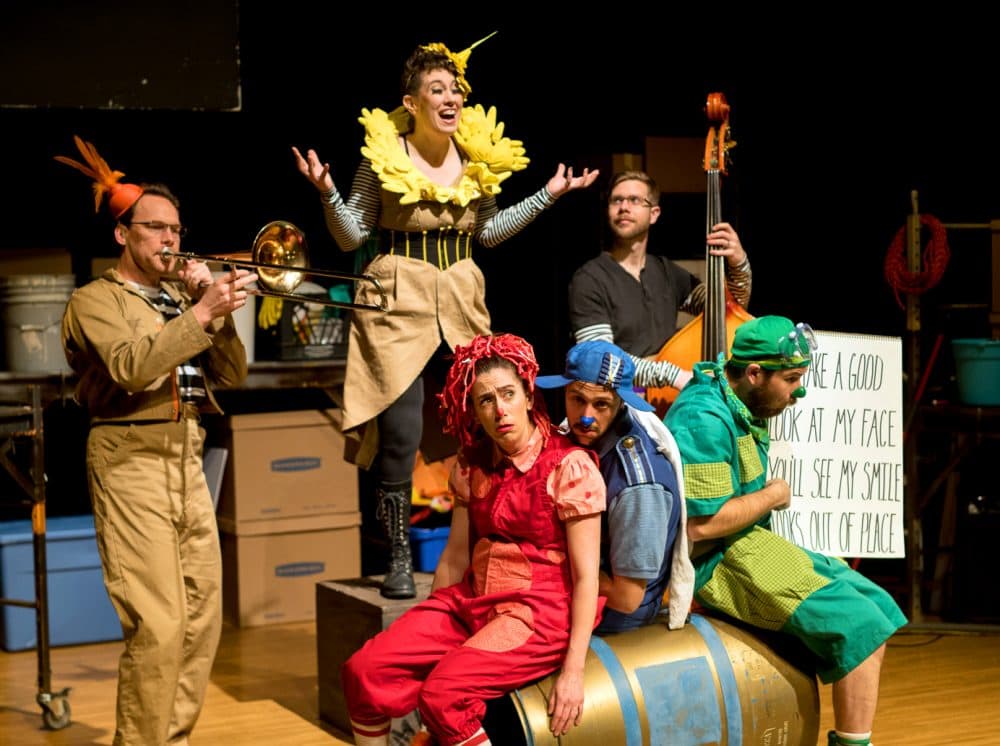 It's easy to sing, clap and stomp along because lyrics are provided in a variety of imaginative ways — projected, presented on cue cards and even unscrolled on a roll of bubble wrap.
Liars & Believers artistic director Jason Slavick directs the production, merging its many moving parts into a seamless whole. "Yellow Bird Chase" reminds its audience that goofy good fun is a theatrical virtue.