America Finally Gets The Chance To Experience French Electronic Music Master Jean-Michel Jarre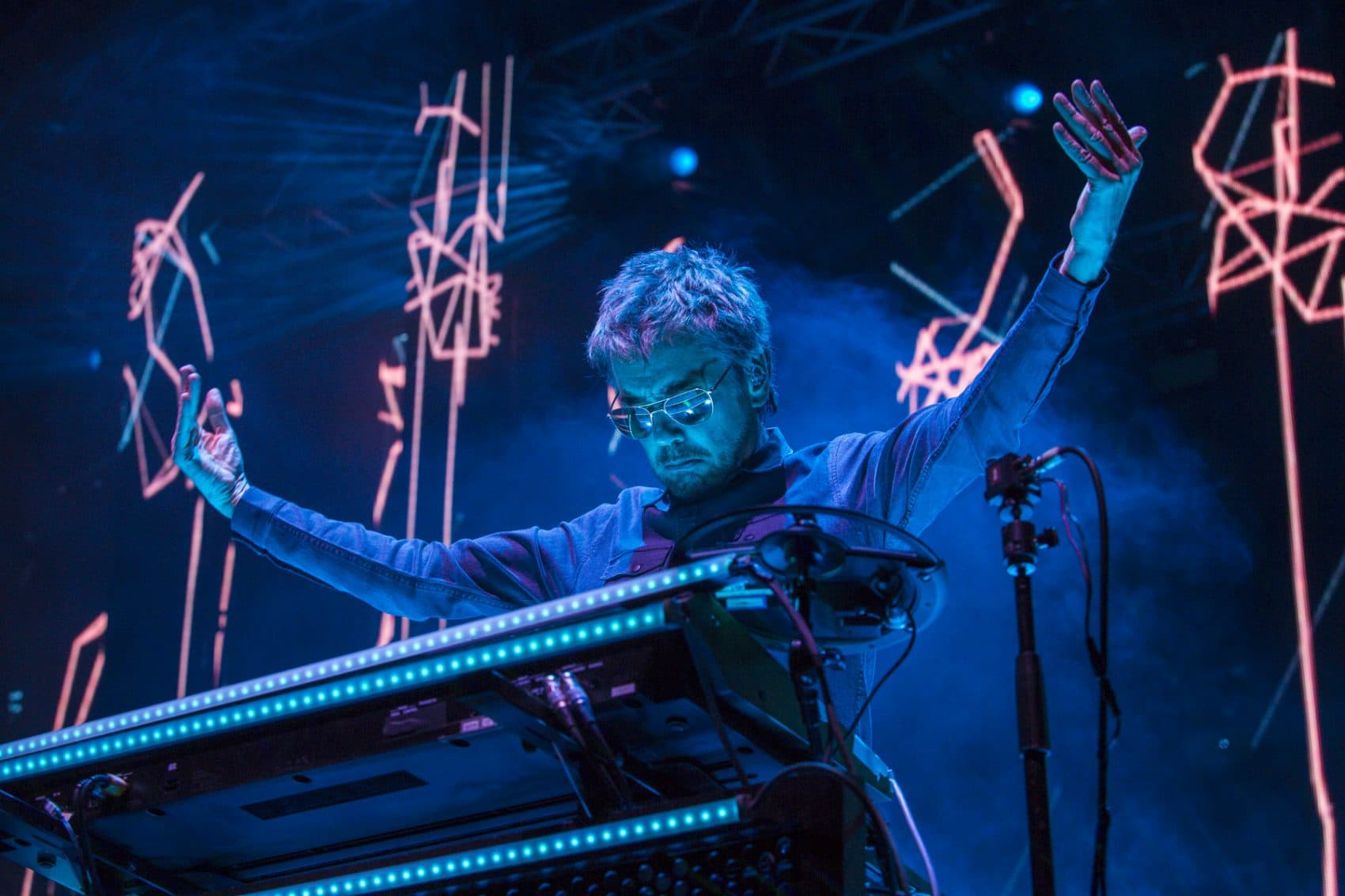 This article is more than 5 years old.
Jean-Michel Jarre has no problem rattling off countries and continents where he's more famous than he is in North America: "Europe, China, South America, Japan, Australia …" he says, on the phone from his Paris studio. Jarre could go on. "But," he quips, "this is going to change after your article."
Yes, he's joking, but, finally, after ignoring North America as a touring market, Jarre, a pioneering synthesizer wizard/multi-instrumentalist/composer who has sold about 80 million albums worldwide, just made a move: This month, he launched a nine-date string of multimedia shows that stops at the Blue Hills Bank Pavilion on Tuesday, May 16. He'll be joined by two percussionists, Claude Samard-Polikar and Stephane Gervais.
When I talked to Jarre two decades ago, he had said he wanted to mount a U.S. tour of eight to 10 cities. That did not happen, even as he was promoting the sequel to his best-selling album, the six-song "Oxygene," with "Oxygene 7-13." Nor did any other tour.
Curiously enough, the reason Jarre hasn't toured the U.S. yet goes back to his father. "My dad used to lead these concerts for a long time and somehow I had a difficult relationship with him, always," says Jarre. His father, Maurice Jarre, was a conductor and masterful film composer, scoring "Lawrence of Arabia," "Doctor Zhivago," "Witness," "The Mosquito Coast" and "Ghost," among many others. Jarre's parents divorced when he was 5, and he lived mostly with his mother.
"I always considered that the U.S. was a little bit my father's territory," Jarre says. "But he passed away seven years ago and it is behind me. We have no problem in my mind. I'm not doing psychoanalysis here with you at the moment, but just to say I think that's changed and now I'm very eager and excited about the music I want to share with the U.S. audience."
Ask anyone working in the electronic music world — from ambient to trip-hop to techno — and they'll likely cite the 68-year-old French-born Jarre as a primary influence.
It's not like Jarre has been one of those electronic geniuses who are also studio recluses. He was the first Western musician invited to perform in post-Mao China. He played at the Great pyramids in Egypt; he played four times at Place de la Concorde outside the Eiffel Tower, bringing in over a million people each time. He gave a concert to 3.5 million people in Moscow. His one and only concert in the U.S. was in 1986, where he brought 1.3 million together for a city-scale concert in Houston for NASA's 25th anniversary and a commemoration of the Challenger mission.
"I did a lot of recording in America, but I didn't do lots of touring in my life," Jarre says. "I did lots of one-offs, like the one in Houston, a lot of concerts all over the world. Each time I was touring, for one reason or another, it didn't happen in America because of [timing] or other reasons. This time, linked to my recent 'Electronica' project, which is massive, involving lots of artists from both sides of the pond, this time I want to share my project with a North American audience."
In October 2015, Jarre released "Electronica 1: The Time Machine," which was nominated for a Grammy in December 2016 in the Best Dance Album category. He followed that album last year with "Electronica 2: The Heart of Noise." And this past December, he released "Oxygène 3," completing a trilogy that began in 1977. Tracks from all those albums and more will make their continental concert debut this month, coupled with an expansive — and Jarre promises, mind-blowing — multimedia show.
"For this tour, we are three on-stage," Jarre says, "surrounded by about 50 instruments. Most of the time these days, a lot of the electronic music is played by people coming on stage with a USB chip or card. In this case, it's a real live environment with lots of electronic instruments coming from modular Moogs and other certain synthesizers to new digital interfaces or instruments that have been designed for the concert. I think it's quite in phase with our times, where the analog and digital worlds are merged, not only in music but everywhere in our lifetime."
Here's video from a 2016 performance:
"Also, it's very visual. I've been involved at a very early stage, integrating visuals. When I see a lot of festivals these days, I have a feeling that it looks like what I was doing 25 years ago. Now, visuals are everywhere in music performances. I wanted to come up with something different. I wanted to express for quite a long time something visually for the music I am doing. What I mean by this is I'm always interested in creating soundscapes and layers in my mixes. The technology was not always possible. This time, today, I found a way to create a kind of 3-D without glasses. And it's quite extraordinary."
Jarre's technicians will employ numerous cameras and screens, but he'll also have a camera attached to glasses that he wears. "I like to share what's going on," he says, "because people sometimes don't understand what's going on. With this camera, people can come and invade my 'kitchen' and just understand what I'm doing. There is quite a high technological aspect to the performance. We all need to be focused, the three of us."
The musician has released 21 studio albums since 1972. For this tour, while he will draw from many phases of his career, Jarre says the emphasis is more on the techno dance music style of the "Electronica" albums than the "Oxygène" albums.
"It's nothing new age or ambient at all," he says, backtracking slightly. "You can have cool moments, but also very dynamic moments."
Many fans found Jarre through "Oxygène" and its follow-up, "Équinoxe." Years later came the second and third albums in the "Oxygène" trilogy. "When I did the first one it was 1, 2, 3, 4, 5, 6 [songs], like chapters of a book. I said at that time it could be cool to do a sequel. I love sequels in literature or movies. I've always been intrigued that it doesn't really exist in music. This album is like season three of 'Oxygène.' "
All three albums, Jarre says, share a theme and sound. " 'Oxygène' is based on this idea of being dark, yet being quite melodic and bright," he says. "Our relationship with the dark future of our planet. The second one is the same and the third is the same. I did the first one in the vinyl days side one and two in mind, and I did the same thing with 'Oxygène 3,' one side being darker and the other brighter, more melodic, somehow."
When we talked in 1997, Jarre was raving about how the old-school analog synthesizers sound and called them "the Stradivarius of the future." Jarre feels a young electronic musician may regard a vintage analog synthesizer the way a young violinist would regard a Stradivarius violin.
"A young musician today in 2017, his dream is to play one day on an instrument designed three centuries ago," he tells me last month. "It's the same thing with an analog instrument. Today even with all the high technology we have, we are not able to do better. It's the same thing [with guitars]. You have a specificity on the Les Paul Gibson '58 and on the Strat '62 [the 1962 Fender Stratocaster] and on the modular Moog [synthesizer] from the '60s."
Fans who came to Jarre through "Oxygène" may find the shift from that spacier, gliding music to a more pounding, rock-and-beat-oriented style, well, a bit jarring.
"It's all part of the same family," Jarre maintains of the various genres. On earlier albums, Jarre used jazz bassist Marcus Miller and the late jazz and funk drummer Yogi Harton. On the "Electronica" pair, he worked with a slew of others from various realms of the electronic and rock worlds. They include Erasure's Vince Clarke, Laurie Anderson, Tangerine Dream's late Edgar Froese, Moby, M83, Little Boots, the Pet Shop Boys, the Orb, Peaches, Primal Scream and Cyndi Lauper. (Jarre's show utilizes a limited amount of sampled vocals including the Pet Shop Boys during the song "Brick England.")
"I wanted to go close to their style, the reason also this concert is very dynamic," Jarre says.
Of that A-list of collaborators, Jarre says, "It's quite extraordinary. All these people have been an inspiration to me. I had two principles for this project. One was to meet them personally and work together in the same environment, sharing the process, the musical DNA. The other thing was also to come and see them with a preconceived demo, [the music] being my choice and having been blown away and touched by the fact that everyone said 'Yes.' I went directly to the artists and we [then] let the managers take care of the business."
The biggest surprise guest can be heard on "Exit," midway through the second "Electronica" album: That's Edward Snowden, with whom he says he formed a "geek" brotherhood.
"There is a special collaboration with Edward Snowden," he says. "I went to Moscow to record with him, to play with him, and it is one of quite strong moments of the concert where we do this track together. [Snowden's voice is on digital tape.] He is not an artist and has no ambition to become a singer. On the track 'Exit,' we see him visually saying a few sentences, the reason why he did what he did."
Jarre says he's in sync with Snowden's politics and rationale for the massive NSA information dump. And there's a backstory as to why.
"My mom was in the French Resistance," Jarre says. His mother, France Jejot, who died in 2010, was considered a heroine of the movement. She was arrested in 1944, transported to Ravensbrück, a women's concentration camp in northern Germany, from which she escaped the following year.
"I was raised with the idea that when the power in place is generating ideas or facts that could be negative to our community, some of us should resist and stand up against it," Jarre says. "When I heard Edward Snowden, it was exactly like this. I met a very good young man. He's doing this for the love of his country and not against it. We should not forget that the U.S. of America was founded on resistance, which was considered, at that time by the king in place, as an act of treason. All forward progress has been always done with resistance — the abolition of slavery, the abolition of prohibition, the rights of votes for women or minorities. Always it has been done against the law at the time, the power in place."