From Ballet Slippers To Tennis Shoes, The L.A. Dance Project Speaks 'Different Languages'
This article is more than 5 years old.
Dance has the power to transfix an audience, illuminating an inner dialogue or examining a global issue. And yet it has long been a misunderstood profession. The industry continues to work toward making its performances approachable to a wider audience, and break away from the stereotype of exclusivity dating to the origins of ballet in the European courts.
For the last few years, dance companies have turned to social media to make themselves more accessible, sharing glimpses inside their studios. They've created movie-trailer-quality videos to promote upcoming performances and they've started performing beyond theater walls.
In 2012, the dance world took another step in this direction when choreographer and former New York City Ballet principal Benjamin Millepied founded the L.A. Dance Project, encouraging multidisciplinary collaborations among artists, and reaching new audiences through site-specific work.
This weekend, Boston will get a taste of the contemporary dance company's flair in its debut at the Boch Center's Shubert Theatre. The performance, presented by the Celebrity Series of Boston, will feature three creations — "Murder Ballades" by Justin Peck, "Harbor Me" by Sidi Larbi Cherkaoui and "On the Other Side" by artistic director Benjamin Millepied.
The triple bill reflects the troupe's wide range of repertoire. "Some of our works are in tennis shoes, some of our works are barefoot and then other works are in ballet shoes," said dancer David Adrian Freeland Jr., who joined the troupe last August after dancing with Alvin Ailey's second company in New York for three years. "We are never doing the same thing."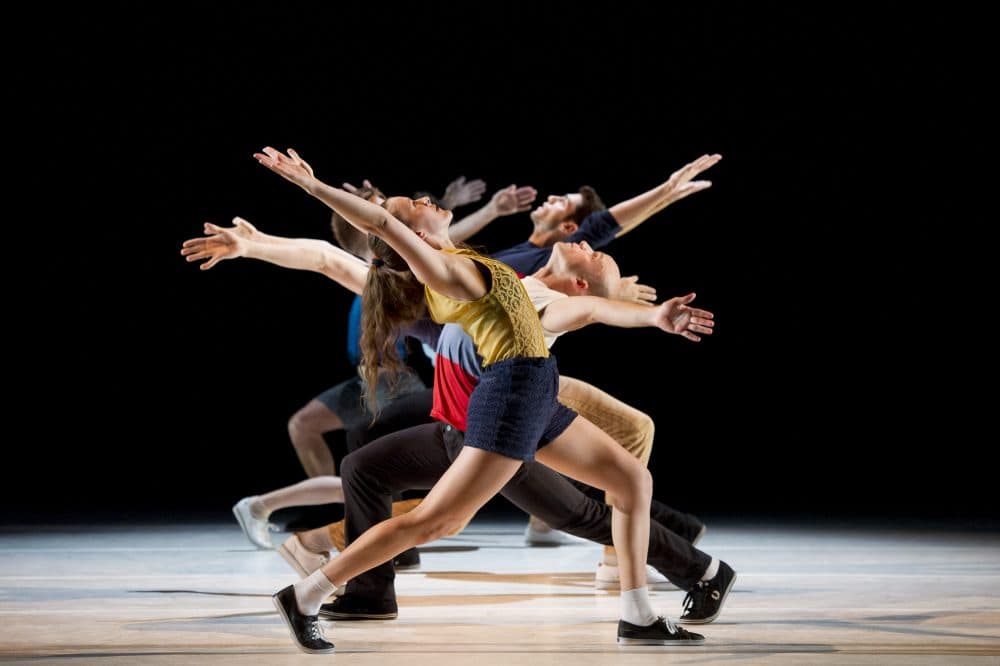 The variety of work and its reach were also alluring to dancer Stephanie Amurao, who will perform in all three works in Boston. "Not a lot of dancers can or like to jump back and forth between different languages or approaches to movement," she said. "I think he (Millepied) really values an artist who can do more than one specific thing, artists who are interested in exploring and collaborating with different people."
After the upbeat nature of "Murder Ballades" by Peck, resident choreographer at the New York City Ballet, the dancers lose their sneakers and seamlessly transition into the legato flow of "Harbor Me" by Cherkaoui, a Belgian choreographer. The intimate piece, which explores acceptance, was originally choreographed for a trio of men, although there is now a female cast as well. "It's three people really relying on each other and moving as one unit," Amurao said.
Millepied's "On the Other Side" shares a similar focus on unity. Featuring the entire ensemble, the piece ultimately celebrates the notion that there is strength in numbers, Amurao said. "At the very end, we're all together in the same world even though we've all come from different places and had a different journey along the way to get there," she said.
A Vancouver native, Amurao trained at the Juilliard School before receiving her first professional contract with Bern Ballett in Switzerland in 2010. Two years later, she accepted an offer to dance with Ohad Naharin's Batsheva Dance Company in Israel, but even there, she felt as if she hadn't quite found her place. "I was going from really one extreme to the other in every part of my life," she said, "from the city I lived in, to the people, to this different company in a very different city in a very different part of the world with a very different approach to life and to movement."

But in Israel, she met Millepied, who taught a class for the company. Amurao expressed her interest in joining his innovative, young troupe. She is now in her third season with the L.A. Dance Project, and she remains enticed by its mission.
While the dancers still perform in traditional venues, their influence outside the theater is evident as they create new platforms for sharing dance. In the process, they seek to bring together a vast array of artists, from musicians, singers, and composers to designers, film directors and visual artists.
These collaborative productions have taken place in unconventional locations, including L.A.'s Union Station and the Gardens of Versailles, and the troupe's dramatic films have been featured on the global video channel Nowness. Last year, the company worked with artist duo Gerard & Kelly on Modern Living, a performance artwork at the landmark Schindler House and Philip Johnson's Glass House.
They're planning another ambitious site-specific project at the end of this month. The company will perform a series of works in response to art installations at the Chinati Foundation, a contemporary art museum in Marfa, Texas, and the presentation will be streamed live on the video platform Periscope.
"We're ready to challenge the norms and not do things for approval," Amurao said, "but do things because we're interested in them and because we think that they're worth exploring."