Lyric Stage's Energetic Trip To 'Camelot' Could Use Some Of Merlin's Magic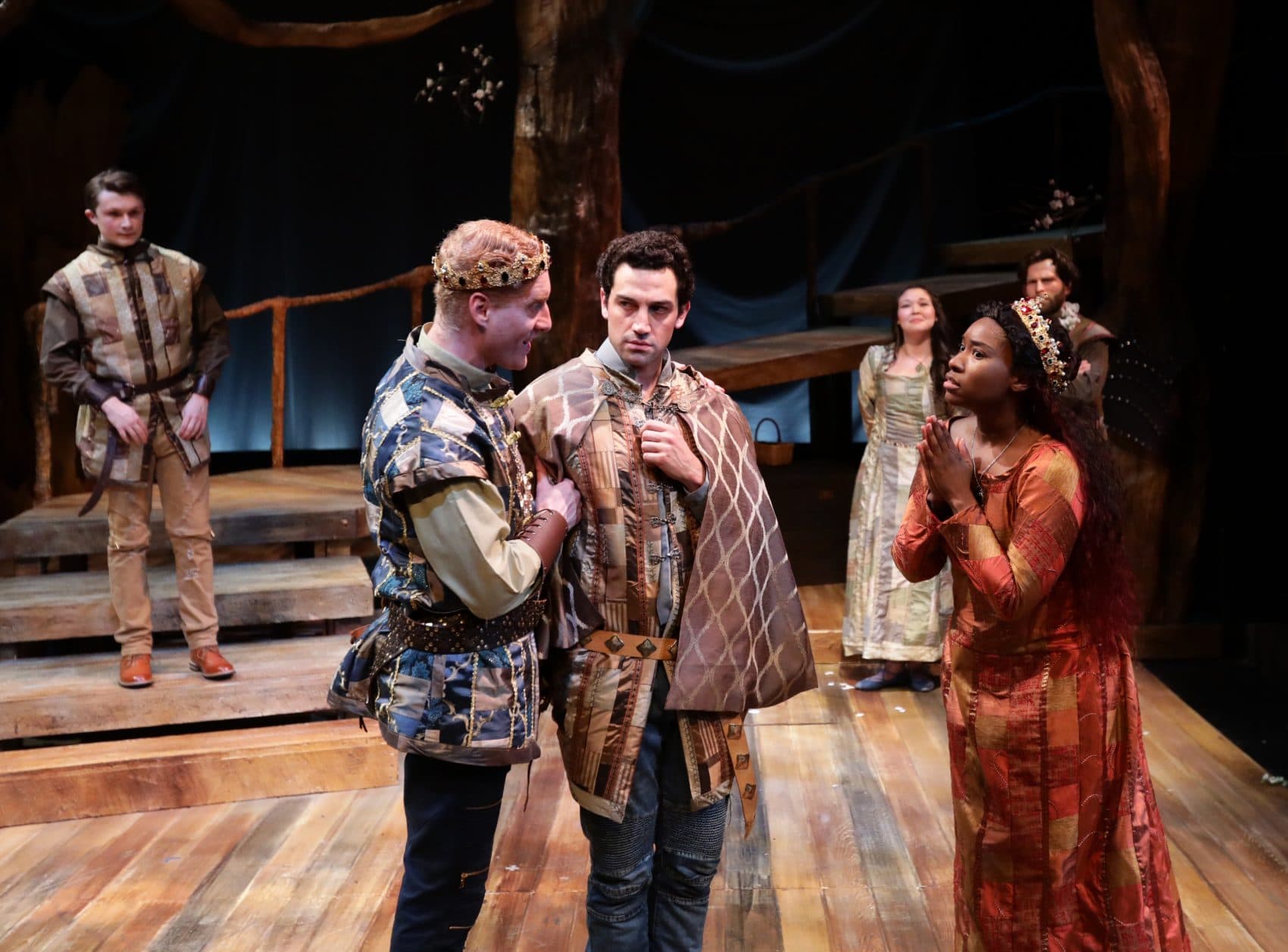 This article is more than 5 years old.
Legend has it that the first staging of the Lerner and Loewe musical "Camelot" (in Toronto, in 1960) ran four and a half hours. Don't worry, though, the Lyric Stage Company version of the popular play has been pared down in a new adaptation by David Lee, whose revisions to Lerner's book create a tight narrative without extraneous side trips. (Lee does retain Loewe's songs.)
Spiro Veloudos — making a vigorous return to the director's chair for the first time since a major health crisis — brings a giddy velocity and sense of fun to the proceedings, ensuring that the play maintains its momentum. As a result, there's little dead air in this production, which clocks in at just over two hours. But speed and agility only go so far in papering over a couple of flaws that take the play's pleasures down a notch, at least for the first act.
Characters and subplots may have been excised in this rendering, but the play's core elements remain intact and the story remains eminently recognizable. King Arthur (Ed Hoopman) and Lady Guenevere (Maritza Bostic) are treaty-bound to enter into an arranged marriage, and Guenevere is seriously considering becoming a runaway bride until she encounters Arthur in the woods. Not realizing who he is, Guenevere is soon dazzled by Arthur's charm and his description of Camelot as an ideal place to live; for his part, Arthur is smitten with Guenevere from the first moment he spies her from his perch up above in the boughs of a tree. Four songs in, their union suddenly seems like the greatest good fortune for both of them.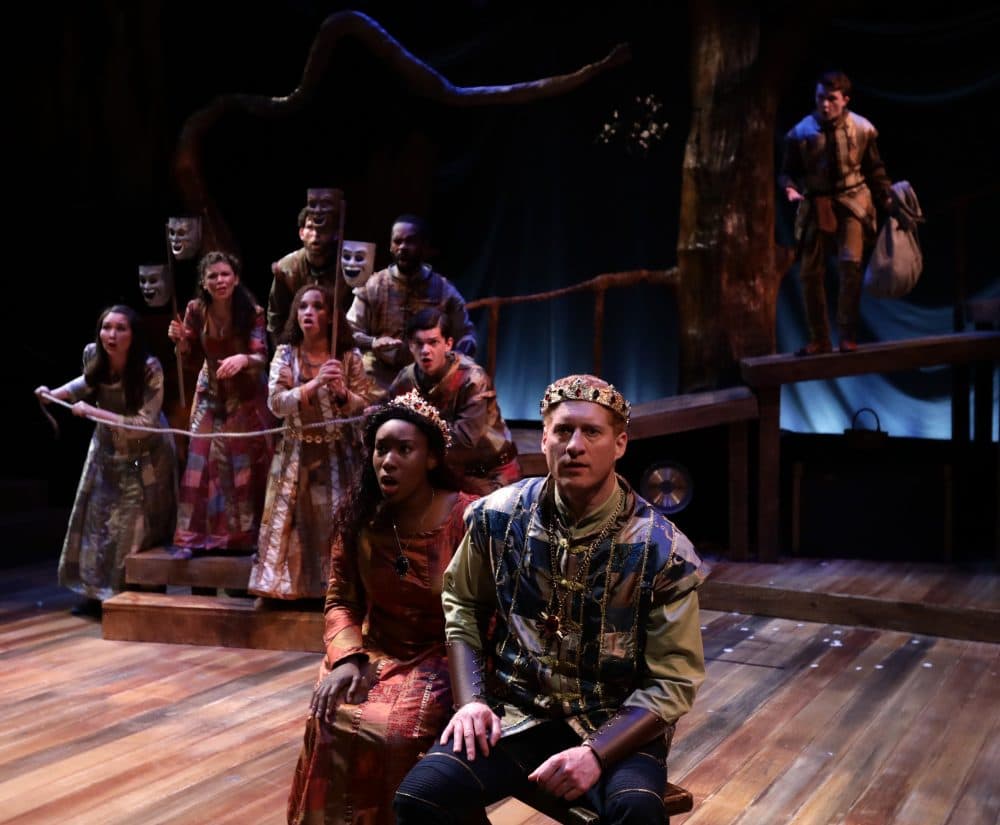 Years later, presiding over the still-prosperous land, King Arthur hits on an idea to make Camelot even more of a utopia. What if, instead of allowing knights to wander the land enforcing their own versions of right and wrong through force of arms, there was a rule of law that applied to everyone? And what if those knights were brought together as a virtuous band of defenders of that law? Even better — what if they convened at a round table, where hierarchy could be set aside and democratic ideals applied? A gentle, bookish visionary who sometimes regrets that his tutor Merlin "taught him to think," Arthur nonetheless conceives of civility as a superior virtue to brute force, and manages to bind his nation together with a sense of promise.
Arthur, in other words, seeks to elevate his country and its people to a moral and social level that transcends mere power politics. But look out! A populist named Mordred (Rory Boyd) — ironically, Arthur's own illegitimate son from a one-night stand years ago, before Arthur became king — appears at the royal court with a message of self-aggrandizement, encouraging the strong of arm and weak of character to indulge in hedonistic pursuits that ravage the land and destroy its harmony. Well, what can you do? Mordred is only saying what some people are thinking; anyway, doesn't he have a point when he zeroes in on Arthur's hypocrisy for turning a blind eye to the illicit love affair that's been going on between Queen Guenevere and Arthur's right-hand man, the otherwise supernaturally virtuous Sir Lancelot (Jared Troilo)? When those who signal virtue succumb to vice, it's an open invitation to those who more or less openly embrace sin and mayhem to have their day. We can only hope civility survives in the aftermath.
Whether as a result of Lee's recasting of the story, or this production's casting of the characters, the first half — while never boring — possesses speed while lacking loft. There's more fizzle than sizzle between leads Hoopman and Bostic, and the latter seems miscast for her role. Guenevere is written as a true drama queen — someone who enjoys the thrill of danger while not, perhaps, appreciating the potential costs. But Bostic doesn't have the kind of heft we might look for in Guenevere; her take offers plenty of irony but a dearth of iron. Her singing falls short of the mark as well; Bostic's voice is pretty, but thin, and she sounds as though she's struggling much of the time, so that even zippy favorites like "The Lusty Month of May" end up lacking clarity and punch. Put Bostic together in a duet with Troilo — a strong singer with a lovely voice — or contrast her with Boyd or with Davron S. Monroe, who plays Sir Lionel, and who shines in a brief solo, and the disparity is striking.
Hoopman fares better in the singing department, though one wonders at the characterization he brings to Arthur. No one is required to put on a British accent — usually that's the wiser choice — but Hoopman's overly flat, broad delivery sounds like something from the American heartland, as though Arthur is intended to be read as a sort of Joe Average. It's a little distracting, but after a time you start to wonder if this isn't key to how this production has been visualized all along.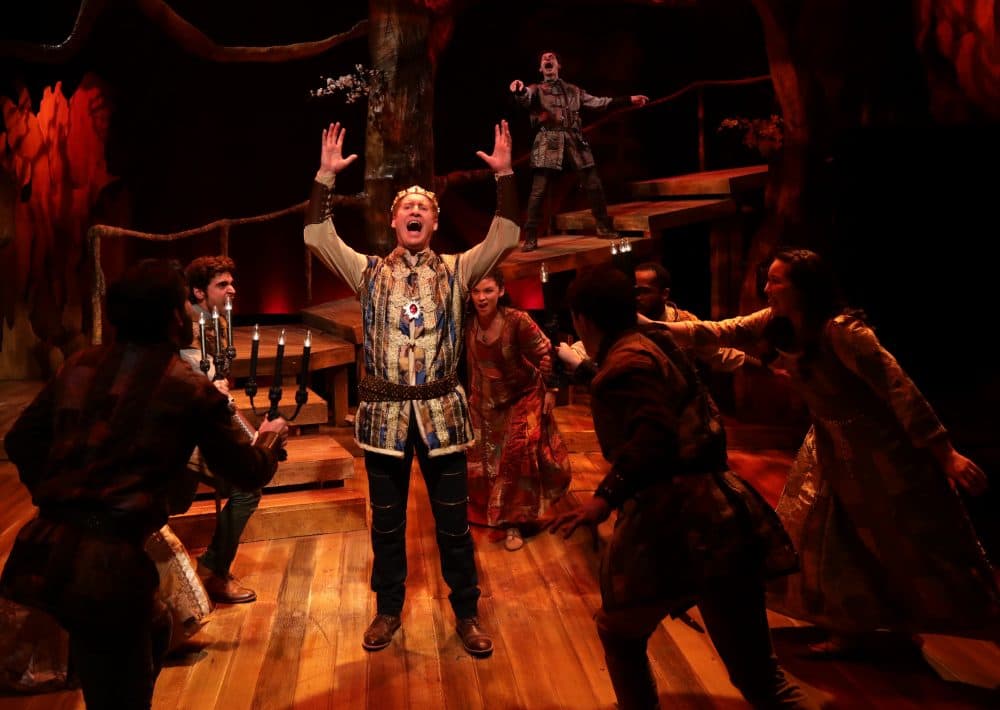 The play in its original form may have seen its idea of Camelot retroactively coopted to serve as a kind of shorthand for the promise of the Kennedy administration following JFK's assassination in 1963, but there's a kind of poignant symmetry in the way this lighter, fleeter-of-foot version can now be read as a nostalgic shout-out to the Obama years. In that way, Lee's adaptation feels topical and deeply meaningful.
Loewe's well-crafted, upbeat songs — all catchy tunes and sparkling lyrics — tend to cast a sunny light over even the most grim passages, but you sense that Veloudos and his cast want to root themselves in the play's darker underlying sensibilities. To that end, the production's design has a sort of "contemporary timeless" feel, broadly hinting at the Middle Ages but hovering outside its grip. Elisabetta Polito's costumes have a shiny, even cartoonish, quality that blends the regal wardrobe of popular imagining together with contemporary touches such as denim jeans or trousers sporting multiple zippers on the leggings. (That said, Guenevere's gowns are pure elegance.) Shelley Barish's set embraces the bucolic tranquility of the woodlands, with trees filling in around the edges and a ramp (emblematic of both castle rooms and hillsides) serving as the space's focal point. Even the vaunted round table is rustic in design, a cross-section of a great tree supported by several stylishly shaped logs. Camelot, it would seem, exists in careful accord with the natural world.
But nature has a violent side, too, and some elements of those woodlands are carved in the shape of leaping flames; when things get dire (and you know they must), Karen Perlow's lighting transitions the mood from tranquil to infernal. King Arthur's court goes to hell right before our eyes, with Mordred's diabolical energy kicking the entire production into a higher gear. That's the telling paradox of the production as a whole: The more Camelot and its leaders stray from the path, the more textured and enticing the production becomes. The first real frisson sparks with the sudden emergence of the Arthur-Guenevere-Lancelot love triangle; no one here wants to be a bad guy (or gal), but human nature being what it is, love and attraction strike when they will and pull everything out of joint. Factor in selfishness and resentment with Mordred's appearance (and Boyd's raucous enjoyment of Mordred's unapologetic bad-to-the-bone-ness) and suddenly the play pops into extra dimensions.
Nuance comes to a production with time, and Lyric Stage's "Camelot" will get there, but the issue of pacing may be one that's hardwired into this new adaptation. Still, when the pieces all join into one cohesive whole, this show is everything you want it to be: Bold, vivid and moving.
"Camelot" continues at the Lyric Stage through June 25.